corruption in politics
Three ranking Navarre politicians targeted in banking graft case
Former premier, economy chief and current mayor of Pamplona implicated in "Caja Navarra" affair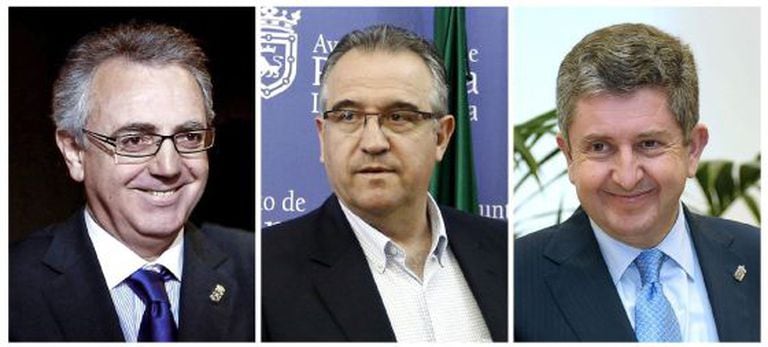 The so-called Caja Navarra case, in which high-ranking public officials in Navarre allegedly paid themselves unwarranted expenses for forming part of a shadow board at the regional savings bank of the same name, took a new turn on Tuesday when a judge named three serving and former government members as suspects.
Ex-regional premier Miguel Sanz of the Navarrese People's Union (UPN), the current mayor of Pamplona, Enrique Maya, and a former economy chief in the regional administration, Álvaro Miranda, were ordered by Judge María Paz Benito to appear before her on the April 12, 15 and 16 respectively. Sanz is already under investigation in a separate suit brought by the independent consumer protection association Kontuz for the management that led to the breaking up of Caja Navarra.
Alongside Sanz, Maya and Miranda sat on the standing committee of the Board of Founding Entities, which took a year to appear on the lender's statute and whose existence was unknown even to the board of directors of Caja Navarra. Current regional premier Yolanda Barcina, also of the UPN, was another member of this shadow committee but has not been subpoenaed due to her parliamentary immunity. Opposition parties in the region have called for Barcina to resign. In the case that the magistrate finds indications of criminality in the premier's actions, she will have to recuse herself and refer the case to the Supreme Court.
Judge Benito has also asked the regional economy department to facilitate authorizations for travel and attendance expenses, which she believes were obtained by bribery. Under regional law, it is the responsibility of the administration to carry out inspections of financial entities based in the territory.
The premier received 2,600 euros for meetings of less than an hour
Sanz's lawyer, Eduardo Ruiz de Erenchun, told Cadena Ser that his client "was surprised and did not at all like" the decision. Erenchun said it is "foreseeable" that he will question the judge's jurisdiction to handle the case.
The Board of Founding Entities was created in 2010 to bring together public officials who had until then been on the bank's board of administration and comprised nine members of UPN and two from the Navarre Socialist Party. The expenses paid per meeting were 2,600 for the regional premier – first Sanz then Barcina – and 1,700 for the other members. Meetings were held consecutively in a single day with each lasting less than an hour. They consisted of the secretary of Caja Navarra reading reports on various financial developments without any discussion or intervention by the board.
UPN spokesman Carlos García Adanero said the party will respect the procedure and will "do as the court asks."