High Court names another ex-PP treasurer as suspect in inquiry
Former Popular Alliance (AP) member, Ángel Sanchís, will have to appear before Judge Ruz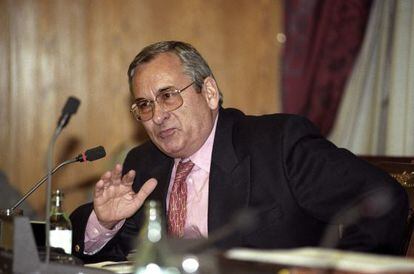 The High Court on Tuesday announced that it has officially named a third former Popular Party (PP) treasurer as a suspect in its ongoing corruption and tax-fraud investigations, which have already ensnared several members of the ruling party.
Ángel Sanchís, who served as treasurer for the Popular Alliance (AP) party, the PP's predecessor, will have to appear before Judge Pablo Ruz on April 10.
Anticorruption prosecutors have asked Judge Ruz to subpoena Sanchís after determining that he helped Luis Bárcenas, another former PP treasurer who is the target of a money-laundering and tax-evasion investigation, help launder and conceal some 38 million euros in Swiss bank accounts.
Álvaro Lapuerta, Bárcenas' immediate predecessor, who served as treasurer from 1987 to 2008, has also been named as a target by anticorruption prosecutors in a related inquiry regarding a slush fund that may have been used to pay top PP officials bonuses on top of their regular salaries. The inquiry stems from a series of balance sheets that record the extra pay bonuses as well as donations from private sector officials covering an 18-year period in which both Lapuerta and Bárcenas served as treasurers.
Bárcenas stepped down as treasurer in 2010 when he was indicted in the Gürtel kickbacks-for-contracts investigation, which is being conducted by Ruz.
According to the judge's order, Sanchís "contacted managers" of Bárcenas' accounts in Switzerland, "cooperating in the concealment of these accounts of funds that allegedly came from illicit activities."
Iván Yáñez testified earlier this month before the High Court that he served as a front man for Bárcenas. Ruz said that there are indications that Sanchís was also involved after reviewing evidence from information on money transfers to the United States.