Horsemeat sales grind to a halt
Labeling fraud puts the skids on burgeoning sub-sector of Spanish consumerism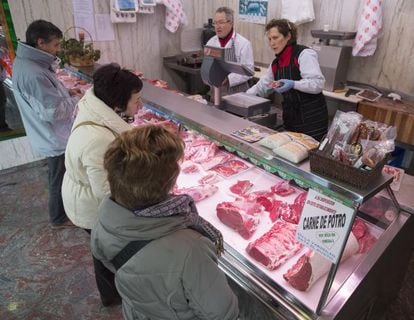 The scandal over the horse meat found in products that were supposed to contain only beef has ruined the efforts of a small food sector that had grown 40 percent in 2012. The small-scale producers of certified horsemeat in Spain were placing 15,600 tons of it on the market a year, making it a residual business in a sector that handles over 19 billion euros annually.
In the last three years breeders from northern Spain had stopped selling all their livestock to Italy and started placing some of their products domestically. "It's a pity to see people who used to buy three or four kilos of minced horsemeat going back to beef," says Rosa del Val, owner of a butcher's shop in Burgos. "People are not well-informed. We know it's not a food-safety issue, but a labeling-fraud issue." These were the same words used on Thursday by Agriculture Minister Miguel Arias Cañete, who noted that horsemeat is perfectly healthy, but that some people's "sensitivity" may deter them from eating it.
"The market right now is in the east, domestically, and in Italy and France at the EU level. There is also a lot of room for improvement in the north of the [Iberian] peninsula," says Juan Díaz, manager of an Asturian meat industry association called Asincar. The largest specialized feeding centers and slaughterhouses are in Catalonia and Valencia.
Down south, the greatest handicap to horsemeat consumption is that equines are viewed as humans companions. In Burgos, where there is more of a tradition, around 30 butchers and many restaurants offer horsemeat and horse-based dishes. It is beginning to emerge as a native type of food following an intensive promotional campaign that seeks to convince consumers of its nutritional benefits. Horses are raised for meat by 87 sustainable livestock raisers in Burgos' mountain areas. The province even has its own endangered species, the Hispano-Bretón.
But the popular scare over the meat-adulteration scandal has caused the Burgos slaughterhouse to grind to a halt. Food giant Campofrío "suggested" the move over fears that its products could be found to have traces of equine meat. Now, breeders and butchers have to drive their animals to Palencia, 100 kilometers away, which adds to the price.
In other regions like Aragon, Navarre, Asturias and the Basque Country, there are also concerted efforts to promote horsemeat. Ixone Fernández de Labastida, an anthropologist at the Basque Country University, believes that the European meat fraud will not affect people who consume horsemeat traditionally, but that it will make it more difficult for new consumers to enter the market.
"When you talk about horsemeat, people think about an old nag, but all that is history now. Horsemeat is a quality product," says Fernández, who wrote her dissertation on Basque horses and horsemeat. In order to overcome popular abhorrence for the meat, producers are organizing tastings, food fairs and talks. Famous chefs have introduced it into their dishes.
"You'd think eating this meat makes you a leper," says José Ramón Velilla, a breeder and horsemeat producer in Asturias. He sells his product online, and says his clients are very satisfied. "One family from Barcelona told me that, compared with horsemeat, the things they'd been eating before tasted like cardboard."