Rights activists warn about escalating numbers of Mexican vigilante groups
Rifle-toting, hooded patrols are making citizens' arrests in Guerrero state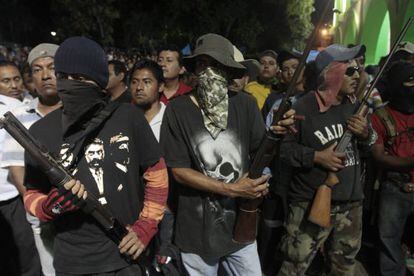 Fed up with what they describe as the authorities' ineffective crackdown on crime and high corruption in the police force, citizens in the Mexican states of Jalisco, Oaxaca and Guerrero have organized self-defense vigilante groups to patrol areas they feel need protection.
In Ayutla de los Libres, Guerrero, a so-called "community police force" made a number of citizens' arrests on Saturday of suspects accused of different crimes. The hooded vigilantes carrying rifles turned over a small group of detainees to the state police in the town's square, in the full view of television cameras.
The emergence of these groups has alarmed both state and federal government officials, who cite human rights abuses and constitutional violations as their main concerns. Jesús Martínez Álvarez, Oaxaca state government secretary, said that this type of police force does not comply with "the requirements that establish trust" among citizens.
The human rights advocate at the state attorney general's office called on local authorities in the different towns to "re-establish order," and demanded that a municipal mayor, Fredy Gil Pineda Gopar, who formed one such patrol, refrain from organizing vigilante groups.
Peña Nieto unveiled a $9-billion plan to curb crime through social programs
Pineda Gopar, the mayor of Santos Reyes Nopala, responded by saying that the courts will decide over the legality of his citizens' patrols. "We have minutes of assemblies in which at least 23 of 26 municipalities have favored this type of police force," said Pineda Gopar in a statement reported by the Mexico City daily El Universal on Wednesday.
Without referring to the vigilante groups, President Enrique Peña Nieto on Tuesday announced a $9-billion plan to curb violence and crime by focusing on establishing social programs for poorer citizens. The leftist leader called on Mexicans to help in the battle by reporting crimes and other incidents to local authorities.
"Our objective is to reduce the risk factors and turn around social, economic and cultural conditions that breed violence and crime," Peña Nieto said in Aguascalientes.
It was the first time that Peña Nieto, who campaigned last year on an anticrime platform, released specific details about his plans to crack down on violence.
Since 2006, when his predecessor as president, Felipe Calderón, declared an all-out war against the drug cartels, more than 70,000 people have died in drug-related violence.
Also on Tuesday, Guerrero Governor Ángel Aguirre Rivero denied that he was arresting innocent people to find the suspects who raped six Spanish tourists in Acapulco earlier this month.
At least 14 suspects are in custody. Their families claim that Aguirre is under pressure from the Mexican government because the February 4 rapes have made the international news.
"If someone committed a crime - and not necessarily this one but others - they will also be arrested. But if they didn't commit any crime there is no reason to arrest them. This is the pledge that I have made and want to reiterate to the families," Aguirre said, according to the Mexico City daily La Crónica de Hoy.