Spanish journalism legend signs off
Enrique Meneses, the first reporter to cover Fidel Castro's revolution, has died aged 83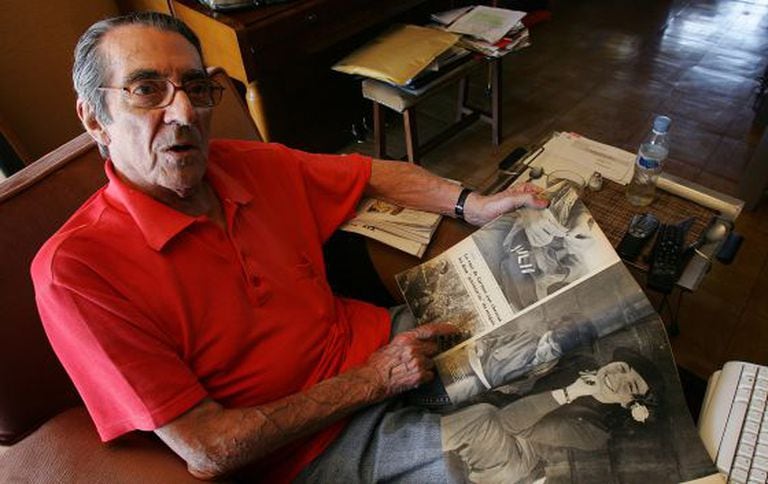 The reporter Enrique Meneses, best known as the first journalist to cover the Cuban revolution in the Sierra Maestra, died on Sunday in Madrid at the age of 83.
A photographer and writer, he worked for dozens of news organizations over the years, including Life and Paris-Match magazines, as well as Spanish state broadcaster Televisión Española.
Born in Madrid in 1929, he got his break in 1947 when he reported on the death of bullfighting legend Manolete and continued working up to his death on his blog and via his Twitter account, where he had almost 10,000 followers. "I go on working, I haven't stopped writing for a single day since I was 15 years old," he told EL PAÍS in a 2011 interview.
In 1958, he evaded Cuban dictator Fulgencio Batista's military checkpoints to become the first reporter to reach Fidel Castro and Che Guevara's revolutionaries in the Sierra Maestra. His experiences with the guerrillas were published in three issues of Paris-Match between March and April 1958. He also wrote two books on the subject.
His historic career encompassed many other colorful experiences, including running down Sarajevo's notorious Sniper Alley and chatting in French with Farah Diba, the last empress of Iran.
For the last 12 years of his life Meneses suffered from a lung obstruction that forced him to use oxygen tubes to breath. The affliction gave birth to the title of Georgina Cisquella's recent documentary on him, Oxígeno para vivir. De la generación Mágnum a la generación 2.0 (or, Oxygen for living. From the Magnum generation to generation 2.0), a film which began with Meneses's own description of himself: "I always say I have ink in my veins… and a little bit of whisky."