ARTS
A survivor of the costume drama
Oscar-winning designer Yvonne Blake, who abandoned Britain to take up residence in Spain, talks of the many pitfalls between a sketch and the screen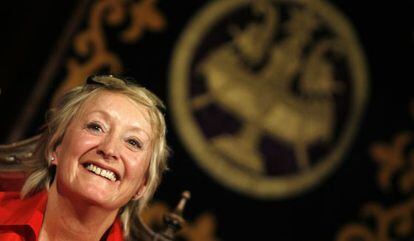 Sitting at one end of her studio, near a small window, Yvonne Blake spends several hours a day creating the wardrobe for movies and plays. She puts on classical music or jazz, pours herself a glass of wine and starts to draw on a piece of grayish paper. There are pencils, paintbrushes and paint within reach. One sketch typically takes her an entire day's work, but getting to that point first requires reading the script carefully, analyzing the characters, gathering additional information from books and museums, finding the right fabrics, and meeting with the director and set designer to exchange ideas.
Blake, who was born in Manchester but moved to Spain in 1968, has created the costumes for over 50 movies, including the blockbusters Superman and Jesus Christ Superstar. She won one Oscar and was nominated for another, besides taking home seven Goya Awards and receiving several nominations for BAFTAs and Emmys.
For the last year Blake has been working on an ambitious project called El último jinete (to be named The Last Horseman in its English-language version), a musical about a young Arab boy who dreams of finding the right horse to help him conquer a kingdom. The work premiered on December 5 at Madrid's Teatros del Canal, where it will run until January 6. Shortly before opening night, as she issued instructions and made last-minute alterations while the actors tried on her costumes, Blake described the process of costume-making vividly.
"There's a lot of suffering involved," she said. "It's like getting a tooth pulled out. Or maybe like childbirth. You forget the pain when you see that a beautiful baby came out, but childbirth is childbirth."
If it weren't for the Russian Revolution, I wouldn't be here today"
She says this mostly with the movie Nicholas and Alexandra in mind. One day in 1970, film producer Sam Spiegel called her up to discuss his new project, a film about the lives of the last czars of Russia. "I don't know you personally, but I have the feeling that you could do a great job dressing the characters in this story," he told her. Blake happily accepted, not realizing the enormity of the challenge ahead.
"It was agony," she recalls. "The production was oversize. I was a young 29-year-old, I was disorganized, and I was in charge of several departments with a lot of people in them. It's also true that we had a bottomless budget that gave me great freedom to create. But there were two tailors there who hated one another, and I was caught in the middle of that. It was a year of preparation and another year of filming, and by the end of it I was very angry and depressed. So much so, in fact, that I thought of quitting this profession."
The reason she did not is because soon after that, "someone up there took pity on what I went through and suddenly gave me a big surprise."
When she received the telegram in 1971 she simply could not believe it. The Academy had nominated her for an Oscar for best costume design for Nicholas and Alexandra. Blake says she felt honored, but did not think she would actually win. It was her father who insisted on taking her to Los Angeles for the ceremony. That day, Yvonne Blake did not wear a new dress; instead she wore one that she had designed for a wedding. The organizers took her to a beauty salon where they dressed her hair, made up her face and forced her to wear fake eyelashes. At the theater, she was seated in one of the front rows and told that, if she were to win, "you need to go up on stage fast and speak just a little."
Elizabeth Taylor liked to wear it all: the earrings, the necklace and the jewels"
She did win, of course, and ran up on stage to accept the Oscar from a young actress named Cybill Shepherd. "If it hadn't been for the Russian Revolution, I wouldn't be here today," she began, and the audience laughed.
Over 40 years later, the award sits inside her personal library, and Blake is still at the top of her game. Inside her yellow house surrounded by pine forests in Miraflores de la Sierra, the views are almost as spectacular as the cold. The award-winning designer asks if we can talk upstairs, in the attic, and we are joined by Necas, a hairy, panting Australian sheepdog who has been the household pet for the last 10 years.
On a wooden table lies the 2012 National Cinematography Award diploma, which she received in September. Hundreds of sketches are stored away up here, near a table filled with art books and a larger table covered by fashion magazines. Settling down on a comfortable couch, Blake remembers how as a child all she cared about was drawing.
"Very soon I obtained a scholarship to study Fine Arts in Manchester, and when I was 16 I wrote a letter to a designer at the Library Theatre in Manchester to ask whether I might help with the sets, with the costumes of the plays being put on there. And I was accepted," she recalls.
Before turning 18 she moved to London with a portfolio full of designs under her arm. She showed up at Bermans, where most English-language productions got their wardrobe made, and worked there for four years, learning the trade. After jobs in television and the stage, in 1966 she participated in her first big movie: Judith, starring Sophia Loren. "That was my great takeoff. After that production I returned to England and have not stopped since."
She showed up at Barajas airport in 1968, a young Englishwoman wearing a miniskirt who caused a scandal in Francoist Spain. She was here to take charge of the wardrobe for Richard Quine's western Gun Crazy.
"I didn't speak Spanish, so they introduced me to Gil Carretero, who was then the director's assistant, to act as my interpreter. Gil would come with me to the fabric store Cornejo, where we bought everything, but his English skills were very basic. He didn't know the names of some fabrics and other material. Of course he spoke quite well with me. He was charming and really good-looking... and he won me over. After that movie I returned to England, but I came back every weekend to see him, because he was doing his military service in Colmenar Viejo." Gil and Yvonne were married during the filming of Nicholas and Alexandra, and have lived in Madrid most of the time.
Blake also designed the wardrobe for the 1973 Night Watch, starring Elizabeth Taylor. "She wanted to use Valentino dresses because her contract specified that she would get to keep the wardrobe. But those things did not go with the movie. She liked to wear lots of things: the earrings, the necklace, all of the jewels... I would tell her that she couldn't wear it all. She couldn't understand it, and asked why not. Well because this character is a very normal woman and she would not wear an elegant Valentino dress to watch television with her husband, I said. 'But I would,' she said. You would, but not your character, I replied. I had to get strict with her. But overall she was a lovely person."
Is there any difference between dressing English-speaking stars and Spanish stars?
"No," she replies with a nervous laugh. "They are all a pain. Actors will be actors, no matter what their nationality."