Brussels approves 1.865 billion in funding for four Spanish banks
Liberbank, Caja3, BMN and Banco CEISS will have to reduce their balance sheets in exchange for aid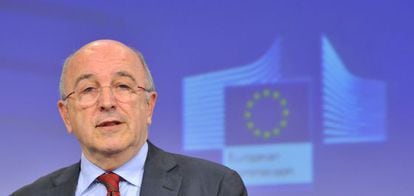 The European Commission on Thursday imposed an average reduction of 30 percent in the operations of Liberbank, Banco Mare Nostrum (BMN) and Banco CEISS by 2017 and forced the absorption of Caja 3 by Ibercaja in exchange for a combined capital injection of 1.865 billion euros from the European rescue fund.
The four banks in question have not been nationalized but require funding to meet capital adequacy requirements that would have been too costly to raise from private investors.
Brussels approved an injection of 730 million euros for BMN, 604 for Banco CEISS, 407 million for Caja 3 and 124 million for Liberbank. The funds will come from a bailout for the Spanish banking system from the European Stability Mechanism (ESM).
The Commission has already approved restructuring plans for the four Spanish banks which have been nationalized, namely Bankia-BFA, Catalunya Banc, NCA Banco and Banco de Valencia. Those banks will have to slim down their operations by more than 60 percent by 2017 in exchange for combined assistance of 37 billion euros. The rescue package also included funding to set up the so-called bad bank (Sareb) to absorb the toxic assets of lenders.
The amount of aid required is less than had been identified by independent consultant Oliver Wyman in stress tests carried out earlier this year as a result of transfers of toxic assets to Sareb. Those tests identified additional capital requirements for Liberbank of 1.198 billion euros, 779 million for Caja3, 2.208 billion for BMN and 2.063 billion for Banco CEISS.
"As planned in the memorandum of understanding concluded in July between euro-area countries and Spain, we have managed to bring underway a thorough restructuring of eight banks in a matter of just a few months. The restructuring plans of BMN, Caja3, Banco CEISS and Liberbank will make these banks viable again, thereby contributing to restoring a healthy financial sector in Spain, while minimizing the burden for the taxpayer," the European Union commissioner for competition policy, Joaquín Almunia, said in a statement.
The Commission said BMN will need to reduce its balance sheet by 40 percent by 2017, CEISS by about 30 percent and Liberbank by about 25 percent, while Caja3 will be fully integrated into Ibercaja.
The banks will be largely restricted to retail banking activities and loans to small- and medium-sized enterprises, eschewing the real estate sector and limiting their presence in wholesale banking.
The government has committed itself to selling Banco CEISS and to have BMN and Liberbank listed in the stock market before the end of the restructuring period. Caja3 will cease to exist as a stand-alone entity.
The four banks will also offload stakes in companies, with the proceeds used to finance their restructuring.
They will also be obliged to put a cap on remunerations paid to management. Liberbank, Banco CEISS and BMN will also be barred from acquisitions.