EURO CRISIS
Rajoy and Hollande to lobby for swift implementation of banking union
Spanish leader remains coy over whether Spain will seek second bailout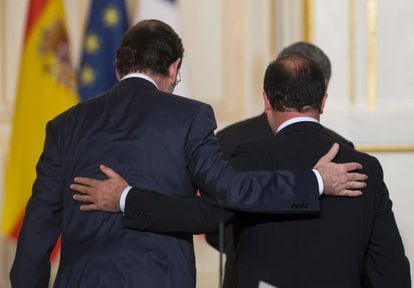 France and Spain joined forces on Wednesday to put pressure on Germany to agree to push ahead with the euro zone's plans for a banking and fiscal union in the single-currency bloc.
"France and Spain have the same idea about what needs to be done in the next few weeks," Hollande told a joint news conference with Spanish Prime Minister Mariano Rajoy. "Let's apply what we have decided on."
Rajoy said Europe needed to adopt a sensible position that would allow for the creation of growth and jobs.
He said Spain expects to meet its economic growth and fiscal deficit forecasts for next year despite skepticism from the IMF. However, he added that the performance of the economy this year could come in better than the government's forecast of a contraction of 4.5 percent. The government is expecting GDP to shrink 0.5 percent next year when it is aiming to reduce the public deficit to 4.5 percent of GDP from 6.3 percent this year.
In a report released earlier this week, the IMF predicted a contraction in output of 1.3 percent of GDP and a deficit of 7 percent this year and 5.7 percent in 2013.
"These are not satisfactory [forecasts] for Spain, but neither for any other European Union country," Rajoy said.
Loyal to his growing reputation for equivocation and side-stepping questions, asked if Spain was going to seek a second bailout, the Spanish prime minister said: "The content of the answer is what you yourself imagine."