NIGHTLIFE
The new Chueca? No, thanks
Lavapiés is a refuge for Madrid gays seeking a traditional neighborhood vibe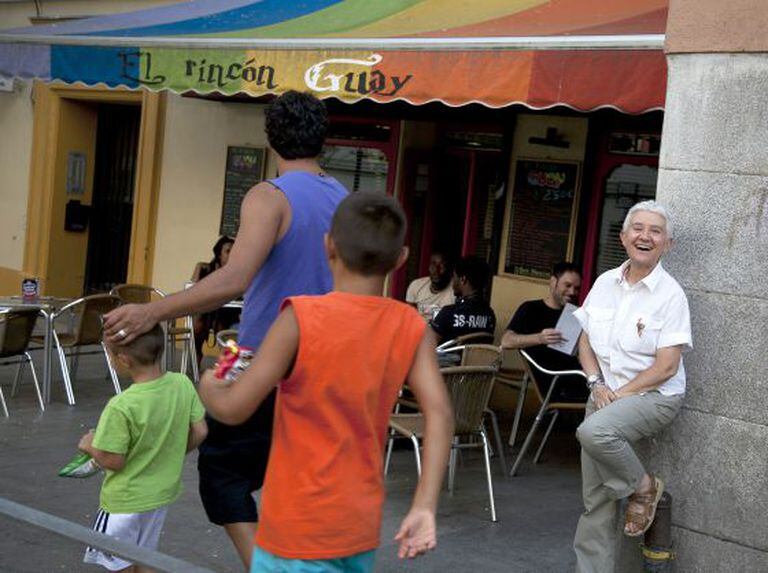 Two young women walk hand in hand through Lavapiés, a bohemian, multi-ethnic neighborhood that is home to around 40,000 people on the edge of Madrid's city center. It's mid-afternoon, and the temperature is 39 degrees Celsius. The heat is oppressive, but the couple are clearly still in the first flush of physical attraction, and are unable to resist pausing every few yards to enjoy a lingering kiss. A Bangladeshi fruiterer looks on, clearly embarrassed, while the waiters from the Indian restaurants trying to drum up trade at the outdoor tables seem to enjoy the spectacle. In contrast, the Moroccan barber standing in the doorway of his shop barely registers them.
In recent years, Lavapiés has attracted growing numbers of younger gays and lesbians, says Boti García, president of FELTGTB, a nationwide body that aims to represent the country's gay, lesbian, transsexual and bisexual communities, and who has lived in the area since 1994. In response, around a dozen or so bars and clubs now cater, although not exclusively, to gays and lesbians. Leyre, co-owner of El Gallinero (the hen house), says that a new generation of gays has grown tired of Chueca, the city's gay district, host to one of Europe's largest annual gay pride festivals.
"In the first place, Chueca has become too expensive, while Lavapiés is still relatively cheap," says Patricia Soto, the owner of El Mojito, a bar popular with lesbians. "Chueca is a ghetto for the wealthy. It is also too crowded; it's as though they were celebrating gay pride week every night of the year, and it's tiring. We want a neighborhood where we are just like everybody else, and not the center of attention. Also, Chueca is overwhelmingly about gay men; lesbians want somewhere that they can hang out."
"Lavapiés has always been an area outside the city, always somewhere that has attracted outsiders, pushing the boundaries, which is why it attracted the lesbian, gay, transsexual and bisexual community," says Boti García, sipping a mint tea at a pavement table outside El Rincón Guay, run by gays for a mainly gay clientele.
Mauricio Main, the bar's owner, says the first thing he did when he opened was to replace the green awning over the front of the establishment with a rainbow-colored canopy. "I remember that the old ladies passing by on their way to the San Fernando market used to comment on it, saying how cheerful it was."
Panchi, who works in La Antigua Taquería, a former tavern now converted into a Mexican restaurant run by two lesbians, describes Chueca as "plastic," while Lavapiés is "authentic," smelling of cocido , the capital's traditional stew. "We don't want any labels, and we don't want people seeing us solely in terms of our sexual orientation," says Panchi as she prepares a quesadilla with scrambled egg and truffle filling, one of the restaurant's most popular requests.
The menu is hand-painted on a vast mirror propped up by the bar. Next to it a pair of shelves are stacked with dozens of alcoholic drinks and liquors used to prepare cocktails, overseen by a statue of San Pancracio, the patron saint of children. La Antigua Taquería attracts a varied crowd over the course of the day: a group of Pakistani men are enjoying a morning coffee at a corner table, while an elderly man who has lived in the neighborhood all his life has come in for a beer, served with a tapa of a few olives; students and twentysomethings, attracted by the low prices, drop by in the evenings for supper; and of course gays and lesbians looking to meet somebody new...
In reality, there has always been a gay presence in Lavapiés, says Gabriel Abraham, who owns the only gay sauna in the neighborhood. "In the 1980s and 1990s, Lavapiés attracted radical groups fighting for gay rights," he says, sipping on a beer at the bar of Madness, a leather club. It's still early, but he says that later on the dark rooms out back will fill up with men looking for an anonymous sexual encounter.
He says that when Chueca started to become fashionable, around 20 years ago, Lavapiés increasingly became associated with the capital's fast-growing immigrant community, attracting Chinese rag-trade wholesalers, Africans, Moroccans and Bangladeshis, who opened dozens of stores and restaurants. "But we have always been here," he adds. In 2010 he opened a sauna, which for a modest 10 euros offers gay men up to eight hours of steamy fun.
The opening in 1996 of the Eskalera Karakola (spiral staircase), a collective run by women, attracted many lesbians to the area. In those days, one of the few exclusively lesbian clubs in the capital was in Lavapiés: Medea. After 30 years it's still going, although under a different name, Club 33. The new owners have dropped the lesbians-only policy, and welcome anybody.
"There are a growing number of women's clubs, but gay men are pretty much taking over Lavapiés," says Dalton Penn, the owner of Bangalá, a pick-up joint for gay men. "For four euros you can have a gin & tonic and a relaxing time: in Chueca the prices are way higher, and the clubs much more crowded," he notes.
Agustín González, the president of COGAM, which represents Madrid's gay, lesbian, transsexual and bisexual community, says that Lavapiés and Chueca complement each other, offering two different experiences. "Chueca has become a bit elitist, but it is a good thing that there are more clubs for gay people, and Lavapiés and Chueca are leading the way in this, attracting different kinds of people looking for different things."
"We alternative dykes have finally found somewhere that we can call our own," says Silvia Rodríguez of El Gallinero. Leyre and Ruth are enjoying a drink at the bar, and explain the appeal of the place. "We tend to come here because we like the music, the drinks are generous and the real thing - they hold theme nights, and let dogs in," they say.
But will Lavapiés end up like pricy, exclusive Chueca? "We don't think so. That would mean changing the whole structure of the neighborhood, which is exactly what we don't want: we want to be just another minority within this tower of Babel."
Adheres to