Venezuela bans the sale of all firearms to private citizens
President Chávez announces measures in effort to curb soaring murder rate "The sale of guns will only be allowed to the police force and armed forces"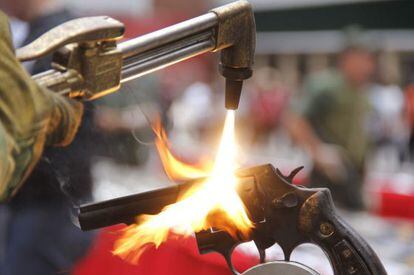 Last year, more than 14,000 people were murdered in Venezuela — nine out of 10 of them shot dead, according to official statistics. Because the murder rate from gunshot wounds is soaring in this South American nation, the government of President Hugo Chávez announced last Friday that new gun-control restrictions would go into effect immediately.
Beginning last Friday, the sale and importation of all firearms to private individuals were banned. "From now on, no one will be able to have new firearms or licenses," said Interior and Justice Minister Tarek El Aissami. "The sale of guns will only be allowed to the police force and armed forces. The aim of this proposal is to disarm the civil population."
The government said it would only impose the ban for one year.
Since 1999, there have been 155,788 homicides in Venezuela, according to the Caracas daily El Universal. Comparatively, the war in Iraq has claimed 160,000 lives since 2003. Caracas is one of the most dangerous cities in Latin America, where there are an average of 40 violent deaths every weekend.
In addition to the new weapons ban, the government has ordered the closing of more than 80 gun dealers across the country — the remainder of about 3,000 that once operated in Venezuela before Chávez was first elected in 1998.
"In Venezuela, there were never any controls on gun dealers, who were able to import directly from manufacturers. Weapons were sold freely; you could even purchase a gun and later apply for a permit. This was the result of capitalism," El Aissami said.
Firearms and munitions will still be sold through the private Venezuelan Military Industries (Cavim), which since 1975 has manufactured, imported and distributed armaments and explosives for law enforcement and state security forces. Cavim will now be regulated by the Interior and Justice Ministry.
On February 29 the government also decided to cancel new civilian permits, and began compiling an inventory of all the gun licenses that have been issued and a registry of gun serial numbers.
Officials have also begun registering weapons assigned to law enforcement officers and labeling bullets as part of the effort to keep them from being sold or given to criminals.
But the problem doesn't appear to be centered on the estimated 40,000 licenses that have been issued. According to the ministry's figures from 2009, there are an estimated nine million to 15 million illegal firearms in the country thanks to free-and-easy market practices. For example a .38 caliber revolver costs no more than 250 euros on the black market.
According to Edwin Rojas, deputy minister of citizen security, around 270,000 firearms were confiscated from criminals between 2003 and 2012, but he acknowledged the government still has to do more to curb the circulation of illegal weapons.
A study conducted by Luis Cedeño, director of the NGO Active Peace, concluded that more than 90 percent of the illegal firearms on the streets came from law enforcement bodies.