CULTURE
Lisbon's grand graffiti tour
Street artists and the city government have teamed up to turn the Portuguese capital into a hotspot for lovers of spray can art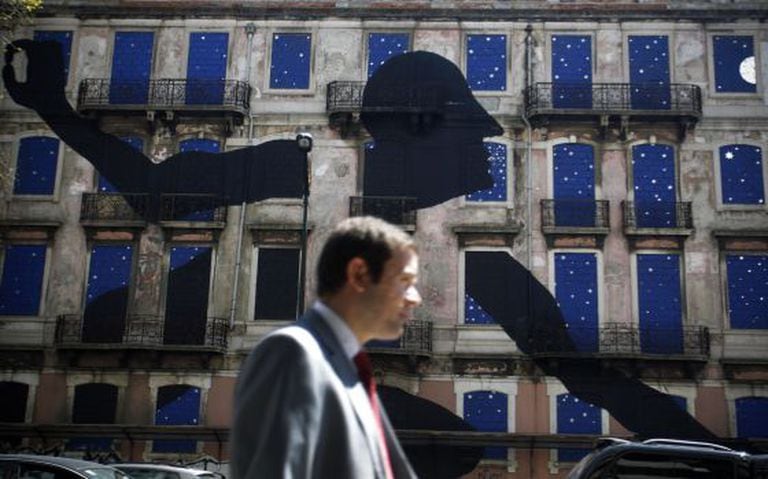 Everyone who passes along Fontes Pereira de Melo avenue, a downtown street in the noisiest part of Lisbon, is left open-mouthed before three old and empty four-story buildings painted from top to bottom with works of graffiti art.
In 2008 Lisbon City Hall got together some of the world's most famous street artists and offered them the opportunity to draw on a grand scale. Italian artist Blu painted a guy wearing a crown sucking a collapsing world through a straw; Los Gemelos, two Brazilian brothers, created a masked figure aiming a catapult... That was the beginning. Since then, Lisbon has become a paradise for spray can artists and it's now impossible to wander around the city and not run into some truly immense paintings, whether figurative, decorative or covering the filth of an abandoned and ruined building.
One of the best Portuguese graffiti artists, Ram, 38, who achieves his own unique style by perforating the bottom of a paint can and painting via the hole, explains the explosion. "There is a sort of collaboration between City Hall and us that has been maintained: they call us and tell us where we can paint, and we take notice."
Ram likes painting the exteriors of empty buildings with municipal permission. But he also sometimes finds himself compelled to slip into abandoned factories on the outskirts of Lisbon or Sintra and paint the metal columns or interior walls, without anyone seeing him or his work.
When he's finished, he takes photos and puts them on the internet as a record, all too aware that all street art is, by its nature, ephemeral and that its survival depends on a thousand uncontrollable circumstances: "A few months ago I painted inside a factory that is now a warehouse for products imported from China. The paintings disappeared, of course."
Surprisingly, the people responsible for all this in Lisbon City Hall are to be found in the Heritage Preservation department. Director Jorge Ramos Carvalho explains that a few years ago, after urban redevelopment work in the Bairro Alto neighborhood left the buildings clean of graffiti, they realized they would either have to get young people involved, or watch the cleanliness of the area turn into a recurring nightmare: "So we decided to search for the best artists and offer them sites where they could express themselves. That way, we helped them out, and they got the idea that not all sites are good for painting."
Since then, the department has given over to the street artists the exteriors of certain empty buildings that fulfill two conditions: the owner is happy, and the building in question has a redevelopment plan in place, so the painting will not stay there for very long.
In the case of the spectacular works on Fontes Pereira de Melo avenue, the arrival of the now omnipresent economic crisis stopped the planned renovation projects. That's why the buildings remain covered in their deluxe graffiti, waiting for better times for the property market.
Encouraged by the success of the initiative, City Hall chiefs widened its scope, and, to educate people about the importance of recycling, gave permission for artists to paint certain bottle recycling bins. It was initially aimed at better-known street artists. "But many more people responded: local residents, students, housewives — even a 70-year-old grandmother."
And so, a hundred of Lisbon's 400 recycling containers have been turned into replicas of R2-D2, monsters, mouths and vases — all thanks to a lick of paint.
The success of the street-painting initiative has invaded other areas: a few months ago, City Hall invited five well-known Lisbon graffiti artists to decorate a municipal parking garage. Each artist was given one floor to paint however he wanted, in his own style, with complete freedom. Since then, the Chao de Loureiro parking lot in the Alfama neighborhood has become a sort of place of worship for lovers of this kind of painting, another stop on the crowded and popular Lisbon graffiti route.
The security guard at the gate, where they also give out postcards of the works (made by City Hall) as well as tickets for parking, supports the initiative, having suddenly become a kind of museum guide. He says the best-liked painting is the one showing the strange face of a woman. It is on the second floor of the garage and is the work of veteran Lisbon graffiti artist Nomen, 39, who started at the age of 15 by tagging the train carriages of the city's light rail and metro networks. He was once caught by the police and had to pay a 6,000-euro fine in small monthly installments.
Now admired by the younger generations, he has managed to earn a living from painting thanks to commissions from companies and individuals: City Hall respects him and calls him, and he declares he will never retire. He paints the strange faces admired by visitors to the parking lot but then always goes back to the words and tags of street graffiti — in legal places, protected by municipal tolerance. "And illegal ones," he then says, with a smile. "I guess that with the fame I have, they wouldn't arrest me, but who knows? All this is good," he says pointing at the decorated parking lot, "but once in a while I need to go back to the train carriages; I need to feel that the police are chasing me. Graffiti was born on the trains and it will die there."