BARCELONA FC
Will Guardiola sign on the dotted line?
European exit casts further doubts over contract renewal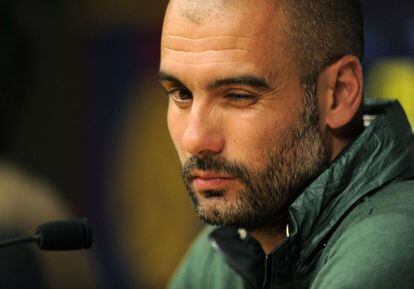 Barcelona's exit from the Champions League at the semifinal stage with a 2-2 tie against Chelsea at the Camp Nou on Tuesday night has increased speculation over coach Pep Guardiola's future at the club.
Guardiola has said he will meet with club president Sandro Rosell this week to discuss the matter, over which he has remained elusive in recent weeks. In previous seasons, the coach, who for personal reasons has always shied from signing long-term contracts with the Catalan club, has always completed his renewal before February. Now, in April, with his team cast out of Europe and its Liga hopes all-but dashed after Saturday's defeat to Real Madrid, his signature looks more unlikely given the attribution of his reticence to being sure he can go on dealing with the day-today pressures of the position.
"For me, I would renew for six years," he has said. "It has nothing to do with this institution, with how well I work, nor with the players nor with the board. In no other place will it be like it is here. But I cannot work in such a demanding club if I cannot feel that I can go on doing things, without knowing that I have the strength to do it. I cannot say one thing or the other if I don't have it clear."
The question is, though, with the losses in these two key games, how much Guardiola's concern about doing what's best for his team is now affecting its players' performances. They want him to stay, to the extent that Leo Messi has placed the continuance of the coach with whom he has won three Liga titles above his own for the good of Barcelona, while Rosell has put everything in place to persuade him to remain.
And where might Guardiola go? Having spent the best part of his career at Barcelona, first as a player, later as coach of Barcelona B, he is such a perfect fit at the club that it is hard to see him elsewhere. When rumors emerged last month that he might head to London to replace interim manager Roberto Di Matteo at Chelsea, the British press proclaimed he would be crazy to leave the best team in the world. In any case, Di Matteo's team's Tuesday performance will have done no harm in helping the Italian stake a claim to a permanent position.
As Guardiola himself says, it is his problem and he is the only one able to solve it. "People want me to renew because I have won titles. If not, they would throw stones at me."