Nun accused of stealing babies remains silent in court
Children-snatching victims' hopes resting on sister's testimony Government announces census of missing children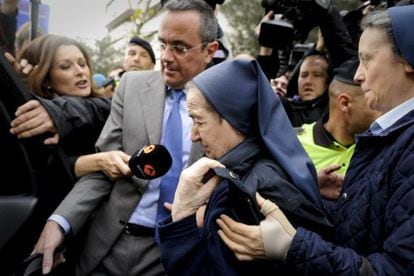 Sister María Gómez Valbuena, the nun at the center of an alleged baby-snatching ring, refused to testify in front of a judge in Madrid on Thursday and remains provisionally charged with kidnapping. Judge Adolfo Carretero has called the adopted parents of the child who was allegedly stolen to appear today.
Gómez Valbuena is the first person to be directly accused of involvement in the scandal, which is thought to have run from the 1940s through to the 1990s across Spain. More than 1,500 complaints have been filed with police across the country by families who believe their children were stolen after birth and sold for adoption.
Gómez Valbuena, wearing the habit of the Sisters of Mercy, arrived at court a little after 8am accompanied by another member of her order.
She managed to avoid the assembled media, many of them foreign, on her way in but despite a police cordon the nun could not evade the cameras on her way out after refusing to speak to the judge. Neither could Sister María dodge a group of women who accuse her of stealing their children: "Thief!" "We want to look you in the eye!" They shouted as Gómez Valbuena disappeared into a black Mercedes with tinted windows.
If she doesn't pay for it here, she'll pay for it up there," said a victim
The government on Thursday announced it would create a census of babies suspected of being stolen that can be cross-referenced with the details of parents searching for their offspring, or children looking for their biological parents.
That was one of the agreements reached at a meeting between the ministers of Justice, Health and the Interior. The database will include the name, date of birth and hospital where a given child was born. Furthermore, the National Toxicology Institute will include the data from DNA tests carried out at private clinics by affected families, of which there are around 1,500.
"The right to know your own identity is in the Constitution," noted Justice Minister Alberto Ruiz-Gallardón.
Sister María, 80, has contracted the services of José María Calero Martínez, the lawyer who acted for the parents of Marta del Castillo, a minor killed in Seville in 2009 but whose body was never found. The Madrid prosecutor's office also called Gómez Valbuena to testify, and the nun once again chose to keep her counsel. Scores of families have seen their cases shelved in regional prosecutors' offices for lack of evidence and their hopes are now centered on Sister María telling judges what she did and what she knows.
The specific case for which Sister María has been subpoenaed is that of María Luisa Torres, who gave birth to a daughter, Pilar, in the Santa Cristina Clinic in Madrid in 1982. Torres says that her daughter was snatched by Gómez Valbuena under the threat of also taking her other daughter away from her "for adultery," according to the police report.
Through the efforts of Pilar's adoptive father, mother and daughter were reunited last year, 29 years after Pilar was born. Last week both appeared in court to testify before the same judge who summonsed Sister María.
"If she doesn't pay for it here, she'll pay up there," said Pilar outside the court. "She deserves the strongest punishment," added her mother.