The founder of The Newsette: How this 27-year-old woman earned $220 million by sending out a newsletter
Daniella Pierson created a daily bulletin for women about technology, business, fashion and beauty, and it reaches over 500,000 people
Daniella Pierson first hit the "send" button on Christmas 2015, when she was 19 years old. At the time, she was a sophomore at Boston University; she didn't like college or excel in her studies, and thought that very few people would be willing to hire her. To avoid the worry of an uncertain employment future, she decided to start her own project and hire herself. In the beginning, she came up with all kinds of inventions, from shower devices to a double straw. But she hit the nail on the head when she asked herself, "What do I like to do?" Since she was a child, reading magazines had been Pierson's way of escapism. To be able to satisfy all her interests in subjects as diverse as business, fashion, beauty and technology, she had to read several magazines and up to 50 different websites. Faced with this situation, she tells the Digiday podcast, she asked herself: "What if there is a better method, and what if I can send it to people's mailboxes around the world?"
Thus, The Newsette – a newsletter designed to bring the experience of a magazine to e-mail – was born. Daniella conceived of it as a gift intended to break through the information noise that is characteristic of a society overexposed to content. The first issue of the newsletter, which contained some spelling errors, arrived in eight people's inboxes. Seven years later, over 500,000 users, mostly women between the ages of 18 and 35, receive The Newsette each day.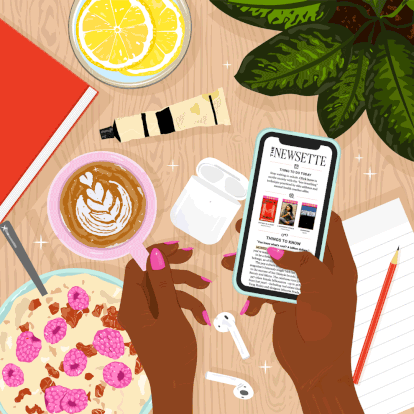 Any given issue of the newsletter combines data on millennial women's investments (beyond retirement accounts or the purchase of a Gucci handbag), information about cosmetic surgery and the famine in Latin America and the Caribbean. In addition, The Newsette has space for interviews with influential women. From time to time, the newsletter also sponsors products like $42 bottles from Amazon or $247 hiking boots from Affirm.
Pierson inherited an entrepreneurial spirit from her parents, which pushed her to create the newsletter, even though she knew she didn't have the knowledge or money to grow her business. So, she threw herself into learning what she had to learn: she wrote every day, listened to podcasts on how to build an audience, educated herself about how to sell her product, and familiarized herself with the principles of copywriting. After a year of sending out The Newsette, Daniella realized that to build a strong brand, she needed to take it a step further. She borrowed $15,000 from her parents to pay for different services, such as a mailing platform and an illustrator to give the newsletter some color. Pierson's parents made her sign a contract to pay the loan back over a three-year period. After she graduated, Daniella began exploring affiliate marketing to monetize the newsletter: the advertiser pays The Newsette every time a subscriber uses the newsletter link to purchase one of its products. The newsletter has already worked with Saks, Bumble and Twitter, among other brands.
Over time, The Newsette's growth strategy has changed. At first, Daniella handed out flyers on campus and presented herself as a company intern because she lacked confidence in her role as a creator. Later, Pierson gained the newsletter's first 15,000 subscribers by stalking her contacts' friends and acquaintances on Facebook and offering them positions as newsletter ambassadors, which gave them a couple of new lines on their resumes, if they could recruit 10 new subscribers. The referral program is one of the most effective methods for gaining new subscribers. Through that initiative, The Newsette's subscribers earn points for recommending the newsletter and bringing in new readers. The points earned can be redeemed for products such as an exclusive newsletter (3 points), a sticker pack (5 points), a mug (15 points), a sweatshirt (55 points), or free coffee for a year (350 points).
Today, The Newsette's founder has turned the newsletter into an established media company that had $40 million in revenues by 2021. Pierson has also expanded the business with the creation of creative agency Newland, which develops TikTok channels for clients and helps them find influencers to market their brands.
Daniella is a big proponent of the idea that mental health and success can go hand in hand. She makes that point clear in her latest tweet: "Most people (including my younger self) think you need to 'have a specific background' or go to Harvard or be the smartest kid in class to build something big. Well, I was the dumbest kid in class and had OCD, ADHD, and depression. Let's change what success 'looks like.'"
Focusing on mental health, Daniella teamed up with actress Selena Gomez and Mandy Teefey, Selena's mother and the producer of the Netflix series 13 Reasons Why, to develop Wondermind, a company that seeks to destigmatize and democratize mental health. They announced the launch of the company on the cover of Entrepreneur magazine with the slogan: "Mental health is good business." Now, they aim to popularize the concept of mental fitness, which refers to routines and exercises that can be done to better understand how the mind works.
Pierson is now one of the wealthiest self-made women in the United States. The 27-year-old has a net worth of $220 million and earned a spot on the Forbes 2020 "30 under 30″ list in the media category. Until two months ago, the only person who owned a percentage of Daniella's company was her mother, because she had always believed in her daughter. Now, an investor has a small share of the company, although Daniella remains the majority shareholder.
In an interview on the TV show Access Hollywood, Daniella told the show's host Mario Lopez: "My dream was to work at a magazine, and I knew that the only people who had a chance were either very good students – that wasn't the case for me – or people who had connections, so I thought, 'Either I turn this into my business, or I can use it on my resume to get into one of these big publications.'" In a society where traditional media is no longer the only avenue for information, it is increasingly likely that the media landscape will continue to favor content creators with independent news projects.
More information