Barbie and diversity: a long journey of criticism and change
In the 1960s, Mattel introduced the first African American Barbie. Today, diversity stands as one of the most crucial elements for the Barbie brand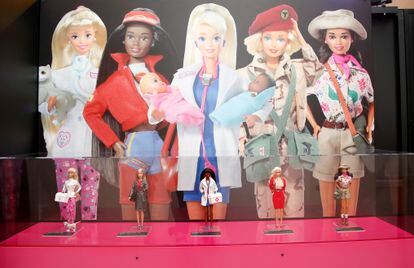 In April 2023, Mattel released a Barbie doll with Down syndrome, the first of its line to depict the genetic disorder that affects 0.1 percent of the population. During the last few years, the toy-maker has focused on creating a wide and diverse line of dolls with different types of physical traits. Recently, it has introduced dolls with a hearing aid, a prosthetic limb, and a wheelchair. Last year, it released a doll with vitiligo. Today, their line includes 35 different skin tones, 97 hairstyles, and 9 body types. Mattel's goal is "for all children to see themselves in Barbie" and to "play with dolls who do not look like themselves." Mattel seems committed to diversity. However, Barbie's vision of diversity has changed over the years.
The first Barbie doll, a long-legged, thin-waisted, blonde, white woman doll, made its debut on March 9, 1959. In 1967, Mattel launched the first African American Barbie Doll, named "Colored Francie," based on a white doll called Francie. However, this doll lacked distinct African characteristics other than dark skin and had the same body as Barbie. In 1968, Mattel released Christie, considered the first African American doll in the Barbie range. In 1969, it launched a Barbie doll based on Nurse Julia, a Black character from the show Julia.
During the 1960s and early 1970s, there was a shift in societal awareness regarding racial diversity and representation. Critics started advocating for more authentic and inclusive representation of different races and ethnicities in toys and media. Christie was criticized for not representing African cultural body image, showcasing only one skin color tone, and her features were seen to characterize white standards of beauty. Later, Mattel released Black Barbie, but it still had Caucasian features.
Starting in 1980, Mattel focused more on diversity in the Barbie line and introduced the Dolls of the World Barbie collection, a series of dolls that showcased different cultures and countries from around the world. Each doll represents a specific country or region and is dressed in traditional attire that reflects the cultural heritage of that place. Dolls representing countries like Mexico and Japan were created. Over the years, the collection expanded to include India, Kenya, and others.
In 1988, the first Latina Barbie doll was released. Named Teresa, she wasn't explicitly Latina, and her features were supposed to be ambiguous, so she could look Italian or Latina. Originally, it used the 1983 Spanish Barbie face sculpt, but later implemented a unique face sculpt. In 1999, it was established that her last name was Rivera, confirming her Latina identity.
During the 1990s, after criticism of its African American dolls, Mattel created new molds with different facial features, skin tones, hair textures, and names. Body shapes were altered, but the proportions remained the same to ensure clothing and accessories were interchangeable. In 1996, Mattel introduced a new African American doll named Nikki as part of the "Teen Skipper" line, as the younger sister of Christie. In 2005, she replaced Christie as one of Barbie's friends.
In the next decade, Mattel continued working on diversity. Several other dolls were released, including the "Cinco de Mayo Barbie," which included nods to Mexican culture. In September 2009, Mattel introduced the So In Style range, intending to have a more realistic depiction of African American people than previous dolls. The release was met with mixed reactions. Although some praised a more diverse line, others said that the doll still had a thin body, promoting an unrealistic body image with long legs, a small waist, and large breasts. Others also commented that the dolls with long straight hair could have a bad influence because of how that type of hair is often considered more beautiful than short curly hair.
In 2015, Barbie introduced new body types: curvy, tall, and petite. A BBC analysis found that the dolls didn't fully compare with an average woman. In 2016, Mattel expanded the So in Style line to include more skin tones, eye colors, and hairstyles. An analysis published in 2021 found that since 2014, Mattel has focused more on the development of toys with Latin features. The study highlights how the company's early efforts in marketing Latino culture relied on strategic ambiguity but eventually engaged in assertive "Latinx" product labeling.
Not every attempt at diversity worked for Mattel. For example, the company teamed up with Nabisco to launch a cross-promotion Barbie doll with Oreo cookies in 1997 and 2001. The 1997 version was released in a white version, but for the 2001 release, Mattel manufactured both a white and Black version. Critics argued that in the African American community, Oreo is a derogatory term used to describe a Black person who is perceived as acting "too white." That was one of the factors why the doll was unsuccessful, and Mattel recalled the unsold stock, making it a holy grail for collectors, like other discontinued "diverse dolls."
In 1997, Mattel introduced a doll in a wheelchair. However, a high-school student with cerebral palsy pointed out that the doll would not fit into the elevator of a Barbie dollhouse. The company announced that it would redesign the house to accommodate the doll. In 2019, Barbie introduced dolls that reflect permanent physical disabilities, including a doll with a wheelchair and a prosthetic leg.
Barbie is not the only doll that has been redesigned. In 2017, the company introduced new Ken body types and a range of diverse features.
Sofia Sanchez, a 14-year-old actress and activist with Down Syndrome, attended the Barbie premiere in the exact outfit worn by the Barbie doll with Down Syndrome, highlighting the importance of diversity and representation.
Sign up for our weekly newsletter to get more English-language news coverage from EL PAÍS USA Edition