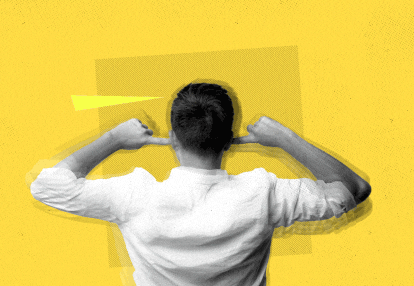 23 songs that should be erased from music history
A group of specialized journalists chooses the most irritating pieces by rock and pop icons
A few years ago, Alex Ross, New Yorker music critic and author of the bestseller The Eternal Noise, began to investigate who was the author of the aphorism that "there are only two kinds of music, the good and the bad." He concluded that it was said by two jazz titans, Duke Ellington and Louis Armstrong. But the thread he pulled led to the Italian composer Gioachino Rossini (1792-1868), to whom is attributed a similar sentiment: "There is no such distinction as you suppose between Italian, French, and German music; there are only two kinds of music, good and bad."
But what about songs created by talented artists with millions of followers and weight in the history of pop and rock? We have proposed a game: which songs created by well-known musicians could be eliminated? Be it because we have heard them too much, because time has devalued them, because they created a trend that was disastrous or because their message is grating today, here are the choices of 23 experts.
'Hotel California', Eagles (1976)
Íñigo López Palaciós (ICON): "I hate the fucking Eagles, man," said El Notas, star of the mythical film The Big Lebowski, directed by the Cohen brothers. Ironically, the film included a version of 'Hotel California' performed by the Gipsy Kings, which produced the umpteenth revival of the 1976 song, which has never quite gone away. In 2014, a report from the consultancy Nielsen said that Hotel California, the flaccid anthem of seventies Laurel Canyon rock, played on US stations once every eleven minutes. As with Don McLean's 'American Pie', there seems to be no getting rid of it. If there is something detestable in music, it is the groups that are late for everything and achieve the success that the pioneers deserved. The Eagles, half hippies, half cheap cowboys, were exactly that. And nothing represents it better than the mellifluous, bland Hotel California."
'All For Love', Bryan Adams (1993)
Gregorio Belinchón (EL PAÍS): "The Ebola of soundtrack songs. In 1991, Bryan Adams had planted the seed of evil: the song '(Everything I Do) I Do It for You' for the soundtrack of Robin Hood: The Prince of Thieves. The ability of Adams's theme to drown in syrup the story of the petty thief from Sherwood did not go unnoticed by a Hollywood executive, who, honoring his position, executed: he commissioned Adams and his team of composers another theme for another film of adventures: The Three Musketeers. But of course, being three swordsmen, two unprejudiced singers were needed to accompany the Canadian. Sting and Rod Stewart finished off that monstrosity. Even before the algorithms reigned, we had predictable products like 'All For Love' (1993), in which Adams, Sting and Stewart entone rubbish like 'When there's someone that should know/Then just let your feelings show/And make it all for one and all for love.' Alexandre Dumas would vomit. However, the worst thing was not its release, but its influence in the nineties, when all Hollywood movies contained similar ballads, until reaching 'My Heart Will Go On' by Céline Dion for Titanic. Impossible to beat this."
'Lady Madonna', The Beatles (1968)
Alfred Crespo (Route 66): "Just irritating. How can you confess to stealing a piano riff from good old Fats Domino, even though you disguise it as subconscious inspiration, only to end up messing it up like that? The main culprit was Paul McCartney, since Lennon half signed it despite contributing practically nothing. Let's hope the maddening choruses and those shoddy wind arrangements weren't his idea, and that they had the great Roonie Scott and his saxophone in the studio…"
'Beautiful Day', U2 (2000)
David Gallardo (Infolibre and Pop Marketing): "After reaching heights of excellence in the nineties, U2 faced the new millennium announcing a return to their most basic roots, which, in essence, meant the end of creative audacity and their defiant attitude. 'Beautiful Day' may be something of a late classic in a discography that would no longer know excellence, but precisely because of that, on an album titled All That You Can't Leave Behind, this beautiful day really sums up everything the Irish band should never have left behind."
'Smoke On the Water', Deep Purple (1972)
David Esquitino (music journalist, head of Redhardnheavy.com): "How many times can a human being listen to a song until they are fed up? How many times can we hear the same song in the same repertoire of one band and another, their satellite artists, their putative descendants (Glenn Hughes, Joe Lynn Turner, Richie Blackmore himself and his Rainbow… even Dio!)? And on top of that, it always comes at the end of the set, the predictable and inevitable culmination of the party. It's a fantastic song, catchy, simple but effective like no other. The riff is a hallmark of rock for good reason. But we shouldn't listen to it anymore. With all of Deep Purple's wonderful songs, known and unknown, from more than 50 years of history, why does it always have to be 'Smoke On the Water'? To rephrase a famous movie, when you go in to try out a guitar in a store you can play 'Stairway to Heaven,' but never again the riff of 'Smoke On the Water.'"
'Lemon', U2 (1993)
Miguel Ángel Bargueño (music journalist and author): "No matter how I think about it (since 1993 I haven't thought about anything else), I can't figure out why the song 'Otro Día Sin Verte,' by Jon Secada (1992), had such an impact on U2 that a year later the Irish group decided to record 'Lemon,' which copies Secada's rhythmic base. As if that were not enough, it is set off with a falsetto by Bono and several attempts at a chorus, the best of which consists of a diffuse oooh... aaaah... over the background of a piano. It's understood that all rock bands must mix up their act at least once in their careers to later be able to sell the much-touted 'return to the origins', but here they demonstrated once again that mixing lemon with anything else is always a bad idea."
'Still Loving You', Scorpions (1984)
Pablo Mayoral (Corsarios del Metal, on Radio Enlace):"Still Loving You was not the first heavy metal ballad to triumph at the mass level, but it is the which gave rise to the hateful phrase: 'I don't like heavy metal, except for ballads,' the quintessential brother-in-law sentence as far as the genre is concerned. The above would already be reason enough to wipe it off the map, but its success eclipsed all of Scorpions' musical production of Scorpions, before and after. Even worse is that history repeated itself with Wind of Change."
'Run for Your Life', The Beatles (1965)
Ricardo de Querol (EL PAÍS): "It is hard to believe that in Rubber Soul (1965), the mature Beatles album steeped in American influences, whose more ambitious lyrics were inspired by Bob Dylan, this apology for the macho crime slipped through. Composed by Lennon (and signed, as always, by McCartney), its first line is atrocious: 'I'd rather see you dead, little girl, than to be with another man.' That phrase was not John's original: he had taken it from a song Elvis Presley sang in 1959, Baby, Let's Play House. But Lennon's lyrics do not go on to mitigate the message. He continues with the idea of a (false) possessive and threatening love: 'Baby, I'm determined and I'd rather see you dead. You better run for your life.' Perhaps as a feminist revenge, Nancy Sinatra covered it the following year by changing the sex of the victim. Lennon would admit years later that it was his 'least favorite' Beatles song. And he commented that he especially liked Harrison on the guitar. For those who did not understand the lyrics, it would pass for a good Beatles song. To anyone who understands it, it cannot be."
'Don't Worry, Be Happy', Bobby McFerrin (1988)
Alex Vicente (Babelia): "The last blows of the Cold War, the Chernobyl catastrophe, the ravages of neoliberalism, the AIDS epidemic, the eight-year war between Iraq and Iran? None of this mattered to Bobby McFerrin, who sang with a false Jamaican accent (or Latino, as he later claimed, as if it were less offensive) that it was enough to forget everything and be happy. Of course, this ode to fake placidity conquered the world. Has your wife left you? Do you have problems paying the rent? Whistle for a while and it'll go away. Its lightness could have been funny in the amoral eighties —it won the three main Grammy awards of 1988— but today it is nauseating. On top of that, it paved the way for other irritating hymns to overacted euphoria, such as 'Happy,' by Pharrell Williams, and 'Can't Stop The Feeling,' by Justin Timberlake. Doing a bit of archaeology, we found out that George Bush used it in the campaign that got him to the White House. And that McFerrin, a respected jazz musician, began making commercial music when he rose to fame by performing a cappella the tune from The Cosby Hour. In other words, it was Bush and Cosby's fault. And suddenly it all makes sense."
'Bohemian Rhapsody', Queen (1975)
David Saavedra (Rockdelux): "Okay, Freddie Mercury was a great frontman and vocalist, that's beyond any doubt. But musically, Queen's contributions to rock history have been more damaging than positive. 'Bohemian Rhapsody,' their most emblematic song, is a pretentious nuisance in the form of operatic rock, and a demonstration that the path of excess does not always lead to the palace of wisdom. It is grotesque, camp and, at the same time, bombastic, pure onanist artifice without any content. But the worst is what came next: dozens of even more annoying imitators (such as Muse and My Chemical Romance), tribute bands everywhere, musical theater extravaganzas and legions of fans who identify Queen as the epitome of good music."
'Blue Monday', New Order (1983)
Dario Prieto (El Mundo): "My colleague Bolíva argues that DJs who play Blue Monday ought to have their hands cut off. Though I am totally against any physical punishment (and very much in favor of New Order and this wonderful song), I have no choice but to agree with him. I'm willing for the piece to disappear from the face of the Earth (and for it to only sound in my head, as in Fahrenheit 451) as long as I never hear it again in an indie club."
'When Love Takes Over', David Guetta (2009)
Sergio C. Fanjul (EL PAÍS): "This song could be the epitome of the degeneration of electronic music into what came to be called EDM (Electronic Dance Music), in other words, from the passage of the machine rhythms of dark and percussive clubs to the big industry, filling stadiums for all audiences, democratizing the taste for recreational drugs and lowering the octane and complexity to get closer to dance pop. David Guetta is the successful, smiling and inoffensive DJ,whose rhythms and melodies always warm the hearts of both the middle classes stuck in traffic jams and the Ibizan Instagrammable party elite. Today almost everything is electronic, but When Love Takes Over, sung by Kelly Rowland, used ad nauseam in television commercials, is an example of that massive, brutish and brainless electronica, made of jelly beans dipped in dust, premium hedonism for a world in its last throes."
'Imagine', John Lennon (1971)
Fernando Navarro (EL PAÍS): "There are songs that aren't bad but have something irritating about them. What does a song have to have to be wonderful and unrepeatable? No one knows. What makes a good song maddening? No one knows. John Lennon's 'Imagine' is one of those beautiful songs seemingly suitable for all ears. But its sweetness can cause indigestion and sugar rushes. This song is a piano ballad with no pyrotechnics or big stunts, but its simplicity is part of its problem. Why?
Because Lennon wants to be Paul McCartney, the master of pop ballads, and ends up skidding into sappiness and excess sugar with lyrics fit for a high school camping trip or a $1,000-a-night spiritual retreat. Supported by those shy and well-intentioned strings, Lennon's performance also seems sleepy, like that friend who closes his eyes while speaking, thinking that it's more interesting that way. It is a composition that is so studied in its ethereal karma that it ends up rejecting the listener who does not believe that the clouds are made of cotton. It is infuriating because it doesn't even have irony or intensity of feeling, which is usually required of this type of ballad."
'Old McDonald', Elvis Presley (1967)
César Martín (Popular 1): "I've always found this one of the most irritating songs of all time, and it's uncomfortable to hear Elvis sing this horrific tune in his disastrous movie Double Trouble. It was, of course, included on the soundtrack. Curiously, another of my great personal heroes, Frank Sinatra, also recorded the damned Ol' MacDonald Had a Farm, and it was later added as an extra bonus to one of his classic albums from the sixties, Sinatra's Swingin' Session!!! This song haunts me!"
'Someone Like You', Adele (2011)
Silvia Hernando (Babelia): "The guidelines to contribute to this list are not to mention any song that was too obviously irritating, like 'Macarena' or 'Baby Shark.' But here's the concern: isn't Adele's music just a tiny bit transparently annoying? Judging from the millions of albums she's sold, crowds will say no. But can someone stand up and say, once and for all, that her songs always sound the same? Cloying, intense, whiny, overacted, exhausting and narcoleptic. 'Someone Like You' is all of that and more: solemnly bland. Less personality than a potato with two painted eyes. It's evident that the singer has a wonderful big voice. But someone has to break the news: Adele, the gentlemen you're crying for don't deserve it. And, really, neither do we."
'Sweet Child O' Mine', Guns N' Roses (1987)
Santi Carrillo (Rockdelux): "I choose this piece de resistance by Guns N' Roses, a group that has received excellent reviews of its recent three-and-a-half hour reunion concert in Madrid. Why? I've never been able to stand the cartoonish rockism of the Los Angeles band. Those rock gamblers who trademarked their version of the bohemian look, between post-hippie and a bit gypsy, of the Rolling Stones scoundrels of the seventies or Jimi Hendrix. I can't stand Axl Rose's cooing, twisting his voice to sell us blues and give soul to a simplistic lyric about idealizing his love for then-girlfriend and later wife Erin Everly (the daughter of Don Everly of the Everly Brothers), a smile that transports Axl to childhood: such paradoxical purity in a group of evil rockers.
Best of all is the original, unaccepted idea for the video: delusional criticism of drug trafficking with an Asian woman in a foreign country who carries a baby stuffed with heroin who, of course, dies. Well done, guys. I have to say, however, that Slash's solo is of a higher level within the category of vaguely sentimental hard rock. It is the portentous recipient of all the awards, recognitions, tributes and covers of the (flabby) song of yore, which gets terrible with Axl's 'whoa, yeah, whoa, oh oh oh.'"
' Wonderwall', Oasis (1995)
Laura Fernandez (journalist and writer): "Yes, it was a hymn from the 90s, but it was unbearable. There is something smugly haughty —probably the Gallagher brothers' excess of ego— permeating the song that today holds the title of 'hit in spite of itself,' in the running for the Most-Hated Supposed Hit in History, in general, and of Brit pop in particular. It is detestable even for the Gallaghers who, upon hearing the version —beautiful and deep, with infinite nuances— that Ryan Adams did in his essential Love Is Hell, asked him to keep it. No one ever really wanted it, and maybe that's why it became unbearable."
'Womanizer', Britney Spears (2008)
Nerea Basterra (EL PAÍS): "If songs are meant to accompany us, to form our chosen musical memory album, 'Womanizer' (included on the album Circus) should not last. It was necessary for it to be born, for sure, because it meant the reunion with the Princess of Pop after the most worrying year of her life, because of the many nights at the club that this song brought us, because it whet our appetite to savor even more of the true jewels of the album ('Circus,' challenging; 'If U Seek Amy,' powerful; 'Kill the Lights,' necessary). But no, it doesn't have to survive. We can forget those 3:44s with a convulsive bass, countless unnecessary repetitions of 'womanizer,' and, above all, an impersonal Britney who doesn't really tell us anything. When it comes to talking about undesirable men, she already nailed it with 'Toxic.'"
'With or Without You', U2 (1987)
José Fajardo (Gladys Palmera): "With or Without You? Without me, Bono! This attack on good taste has exerted a disastrous influence, fatal to our eardrums. It is guilty of the worst of rock to come: the most irritating gurgles of Chris Martin, of all those bombastic and pestilential Anglo-Saxon bands that flooded music for decades, those intense and long-suffering shoddy indies who sell us their first-world commitment as something genuine. Those unbearable epic choruses, the preschool lyrics, the crescendoing sound arrangements that have ruined our lives after being imitated by ruthless publicists. And behind the monstrosity is Bono, guardian of Western morality."
'Love the Way You Lie', Eminem and Rihanna (2010)
Bea G. Aranda (music journalist): "I'm always interested in hearing what a relevant and influential musician has to say about the nature of violence or the relationships between us, especially if it's Eminem, an Oscar-winning rapper. He does not tend to hide his obsessions: in his lyrics he does not only talk about weapons, bills and Asian women sitting in the limo. But when 'Love the Way You Lie' came out, the disappointment was massive. It all felt bad, especially since it seemed more like cheap sensationalism about the loud Chris Brown-Rihanna fight from a year earlier. Lines like 'If she ever tries to fucking leave again/I'ma tie her to the bed and set this house on fire…' don't romanticize the abuse like it could be interpreted in some pop songs by, for example, Lana del Rey, but they don't leave any room for reflection either. To all this, the production of Alex da Kid (guitar, piano and hardcore rap tossed in the blender), has aged very badly."
'Human', The Killers (2008)
Fernando Neira (Cadena SER, EL PAÍS): "The Killers are at times is an appreciable group and other times rancid and ultra-conservative. They repeat the absurd line 'Are we human or are we dancer' over and over again, and there is no English teacher in the whole world capable of deciphering why Brendan Flowers decided to sing 'dancer,' singular, and not 'dancers.' The song is manifestly tacky and easy. And on top of that, since we're going to confess everything, it includes a harmonic movement that always seemed horrifying to me. Look for it at 2′40″: it's a kick in the ear."
'Nothing Else Matters', Metallica (1991)
Carlos Marcos (EL PAÍS): "There are several memes about the (possible) loss of authenticity of Metallica, about their betrayal of authentic heavy metal. When did the Californian group sell out? That is the question. One of those jokes reads, 'Metallica sold when they formed. Real bands never form.' Let's see who refutes that argument. Without going to those extremes, it could be said that the group lost something when the decade passed and it faced the nineties. They released the so-called Black Album, produced by Bob Rock, a specialist in MTV rock (Mötley Crüe, David Lee Roth). Metallica had recorded some slow songs in their previous works. But Nothing Else Matters was a ballad, a heavy ballad, in the style of... Scorpions? Something broke in the metal hearts of hard-core fans, probably meeting pop fans who came to Metallica concerts just to sing this song. 'Nothing Else Matters' is Metallica without muscle, flabby, for all audiences. They have continued to keep the song in their live performances and, as we saw last year at Mad Cool in Madrid, the song is indeed becoming more and more like 'Still Loving You.'"
Sign up for our weekly newsletter to get more English-language news coverage from EL PAÍS USA Edition