The second life of Chalino Sánchez, the king of 'corrido'
Shot to death more than 30 years ago, the legendary Sinaloan sang about the hard life on both sides of the border. His legacy lives on through today's Mexican artists, who are triumphing on the global charts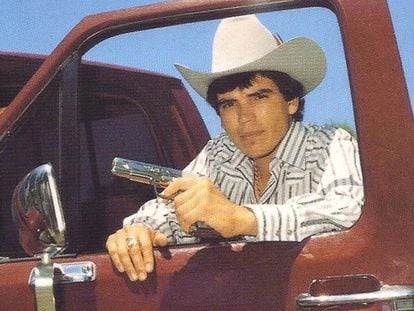 The body of Chalino Sánchez, 31, was found lying next to a road in Culiacán, Sinaloa, with two bullet holes in his head. It was May 16, 1992. Just one day before he was murdered, in the middle of a concert, he received a letter from someone in the audience. Chalino read the paper carefully. His face turned yellow; he wiped sweat away from his forehead with one hand and began singing Soul in Love, as if nothing had happened.
That moment at his last concert — documented on home videos — has since been known as the "death note." Its content, like most of the musician's life, is still unknown… Just one more among the many feats and misfortunes that accompany every popular hero.
Of humble, migrant origins, Chalino's corridos — a traditional Mexican song style that often resemble a story — triumphed not only in his home country, but also in the United States, reviving Mexicanness north of the border. This phenomenon has since resurfaced, thanks to a new generation of Mexican artists, who look to the old idol as a reference.
The stories that surrounded the life of Rosalino Sánchez Félix (his real name) have created a mythical character; a legend who walks a fine line that separates reality and fiction. His days were marred by violence and legal problems. The musician — one of the great singers of the narcocorrido — told distorted, unconfirmed stories about infamous drug lords.
Alejandro Mendoza, one of the hosts of the Ídolo: The Ballad Of Chalino Sánchez podcast, spoke to EL PAÍS about the difficulties of delving into and understanding the stories the musician told in his songs. "[The lack of veracity] was the first obstacle when we began to do the investigation. When you tell a story in which many elements are hearsay, there's no way to verify it. We said: 'let's start from there, [dividing up] the rumors and [from] the verifiable facts,' he explained.
A life full of violence
Chalino Sánchez was born in the small farming municipality of El Guayabo, in 1960, near the center of Culiacán. The youngest of a humble family with eight siblings, he grew up surrounded by the violence that was emerging in the state of Sinaloa.
"He grew up in a place with few opportunities and surrounded by violence. That same violence was what made him be violent," Mendoza said. His father passed away when he was six years old. His older brother, Lucas Sánchez, took care of the siblings. Lucas described his little brother in an interview with the YouTube channel Margarito Music as a "violent" person. This perception is supported by one of the most widespread stories about his youth. After a man raped his sister, Chalino took justice into his own hands: he shot the rapist dead. This violence and lack of opportunity caused him to flee to the United States.
In 1984 — after one of the many gaps in his biography — Chalino racked up several tragedies. One of his brothers was found shot dead in a Tijuana hotel room. The singer narrated it in one of his songs, which he named after his brother, Armando Sánchez:
In the city of Tijuana, gentlemen,
this happened.
A man of courage died; a coward killed him.
Without giving him time to do a thing,
he was shot seven times...
Prison, the criminal world and a pen and paper
The same year that Armando lost his life, Chalino went to jail. Juan Carlos Ramírez-Pimienta, a professor of Literature and Cultural Studies at San Diego State University, assured EL PAÍS that even this period of incarceration is unclear. "There are many things that we take for granted, but that we simply cannot verify. I've tried to verify his stay at the Tijuana penitentiary, but it's [been] very difficult. I haven't found the name of Rosalino Sánchez among [the former inmates]. [However], it's common for people to enter with a false name."
Chalino made contact with the criminal world in prison, writing corridos upon request. He told the stories of these criminals, sometimes glorifying them. Ramírez-Pimienta says that the phenomenon of commissions is very common in this genre of music. "There are singers who say that all their corridos are paid for. [There are] very high-profile singers who say it openly [...] Not only do you need to order a corrido, you also need to ask [the cartels] for permission to release some," he explained.
Chalino crossed the border, undocumented, heading for Los Angeles. He found informal jobs, from working in the Coachella fields, to buying and selling cars. At the end of the 1980s, he was introduced to producer Ángel Parra, who helped him record his first cassette at the San Ángel Studios — El corrido del sapo [The frog's ballad] — together with Los Cuatro de la Frontera, a norteño band, a type of regional Mexican music. He was one of the first musicians to record the harsh stories being lived in Mexico at that time. He didn't have the greatest voice, but his songs were successful.
"He offered a democratization of the possibility of singing. One person said 'if he sings, even I can sing,'" said Ramírez-Pimienta. Mendoza agrees: "He sang with his heart, out of passion. That's also very Mexican. I think that Chalino is the great chronicler of the underworld of that time. He also sang about love."
The legends that spoke of Chalino as a brave and violent guy were confirmed in 1992, during his performance at the Plaza Los Arcos bar, in the city of Coachella, California. Nacho Hernández, the accordionist of Los amables del Norte (the group with which he performed) narrated the event on the podcast. A man in the audience, Edward Gallegos, became furious with the singer for not singing El gallo de Sinaloa [The rooster of Sinaloa]. He pulled out a pistol and fired. Chalino, who always went on stage armed, also took out his pistol. A shootout ensued, and one member of the public died and several were injured. Chalino was hospitalized with gunshot wounds; Gallegos was jailed.
The incident, however, helped project his image — cassette sales and audience attendance at his subsequent concerts increased. In an interview with Margarito Music, producer Ángel Parra gave an account of this boost in popularity: "In the first recording, 300 [copies] were made. After the last one, 31,000 were released."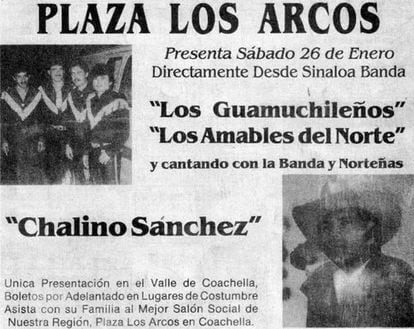 A few months after becoming famous in the United States, Chalino returned to Culiacán to give some concerts. The stories collected by experts such as Ramírez-Pimienta speak of the fact that many people recommended that he not travel to Sinaloa. The director of Revista Espejo [Mirror Magazine] Alejandro Sicairos said that, while the state of Sinaloa was struggling with a lot of violence, the singer was proud to represent the common man.
"He really liked walking through the streets [of Culiacán], showing how he overcame the original situation of backwardness, poverty and misery. He walked surrounded by people and fancy cars. The times I saw him, he seemed like a normal citizen… but also an outstanding one," he said.
In Culiacán in the 1980s, there was a "remarkable and visible" level of organized crime, Siqueiros explained. The second generation of the Sinaloa Cartel was emerging, led by Amado Carrillo Fuentes, Miguel Ángel Félix Gallardo and Joaquín El Chapo Guzmán. The journalist says that the armed groups had influence both in the government and in the police.
Chalino gave his last concert in his hometown, in the Bugambilias Hall. He read the death note and, the next day, a car and a van with people dressed as federal cops (it hasn't been confirmed if they were really agents) fired two shots at the singer. The reason for the hit has never been revealed.
Success and legacy
Chalino's marketing was forged by both word-of-mouth and the sale of cassettes in places such as street markets or flea markets. In the 1980s, Los Angeles lived through the era of the emergence of gangsta rap — a variant of rap in which the violence of life in the toughest and most marginalized neighborhoods was addressed. Mexican Americans and African Americans met in the suburbs of the big city, exchanging their cultures and styles. Chalino's lyrics coincided with the themes of the movement: violence, drugs and cartels, which helped bolster his public following. "Chalino Sánchez re-Mexicanized a generation that was not connected to its Mexican roots," Ramírez-Pimienta emphasized.
Chalino has since reemerged in the present. "Right now, there are shirts with Chalino's face [on them]. When you put a character or a person on a t-shirt, they become part of pop culture. It surpasses what they did in life," Mendoza said. Simultaneously, the recent explosion of Mexican artists in the United States has resulted in a resurgence of Mexicanness. When this article was published, 13 Mexican songs are on the Billboard Hot 100 — the chart showing the 100 most-played singles in the United States. Among them, the corridos are present.
The stories that surrounded the singer during his life turned him into a legendary character, resulting in him being referenced in dozens of songs on both sides of the border. An example of this is CAMBIA! [Change!], a song by C. Tangana and Carín León in which they sing about a brave man who was the gallo (rooster) of the corral.
In his podcast, Alejandro Mendoza launches into a reflection that summarizes the tragic moment of the musician's death: "Whoever wanted Chalino dead screwed up, because it made him eternal."
Sign up for our weekly newsletter to get more English-language news coverage from EL PAÍS USA Edition