The twilight of the rock gods: The pros and cons of 17 veteran musicians
Bruce Springsteen, The Rolling Stones, Bob Dylan, Stevie Nicks, Neil Young... They are all over 70 years old and still active. Are they still relevant artistically or are they living on nostalgia alone?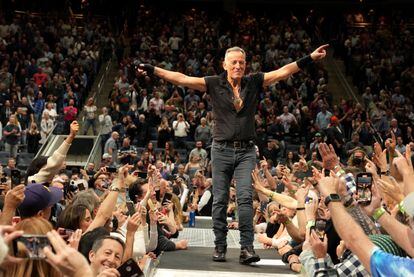 The most influential generation of rock and pop musicians is now saying goodbye. These musicians popularized the aforementioned musical styles as we know them on a massive scale in the 1960s and 1970s. Some have retired from the profession (Tina Turner, for example, retired in 2009, at the age of 70), while others cannot believe that they are still alive after all they've lived through (Keith Richards has said so on occasion). But many are still active, making music and touring the world. Do these veterans have anything to contribute in 2023? Are they dead artistically? Do they continue based on nostalgia alone? Should we forgive them for current shortcomings because they have already given us so much? As Mick Jagger recently noted of the situation of aging rock stars, "We may have more freedom now, but we have little time left, and we have to think very carefully about what we want to do with it."
Below, we remember 17 aging musical icons, defined as 70 years of age or older. Many others could have been included, but because of space limitations, they have been left out of this article.
Bruce Springsteen (New Jersey, United States, 73 years old)
When Rolling Stone journalist Andy Green asked Bruce Springsteen in November about the high price of tickets in the United States for his new tour (some cost $5,530.95), fans took a few seconds before reading his answer. Would their working-class hero have any reasonable justification for having betrayed that spirit? Would he say it was a regrettable mistake and insist on fixing it and making the tickets cheaper? No, he would not. Rather, Springsteen responded: " For the past 49 years or however long we've been playing, we've pretty much been out there under market value. I've enjoyed that. It's been great for the fans. This time I told them, 'Hey, we're 73 years old... I want to do what everybody else is doing, my peers.' So that's what happened. That's what they did.'" Some fans were disillusioned and will never again see him live. The so-called dynamic price scheme that caused the exorbitant costs have not yet been revealed for Springsteen's upcoming European tour; the cost varies according to demand (it's like an auction with an algorithm and the highest bidder gets the ticket).
Today, Bruce still works his magic live, as reports of his recent concerts attest. His shows offer three sweaty hours with a rock-and-roll wizard. But his recent recordings are another matter. His latest, Only the Strong Survive, is a predictable album of soul covers, and some say that his last great album was Nebraska (1982), which was released 41 years ago.
Debbie Harry (Miami, United States, 77)
No rock goddess has appeared more on the covers of music and fashion magazines. In her 30s, Debbie Harry was the epitome of cool, and she still is at the age of 77. She proved it just a few days ago at the Coachella festival, where she performed with her band Blondie; Niles Rodgers, another model of sophistication, joined the group for a couple of songs. Blondie's latest album, Pollinator, was released in 2017 and is quite good (Harry is accompanied by Chris Stein and Clem Burke on guitar and drums, respectively). Don't miss Blondie in concert, and long live Debbie Harry!
Eric Clapton (Surrey, England, 78)
Eric Clapton is still giving concerts. He is currently on tour in Japan, has a couple of shows scheduled in London (in his beloved Royal Albert Hall), and will leave for the United States soon. The British guitarist angered many people with his strange theories about the pandemic; he said that vaccinated people may be victims of "mass formation hypnosis." He also said that he was composing "protest songs" for the first time. He was referring to songs like Stand and Deliver, which he performed with Van Morrison; in it, they sing about the pandemic: " You let them put the fear on you. Stand and deliver. But not a word you heard was true... Do you wanna be a free man or do you wanna be a slave?"
Clapton's most recent album, Happy Xmas, was released in 2018 and consists of Christmas carols. His previous works always cracked a guitar solo or paid tribute to the masters of the blues, but he has gone decades without releasing a dazzling album; his work from the 1980s, with albums like Behind the Sun and August, are hard to vindicate. Certainly, we don't expect much more from him.
The Rolling Stones' Mick Jagger (Dartford, England, 79) and Keith Richards (Dartford, England, 79)
The Rolling Stones have released 10 albums in three and a half years, but there's a catch: seven are recordings from their recent tours and two are reissues — Goats Head Soup (1973) and Tattoo You (1981). The latter introduce previously unreleased songs, including some high-quality tunes. Their last album with previously unreleased material came out in 2005, 18 years ago: the very worthy A Bigger Bang. Mick Jagger, Keith Richards and Ron Wood have confirmed that they have recorded new material and will release an album in late 2023 or early 2024. One track includes Paul McCartney as the bassist. The Beatles and Rolling Stones together? Not bad. Charlie Watts, who died in August 2021, left recordings behind, so parts of the album will include him on the drums. On other tracks, Steve Jordan, who joined the band on its last tour, plays the drums. Following some shabby concerts, the band has been putting on some fantastic shows. The 79-year-old Stones play more together; Jagger runs less and sings better, while Richards has managed to live with arthritis and still produce magic on his guitar. Though we'll have to wait to evaluate their new songs, we can already say that the band's longevity is a miracle.
Fleetwood Mac's Stevie Nicks (Arizona, United States, 74)
No rock idol has been more vindicated lately than Stevie Nicks and her time as a member of Fleetwood Mac. The group's music has even become popular on platforms mostly frequented by teenagers like TikTok. Her songs have been going viral. Participants in talent contests often sing Dreams or Go Your Own Way. The hit show Daisy Jones & the Six is inspired by Fleetwood Mac's story. Nicks has not released new music for some time, but she continues to perform (by herself or with another veteran musician like Billy Joel), showing that her voice still conveys a lot. She has also been giving delightful interviews, like the October 2020 one with this newspaper, in which she said: "Since I was nine years old it was clear to me that I was going to be someone big. I remember the first time I bought clothes at the thrift store where Janis Joplin used to buy them, which was called Velvet Underground. I walked out of there wearing [the clothing], and people were turning [their heads] down the street, thinking I must be somebody, and I was, I knew I already was."
Led Zeppelin's Robert Plant (West Bromwich, England, 74) and Jimmy Page (Middlesex, England, 79)
If Led Zeppelin has not reunited recently — they have played together occasionally since the band broke up in 1980, most recently in 2007 — it has been exclusively because lead singer Robert Plant has not wanted to do so. Both Jimmy Page and John Paul Jones have always been willing (John Bonham died in 1980). But Plant, who by rejecting the reunion has missed out on making a lot of money, has always argued that getting back together makes no sense, that the band was a long time ago and that he wants to evolve as a musician. To that end, he has done projects with Alison Krauss (most recently in 2021), as well as always-interesting solo albums. His voice no longer reaches the heights it did in Stairway to Heaven, but it has gained wisdom and depth. Meanwhile, Jimmy Page has been responsible for Led Zeppelin's legacy and hopes that someday Plant will agree to reunite again.
Bob Dylan (Minnesota, United States, 81)
A Twitter user described the 12 concerts that Bob Dylan will perform in Spain this year as follows: "He doesn't even say hello, he stands at the back of the stage, sings muttering, mangles his classics so that no one knows [them] and leaves without saying goodbye. Price: 85 euros and up." That's an exaggeration, but there is some truth to it. Perhaps those upset when the genius deconstructs his Like a Rolling Stone until it sounds unrecognizable will be glad to know that he won't be playing it on this tour. Nor will he be performing classics like Blowin' in the Wind, Highway 61 Revisited, Knockin' on Heaven's Door or Girl from the North Country, if the setlist of his most recent concerts in the United States and Japan (where he is currently performing) are any indication. Can anyone imagine a Rolling Stones concert without them playing I Can't Get No (Satisfaction)? Dylan has been marching to the beat of his own drum for many years (forever?), which is more praise than complaint. He never stops playing and he can still thrill us creatively, as he proved in his last work, Rough and Rowdy Ways, from 2020. Perfect.
Pink Floyd's Roger Waters (Surrey, England, 79) and David Gilmour (Cambridge, England, 77)
In the all-out war between Pink Floyd's two alphas, Roger Waters has emerged victorious, largely because he offers dazzling shows. Notwithstanding his tendency to spark controversy, nobody leaves a Waters concert disappointed. In addition to touring, Waters is re-recording The Dark Side of The Moon without the other two living members of the band, David Gilmour and Nick Mason. The latter has already listened to the whole album and said, "It annoys me, but it's brilliant!"
For his part, Gilmour keeps a low profile, and his public appearances are few and far between. Just a year ago, he (along with Mason) released a song, under the name Pink Floyd, Hey Hey Rise Up to support Ukraine. The effort received mixed reviews from the band's fans: they appreciated the gesture of solidarity but were not enthusiastic about the song itself.
Neil Young (Ontario, Canada, 77)
Neil Young has continued his crusade against the music industry more forcefully than ever — if that's possible — in recent years. In January 2022, he removed his music from Spotify to protest the fact that the Swedish platform hosted antivaxxer Joe Rogan's podcast; people generally assumed that he would eventually go back. But the Canadian artist still hasn't returned after a year and a half, and he doesn't seem likely to do so. Young has recently focused his ire on Ticketmaster "for ripping off fans" with, among other things, its dynamic pricing scheme (hello, Bruce). He also continues his fight for a green world. "We're trying to figure out how to do a renewable, self-sufficient tour," he has said. He won't tour until he solves the issues of pricing and zero pollution. Artistically, Young is very much alive and remains highly creative. In just one year, he released two new (and good) albums with his Crazy Horse cohorts, Barn (2021), and World Record (2022). Young also continues to scour his archives for gems, and he finds them.
Patti Smith (Chicago, United States, 76)
If you've been watching the entertaining series Daisy Jones & the Six, you've been hearing Patti Smith in each episode: the opening song is Dancing Barefoot from Smith's 1979 album Wave. She still plays this song regularly at her concerts, where she rages at a world she doesn't like. Smith is always working on artistic projects: a photography book, a collaboration with experimental musicians, poetry readings... She struggles the most to produce albums. Smith released her most recent album, Banga, in 2012, and it is quite good. From time to time, the deep-voiced singer also joins other bands on their albums. Smith has never been one for large crowds and that remains the case: she's a restless artist in pursuit of art for its own sake, not easy applause.
Ex-Beatles Paul McCartney (Liverpool, England, 80) and Ringo Starr (Liverpool, England, 82)
Over the years, Paul McCartney has become a figure who conveys peace, good sense and — why not? — authenticity. It used to be cooler to say that John Lennon, the maverick and complex hippy hero, was one's favorite Beatle, but today, McCartney is the more comfortable answer. McCartney has managed to balance between what his legacy represents (he performs all the classic Beatles songs you'd expect in his three-hour concerts) and experimentalism. He's teamed up with much younger talent like Kanye West, Rihanna and Nigel Godrich and recorded avant-garde music under the moniker The Fireman. Paul is still going strong; he released his most recent noteworthy album McCartney III in 2020 and continues to give resounding performances, such as when he headlined the 2022 Glastonbury Festival in England.
What about Ringo? Well, there he is, smiling and flashing the peace sign. Every morning good old Ringo must thank his lucky stars for having crossed the path of three geniuses (John, Paul and George) and for being alive at 82 to tell the tale. He releases nice solo albums from time to time (the latest was in 2019, What's My Name) and performs frequently, lately with other veterans like Steve Lukather of Toto, and Edgar Winter, the great Johnny Winter's brother. Of course, his set list always includes the cheery crowd-pleaser, Yellow Submarine.
Van Morrison (Belfast, Northern Ireland, 77)
His concerts are stingy, his pandemic denialism is inconceivable, and his latest albums are full of cover songs... Yet we still love him, because his few good moments and flashes of genius can make us forget his prickly personality. His latest album, Moving on Skiffle, released a few weeks ago, showcases his still- powerful voice and a desire to offer fun, if no longer transcendent, music. But we fear that his character is beyond repair.
Rod Stewart (London, England, 78)
It's surprising that Rod Stewart's arid voice, which has been punished for six decades, still has the ability to go on tour. Recently, Stewart has had to cancel some concerts precisely because of voice problems, but when he goes on stage and performs Maggie May or Tonight's the Night (Gonna Be Alright), he still generates excitement. But nostalgia is all Stewart has left. Artistically, he has been in the doldrums for years: his latest album, The Tears of Hercules, was rather weak.
Sign up for our weekly newsletter to get more English-language news coverage from EL PAÍS USA Edition