Terrifying animatronics, lost souls and pizza: The video game that's become a hit with children
The franchise 'Five Nights at Freddy's,' a low-budget survival horror title, has become a surprising favorite of the youngest players, even spawning a series of books and, later this year, a movie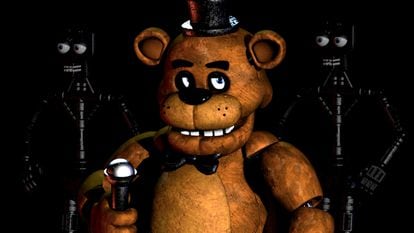 Your name is Mike and you work at the famous Freddy Fazbear's Pizza restaurant, which during the day uses supposedly friendly animatronics – bears, rabbits, chickens – to entertain children. You don't serve tables, wash dishes or cook; you are there as a security guard who must make sure that nothing bad happens in the premises during the night. What could happen, you ask? Well, the animatronics might go insane — or, actually, be possessed by the souls of frightened children — and try to kill you and everyone else. You will have to stop them, but first you need to hide, move stealthily and try not to open the wrong door. This is the basic premise of Five Nights at Freddy's, a game presented in the form of a series of addictive, short and relatively easy matches, and the most mainstream indie phenomenon in recent history. One that mostly children and teenagers have heard about, too, as they are the ones playing it.
Created in 2014, Five Nights at Freddy's (also known as FNAF) today encompasses a series of novels, a Guinness world record (most sequels released in one year, 2021), and up to 21 different titles on all kinds of platforms (consoles, mobile, PC). Just its first installment — there are nine and one spin-off — has sold more than 50 million copies worldwide. It was rumored that its film version was going to be directed by the legendary Chris Columbus (Gremlins, Home Alone), although in the end it went to Emma Tammi. An October release has just been announced; the animatronics will be provided by Jim Henson's Creature Shop.
Its extreme popularity grew under the radar of a video game market that has been so completely focused on the so-called Triple A titles (blockbusters made for regular gamers, mostly highly trained adults) that in a way has neglected the children and teenagers who, phone or tablet in hand, have access to whatever their favorite youtubers recommend, which does not need to have to a huge company behind. In fact, the FNAF phenomenon is probably a consequence of how much fun it was for children to watch other players on YouTube get scared while playing it. "That is how it started to become popular, to a large extent. Thanks to the hilarious jump scares that would startle the players when they saw the animatronics appear," explains Óliver Pérez Latorre, a professor at Pompeu Fabra University, in Spain, specializing in game studies and contemporary fiction imagery.
To Pérez Latorre, the success of FNAF among the youngest players has to do with "its connection with a type of game that has always been successful among children: hide-and-seek," (a similar case is that of Among Us, another phenomenon that was not originally conceived for children, but only as a simple game with a clear bet on the multiplayer mode and the possibility of playing with friends). "A fairly multitasking hide-and-seek," he admits, as players are constantly doing more than one thing at a time, something that evokes, in his words, "the duality of our relationship with social media: many open windows that, on one hand, empower or liberate us, in a sense, but in part they are also a trap." There is also an element of charisma: for Carol París, editor of the Spanish versions of the books, animatronics "are the new Gremlins."
Scott Cawthon, the creator of FNAF, a 45-year-old Christian Republican from Salado, Texas, did not have Roald Dahl's creatures in mind when he came up with the franchise. However, the animatronics do connect somehow with the old tradition of the boogeyman, although here, curiously enough, the monsters are possessed by the souls of children. "I wouldn't go as far as to say that the video game industry is ignoring the children, not in a categorical or general way, but I do think that there are independent games that, due to their simplicity and viral potential, are filling certain gaps, even if they were not created for that particular audience," points out Pérez Latorre. And the simplicity goes beyond the dynamics of the game. The title can be downloaded for free, or for a very small price, and even allows for creative interaction: countless players end up creating their own versions of FNAF.
Today, Cawthon is retired – he was canceled by a Twitter campaign after admitting that he had donated money to numerous Republican candidates – and spends his time raising his children, although the franchise has not lost a bit of strength. In fact, the latest title, Five Nights at Freddy's: Security Breach, has become the best-selling game in the series on Steam and PlayStation, and the highest rated by critics. As for the books, besides the 12 novels, there are new graphic novels on the way and, of course, guides. "Parents tell us that their kids, who didn't use to read, have devoured the books," says París, who reflects that FNAF offers a special way to play with the forbidden.
The community keeps multiplying; the merchandising too. Pérez Latorre agrees with Carol París regarding the power obtained by means of exploring what you fear, and once again alludes to the classic hide-and-seek, a game "aimed at rehearsing fear and the ability to face it through cunning, strategy and stealth" while promoting group interaction. However, at the same time, he admits, "there are relatively new factors in the equation: not only the entertaining videogame format itself, but the increasingly close synergies between videogames, social media and viral culture," he points out, something impossible to explain without taking into account the fact that "today young people get used sooner to using YouTube and social media as part of their entertainment diet; it is essential consider this factor in order to understand contemporary videogames," he concludes.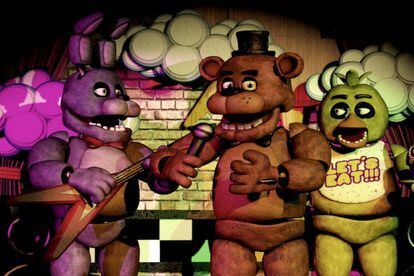 Sign up for our weekly newsletter to get more English-language news coverage from EL PAÍS USA Edition