From being underrated in 'Twilight' to making history at the Berlinale: Is Kristen Stewart the best actress of her generation?
At just 32 years old, the woman who refused to smile on red carpets is the youngest jury president in the Berlin International Film Festival's 73-year history
Last month, actress Kristen Stewart became the youngest jury president in the history of the Berlinale. The position has been held by great thespians like Isabella Rossellini, Meryl Streep and Juliette Binoche. After her first Oscar nomination for playing Lady Di in Spencer, the actress announced last week that she will play Susan Sontag in a production that combines documentary and fiction. The role marks another step towards auteur cinema for an artist who has long attempted to distance herself from the Twilight saga. Olivier Assayas, the director who has supported her reinvention, has said that "Kristen Stewart is the best actress of her generation."
In a short time, she crossed the distance that separates Forks, the town where the Twilight saga is set, from Berlin, a global epicenter of auteur cinema. But Stewart's film history doesn't begin with the vampire franchise. She began acting as a young girl in movies like Panic Room (David Fincher, 2002). She co-starred with Jodie Foster, one of the few Hollywood stars who, like Stewart, have publicly come out as LGBTQ+.
Before turning 18, the star had already worked with directors like Jon Favreau (Zathura: A Space Adventure, 2005) and Sean Penn (Into the Wild, 2007). She never went to high school. She grew up between shoots and developed an early aversion to paparazzi's flashbulbs. On a red carpet at 11 years old, she told a photographer that she couldn't even open her hands because of her nerves. In 2015, that same paralysis would prevent her from holding the César award she won for her role in the Olivier Assayas film Clouds of Sils Maria.
In 2008, Stewart starred in the first of five Twilight films. The series, aimed at teenage girls, became one of the last decade's greatest cultural phenomena. Despite the box office success, the films did not help Stewart's prestige as an actress. "She has two expressions: blank and slightly less blank," Claudia Puig wrote for USA Today. "She's such a bundle of bland that you wonder why these supernatural creatures are so crazed about her," said critic Richard Roeper. Her character, Bella Swan, was also criticized by feminists, who did not approve of her toxic relationship with the shiny vampire Edward Cullen: in New Moon (2009) the young would-be vampire attempts suicide twice in order to get her boyfriend's attention.
Events in her personal life – such as keeping her relationship with Robert Pattinson quiet, cheating on him and later declaring herself a lesbian – had a decisive influence on her loss of popularity in Hollywood. Former US president Donald Trump went so far as to post eight tweets advising the last protagonist of Batman not to return to Kristen Stewart. "She cheated on him like a dog & will do it again – just watch. He can do much better!" And he continued: "Robert Pattinson should dump Kristen Stewart. In a couple of years, he will thank me. Be smart, Robert."
What most irked the public was Stewart's unwillingness to smile during appearances. Hollywood is less generous with those who don't pretend to be happy at every moment. No one understood why she didn't like being famous. After watching the first few scenes of Twilight, the producers asked her to smile more. A journalist even dedicated an ironic post to "The 22 Times That Kristen Stewart Smiled In 2012."
In 2013, The Cut ranked Stewart as the second most hated star in Hollywood. She must have gotten the message, because the following year she took on a project in Europe. Olivier Assayas, who had first seen her perform in Into the Wild, called her to offer her a role in Clouds of Sils Maria (2014), after his first option, Mia Wasikowska, backed out. Stewart appeared alongside Juliette Binoche in a film full of references to both the work of Ingmar Bergman and the actresses' own careers.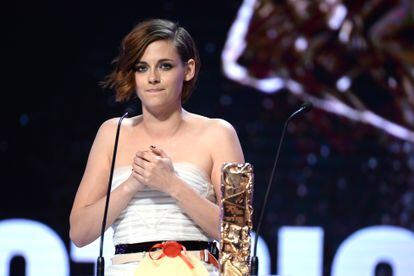 The film helped rehabilitate her image after she had been outlawed by the scandal of her adulterous relationship with film director Rupert Sanders. "People who despised her were surprised to find her likable, intelligent and a good actress. I knew we hadn't seen everything she was capable of," director Assayas said. Stewart became the first American actress to win the César award, and in 2016 she repeated her collaboration with the French filmmaker in Personal Shopper, a film written expressly for her, which reconciled her definitively with the critics. "Throughout the film, she is required to display any number of internal shifts in personality while still remaining more or less the same on the outside. To each shift in character, she manages to find an approach that does something wholly new and original while at the same time being absolutely real and recognizable," critic Peter Sobczynski wrote about her performance.
Stewart continued working with great directors. She shot Café Society (2016) with Woody Allen and co-starred in The Borden Family Murder by Craig William Macneill. In the private sphere, she announced her relationship with screenwriter Dylan Meyer, becoming the first major Hollywood star to make her homosexuality official while still working as an actress. The anguish she suffered for so many years due to the harassment of the media must have helped her to get into the skin of Princess Diana in Spencer, her definitive consecration in American cinema, which earned her a nomination for best actress at the Oscars. There was no one left to doubt her talent: "She has a magnetism and mystery," wrote EL PAÍS film critic Carlos Boyero.
The actress did dozens of interviews, premieres and promotional events for the film in the race for the Oscars, but finally the statuette went to Jessica Chastain. Nobody knows when she will be back as a favorite for these awards, but for the moment she has not stopped adding interesting titles to her filmography. Last year she participated in David Cronenberg's Crimes of the Future, and as announced during the Berlinale itself, filming has already begun on a biopic of the philosopher Susan Sontag. "We're using Berlin as a moment to kick off the project and do documentary footage of Kristen as the head of the jury and talking to her about how she's going to become Sontag," said Gabrielle Tana, producer of the project.
Sign up for our weekly newsletter to get more English-language news coverage from EL PAÍS USA Edition