From Ms Nina to La Goony Chonga: The women leading the sexual revolution of Spanish urban music
Artists such as Bad Gyal, La Zowi and Tokischa are starting to sing about sex, no holds barred, and it's causing a stir
Jorgelina Andrea was a quiet child who didn't say much at school. She rarely went out with her friends and her fear of socializing meant she spent a lot of time in her head. But she was not comfortable with isolation either, so she decided to invent Ms Nina. And she began to sing lyrics like: "Don't you like it when I do it slow / I'm so sorry / I don't waste time, I keep my gun under my skirt / I don't want money, I don't need it / When they ask me if I do it for free: of course not, sweetie" from the song Tu Sicaria.
"My self-esteem was minus 10," Ms Nina, 29, tells EL PAÍS. "So I created Ms Nina, someone who is not afraid and who says: be fat, be skinny, be sexy... Do whatever you want and be happy. The creation of Ms Nina was my therapy. It saved me. If you had told me seven years ago that I would be on stage, I would have said you must be joking."
Born in Argentina, Ms Nina has been living in Spain since she was 21 and is one of a growing number of female urban Spanish-speaking singers – a field that includes hip hop, trap and reggaeton – whose lyrics are overtly sexual. Sex has always been a recurring theme in pop music, but never have women in the Spanish-language music scene sung about it so explicitly. "I consider it a sexual revolution," says Javier Benedicto García, organizer of BLAM !!!, a female urban music festival. "They are owning their sexuality with their own narrative. These singers have dealt a blow to the establishment."
What kind of lyrics are we talking about exactly? As García says, "ones that make Hentai look like Disney."
You may remember Hentai, the song by Rosalía from her Motomami album that raised eyebrows for including sexual metaphors, such as "make me a tape spike style. / I beat it until it got stiff." But Rosalía's lyrics are mild compared to the explicit references being made by the following artists:
La Zowi, 29, a Spanish-French singer, singing Tutoto: "I want it to be my ass that bounces you / And even if you say your bed is always occupied, my pussy will always cry for it."
La Goony Chonga, 30, born in Miami but who developed her career in Spain, singing Qué Te Gusta: "My shirt up and my skirt down / Daddy, whatever you like, you know I'll do, if you want me to suck you off, daddy, I'll swallow it."
Bea Pelea, 28, from Málaga, singing Oye Papi: "Listen Daddy, you give it to me / I want you to do it to me until it's in your bones."
Bad Gyal, 25, from Barcelona, singing Learning Sex: "He has me hot, he's hard all day… Your hard-on and my vagina are lead and harmony."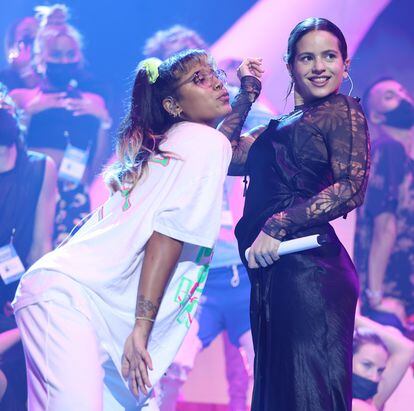 The most scandalous song to date has been Delincuente, by Tokischa, 26, from the Dominican Republic, an artist who has collaborated with Rosalía, J Balvin and Madonna. The lyrics go: "I have a delinquent in my room, sometimes he gives it to me without protection and sometimes with a condom / I have a delinquent in my room, he gives it to me in the kitchen and sometimes on the balcony."
As soon as Delincuete was released, thousands of messages fueled the debate on YouTube and Instagram. There were ironic remarks such as, "nice song, I'll play it at the Children's Day celebration" and "I think my cellphone has just become pregnant." Others were indignant: "Aren't you ashamed of singing this stuff? Some legacy you are leaving to our youth and to music." Or simply, "what a disgusting song!"
But there were also remarks that applauded the lyrics: "That's what annoys our macho society: a woman who is able express herself freely in her lyrics."
Tokischa responded: "I bring my music to people who feel free, who feel good, who have love and want to enjoy life."
But surely the most relevant Spanish artist on this scene is Bad Gyal. In a conversation with EL PAÍS, the Barcelona-born artist argues: "These songs are like a declaration of intent: I love myself and this is how I show it to the world. It does me good when I write these songs because I reaffirm myself; it's self-love. And I feel that they have the same effect on the people who listen to them. If I say: I'm hot, I'm a huge ass, I'm the toughest, the best... The people listening will feel the same way. It's like saying 'I'm going to devour the world.' And the thing is that I'm a skinny girl 160 centimeter tall, telling you that I have a 'tremendous ass.' I don't have Kim Kardashian's ass, but to me I'm a big ass."
Teresa López Castilla has a degree in History and Music Sciences from Spain's University of Granada. She is currently part of the R&D research project Popular urban music and feminism in Spain: strategies, conflicts and challenges for women in contemporary music (2000-2023). López Castilla explains to EL PAÍS the macho implications behind some of the criticism: "All these artists present themselves as active subjects of an explicit sexuality in a society that still does not fully understand that women can claim or express their sexuality in such an upfront way. It is the same society that educates us in the rape culture, in the fear of going out alone at night or having fun on the same terms as men, because we are vulnerable to their abuses: it is the same society that does not position us as equals in a mutually consensual sexuality."
La Goony Chonga, one of the most listened to urban singers, says, "I believe that every woman has the right to express herself in whatever way she feels comfortable with. If a woman wants to dress a certain way, that's her decision. People should mind their own business and focus on what makes them happy instead of trying to dictate what feminism is and isn't."
All these artists are reaching a young audience; their numbers on platforms like Spotify are in the millions – Bad Gyal has 4.2 million monthly listeners on Spotify – and their presence at festivals is huge. In a cultural sphere where mainstream media is dispensable, they have widened the underground to reach all kinds of social classes.
According to Ms Nina: "Young people don't listen to the radio. They prefer TikTok, Instagram and YouTube. But it is also strange that Spanish urban music, which attracts so many young people, is not played in the commercial media. I think society is very prudish. Now everyone considers themselves saints, priests and nuns. Stop fucking with us! You're not going to get pregnant by listening to a reggaeton song. It's true that it might talk about shaking your ass and 'I'm going to get you on all fours' and that parents can say, 'I don't want my daughter to listen to that.' But that's what they hear, that's the reality. It's another thing if lyrics say, 'I'm going to stab you and slit your throat.' That would worry me as a mother. But the other stuff – I don't know why it's scary. I would say social networks are scarier for their children than this music."
Lidia Sánchez, 22, has just finished her degree in Early Childhood Education and has been consuming female trap music for some time. "We are so used to listening to the kind of genre that includes explicit lyrics that it would be somewhat sexist to be alarmed only when a woman sings them, given we we've been listening so long to men talking about their sex life. Feminism has made it possible for women to sing the same explicit lyrics about sexuality."
The social component is relevant, as is the generational. Punk in the mid-1907s spat in the face of conservatism. Rock did the same in the 1960s before its stars bought mansions. Even grunge put out an anti-establishment message. All these genres intended to change the rules of the game. But some believe that the new generation has another goal in mind: they have already seen that society cannot be changed and the world is increasingly moving towards apocalyptic terrain; the only thing they have left is their own body, which is the one thing they are still in charge of.
Aitziber González García is co-host of the podcast Autotune o Barbarie and a specialist in urban music who has already dealt with this topic in one of her programs. "Sex in Spain is still a taboo, perhaps because of the Judeo-Christian tradition," she says. "There are many morally prejudiced people who do not understand how a woman can talk about submission in sex and that this can be voluntary. They say: 'I want to be submissive, is that a problem?' These women are also criticized on moralistic grounds by certain feminists with a condescending and paternalistic attitude who feel they have the right to decide between good feminists and bad. They are the ones who say Bad Gyal is anti-feminist because she objectifies herself and La Zowi is anti-feminist because she calls herself a whore. And then there are the guys who criticize them, arguing that these songs are indecent. I'd like to see their online histories with all their porn searches. It's all pretty hypocritical."
López Castilla adds: "They are sexualizing themselves in order to reverse how 'whore' is socially and culturally understood; they are effectively appropriating not only the insult, but what a 'whore' does, obviously choosing and enjoying it."
Rosa Cobo, professor of Sociology at Spain's University of A Coruña and a feminist theorist, disagrees: "From my point of view, they are portrayals linked to pornography and prostitution. The lyrics and images reinforce the extreme sexualization of women. What I find very interesting is that the images have a lot to do with pornographic fantasy that is permeating contemporary culture in a very specific way regarding some types of music, as well as fashion, cinema and advertising."
There is a certain undeniable factor that some of these singers recognize: talking about sex in the urban scene is fashionable, and it sells. "The ass is fashionable, we won't deny it," says Bad Gyal. The paradox is also apparent in Ms Nina's comments: "I am reaching more people now. I want to keep the style of my lyrics, but maybe not say so many obscene things. I have already signed with a multinational and I would love to be heard everywhere. I think the time has come, maybe not to soften the message, but to avoid saying so many obscene words."
Meanwhile, as demand grows, an increasing number of venues are booking these singers for concerts. "I've been to many concerts in many genres, and the healthiest and safest environment I've been in has been at La Zowi's concerts. There are a lot of very young people with a diversity that you don't see in other spaces – trans, different ethnic groups, non-heteronormative people... These singers have a great capacity to create safe spaces in a very spontaneous way and, in a way, they have a liberating effect on people," says Aitziber González.
Away from the controversy, it is important to recognize that this is about music and culture. Bad Gyal sums it up: "The good thing about art is that we can talk about whatever we want. When I'm in the creative process, I don't think about whether I'm going to be rejected by any particular sector. Maybe there are people who don't understand me, but there are others who do."