Joe Manganiello: the actor with a thousand abs
Manganiello – a sex symbol from 'True Blood' and the much-photographed husband of Sofia Vergara – now stars in the suspense series 'Moonhaven.' He spoke with us about a career full of successes, but also about the setbacks and disappointments he has faced.
During an acting class, the professor asks 45-year-old Joe Manganiello to sit in the middle of a circle so that the students can shout out the impressions they have of him and his work. Some of the descriptions thrown out are "motorcycle rider," "beer-drinker," "womanizer" and "brawler."
Funnily enough, Manganiello doesn't drink (he's been sober for 19 years) and didn't even attend his high school prom. Rather than riding a motorcycle, he prefers to watch movies like Blade Runner. Now, thanks to the series Moonhaven, he is finally fulfilling his childhood dream of starring in a science fiction story. Because Manganiello is, above all else, a geek.
"The science fiction novels I read as a child had a foreboding air. Moonhaven addresses the issue of overpopulation… humans have reached the point where they have to colonize the Moon because the situation on Earth has become unsustainable," he explains.
The series portrays a utopia in which a group of settlers on the Moon develop technology and find the resources necessary for the survival of the human race. But a murder by extremist earthlings upsets the harmony and prosperity of the colony. Manganiello plays a bodyguard on a sinister mission, a character who, he claims, resembles "Dick Cheney on acid."
The actor grew up in Mt. Lebanon, Pennsylvania. His first addiction was reading science fiction, including authors such as Bradbury, Clarke or Hamilton. His second was role-playing games.
"I loved seeing the shocked expressions on my friends' faces as I told them the stories and introduced them to the worlds I had created," he recalls.
At the age of 13, he joined the gym and his social life split in two. He was comfortable among the sci-fi crowd and was part of the film club, where the membership consisted, he remembers, of "three Asian kids and me." But he also spent Fridays drinking beer with cheerleaders and was captain of the soccer, volleyball and basketball teams.
"Sometimes my soccer teammates picked on my friends because they were weaker. I stood up for them. I had a good time with the geeks, but I also had a good time with the jocks."
This ability to adapt was complicated when, upon reaching college, Manganiello began to feel like the odd man out in all areas of his life. He thought that alcohol might help ease these insecurities.
"I didn't know what to do, I didn't feel like I belonged to any group," he confesses. "All those groups of people that I've told you about before… I began to feel that I was different, more sensitive, I felt things more deeply. I felt alone. And alcohol gave me the opportunity to drink until I blocked out that part of myself and could just be like everyone else. It helped me fit into a category. Sadly, at that age, it's very important to fit in."
Acting was another other mechanism he used to stop being himself. "It allowed me to put on a mask and be someone else. Then I would get off the stage, I would go to the bar and I was still not myself."
Three days after landing in Los Angeles, in 2001, he landed his first role as Flash Thompson, Peter Parker's high school nemesis in Spider-Man. But Manganiello spent months suffering from uncertainty after receiving the good news.
"It was confirmed that I had been given the part, but two weeks later, the head of the studio decided to do more castings on his own without telling me or my agent. Imagine how disheartening it was to find out that the studio boss didn't want me in his movie. In the machinery of Hollywood, you can't have afford to have any illusions," he laments.
In the end, Manganiello did make it into Spider-Man, but alcoholism got in the way of his career taking off. He found himself "without a home, without a car, and without a job." His filmography has a gap of four years, during which Manganiello worked as a disc jockey, a bodyguard for a rock group and the operator of a demolition machine.
On his return to Hollywood in 2006, the actor "changed in every way possible." His new path began with meditation. "I had to take the whole car apart, clean every part and put it all back together."
The industry pigeonholed him into brainless hunk roles, like the one on the sitcom How I met your mother, where he played Marshall's party animal friend.
"I was interested in writing, directing and producing, but the smartest option to get ahead financially was to focus on acting."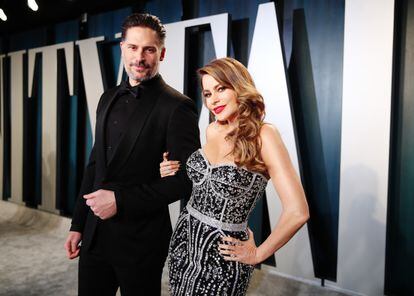 His height was sometimes a handicap: at 6′4″ he lost many roles because the main star did not want to share the screen with someone much taller than him. But Alexander Skarsgard, the villain of the HBO series True blood, was 6′3″ and needed a rival to match him. So, in 2010, Manganiello entered True blood for a six-episode role… but his character, the werewolf Alcide, caused such a sensation among the audience that he ended up staying for five seasons.
"I had no job guarantees because I wasn't part of the main cast and, being a guest star, I was paid at the lowest rate. But by the time HBO offered me a multi-season deal, I had already been on the cover of Entertainment Weekly and had posed for GQ in Europe. It was a good time to negotiate that contract," he laughs.
During the filming of True blood, Manganiello had to go to the gym twice a day, because Alcide spent almost the entire series shirtless. In fact, the first scene that Manganiello recorded consisted of a complete nude that left its mark on the school bus full of children that was passing by the shoot.
The popularity of Manganiello – who also starred in the male stripper comedy Magic Mike while filming True blood – coincided with the literary phenomenon Fifty shades of gray and the collapse of the cultural taboo surrounding female sexual desire. At an MTV awards show, comedian Chelsea Handler said she didn't want to go home in a car but rather, "on the face of Joe Manganiello." On Twitter, actresses Octavia Spencer, Yvette Nicole Brown and Retta got into a comedic argument to decide which of them would sleep with the actor first.
"Sexualized? Let's be realistic. If you're on a very sexual series like True blood, of course it's going to happen. It's HBO. I think HBO gets more out of its actors because of the reputation it has. And the same goes for Magic Mike. What are you going to do, start crying? No. You're in a movie about male strippers. You work with Soderbergh, McConaughey, Channing and all these guys on a comedy. What are you going to do? Refuse to get into a thong? That's the role. I know it's scary, but go to the gym and work out. It's the job," he shrugs.
Manganiello has tried to use his popularity to diversify his career. He played a parody of himself in Pee-Wee's big holiday (2016), tried out the action genre in Sabotage (2014) and even appeared in a disturbing Terrence Malick film, Knight of cups (2015). He published a book on fitness, Evolution, whose foreword was written by his friend and mentor, Arnold Schwarzenegger.
In the midst of this reinvention, Manganiello met the love of his life: Colombian actress Sofía Vergara. He travelled to New Orleans, where she was filming, to ask her out. He showed her the issue of People magazine that featured him on the cover, naming him "the sexiest bachelor in Hollywood." He boasted, in Spanish, "number one." She reacted by flipping through the rest of the magazine: "I'm going to see who the others are." They were married six months later.
Manganiello's big pending project is to adapt the role-playing game Dungeons and dragons. Today, he continues to organize games at his house: the guest list includes Hollywood figures such as James Gunn (director of Guardians of the galaxy and Suicide squad) or Dan Weiss and David Benioff (the creators of the series Game of thrones). But the biggest thorn in his side is not having made a comic book movie.
"I've always thought that there's a great superhero or supervillain for me, but it hasn't materialized for one reason or another."
In 2011, he auditioned to play Superman in Man of steel, but the shoot was incompatible with True blood. He still regrets not being able to try on the suit.
Zack Snyder, the director of Man of steel and the initial creator of the DC Cinematic Universe, finally gave Manganiello his chance in Justice League. The actor appeared in a post-credits scene that suggests that, when Ben Affleck stars in his solo Batman movie, Manganiello will be the villain.
"Playing Batman villain Deathstroke could transform Joe Manganiello's career," read a headline in The Washington Post. However, the project never materialized, due to issues at Warner Bros. Entertainment.
"What do you want me to tell you? It's not my property. I'm not the owner. They cancelled Batman, they cancelled Deathstroke, they cancelled all the Suicide squad movies that I was going to be a part of. It is what it is. You have to let it go."