MUSIC
Columns
Opinion articles written in the style of their author. These texts are to be based on verified facts and must be respectful towards people, even though their actions may be criticized. All opinion articles written by individuals from outside the staff of EL PAÍS shall feature, along with the author's name (regardless of their greater or lesser renown), a footer stating their office, academic title, political affiliation (if any) and main occupation, or the occupation related to the topic being assessed
The marvelous soft soul
William "Poogie" Hart, the singer and main composer of the group the Delfonics, died in Philadelphia last week. The Delfonics were the paradigm of the so-called soft soul or sweet soul musical movement. But Hart's death was not mourned outside his home country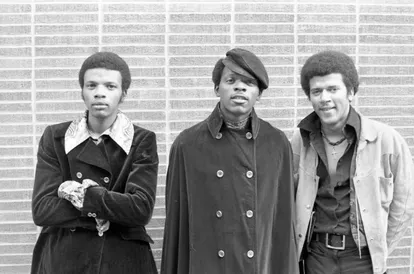 Soft or sweet soul does not fit stereotypical ideas about Black music: instead of passionate fury, we find bittersweet romantic themes, fine orchestral arrangements and a solo voice singing usually in falsetto. The music industry considered it music for naive black girls —a stigma later exploited by Quentin Tarantino.
Soft soul is said to have emerged with Curtis Mayfield in Chicago. But there was a bit of sweet soul everywhere, from Chicano California to Hispanic Harlem (shoutout to Joe Bataan!). The music became a Philadelphia specialty, largely thanks to the skills of Jamaican producer and arranger Thom Bell, later involved in the popular Philadelphia Sound.
Thom Bell's golden years began in 1967 with the Delfonics and grew further with the Stylistics and the Spinners during his time with Atlantic Records. In the seventies, he recorded the latter group with elite soloists such as Dionne Warwick and Elton John. But the economics of vocal groups was unstable, especially if they did not manage to make headway in the market of white consumers, who —alas— did not consider them authentic enough. The Delfonics paid the bills with an exhausting live schedule, sometimes splitting the group into two trios who performed simultaneously in distant cities.
Even if you don't know of the Delfonics, you may have enjoyed later covers of their songs on later releases. Prince recorded their La-la Means I Love You in 1996. Aretha Franklin sang Didn't I (Blow Your Mind This Time) in 1970, the same year as the Jackson 5 performed Ready or Not Here I Come (Can't Hide From Love). And their songs have been frequently sampled by rappers.
The Delfonics' biggest boost came from director Quentin Tarantino and Jackie Brown, his homage to blaxploitation cinema. The protagonist, a stewardess played by Pam Grier, relaxes in her apartment in the company of Max Cherry, a former police officer played by Robert Foster. Jackie searches through her LPs and spins Didn't I (Blow Your Mind This Time), and Cherry admires her ability to lose herself in the music. Shortly after, the man buys a Delfonics cassette, which he leaves in the car's player. When gang boss Ordell Robie gets on board, the Delfonics start playing, and the bad guy (Samuel L. Jackson) is stunned. In the depths of his paranoia, this music makes him suspect that the white hillbilly and the black stewardess have been intimate.