A 'little girl lost' no more: Drew Barrymore's 47 years of survival
The Hollywood actress says she is feeling good about herself after early fame as a child star led to an adolescence of alcohol and drug addiction
She was just seven years old when she became an international star in E.T. The Extra-Terrestrial, but by then Drew Barrymore could already boast of being an experienced actress. Before playing Gertie, the little sister in Steven Spielberg's iconic film, she had already forged a career in the Hollywood industry with a feature film (Altered States), three TV movies and some 20 commercials. Her onscreen debut came at only eleven months old, when she was featured in an ad for dog food. Precocity extended to all aspects of life for this child prodigy, who then went on to check every one of the boxes of the dark side of early fame: drug addiction, suicide attempts, a dysfunctional family and a career in freefall as a result. She has called her young life "a recipe for disaster," but has become an exemplary and unusual survivor. On the occasion of her 47th birthday, she is far from her darkest hours.
Barrymore has made headlines on several occasions by opening up on social media about the pressure women feel to get back in shape as soon as possible after childbirth. One Instagram post summarized her take perfectly: "45! It only took 45 years to find myself. Right where I am supposed to be. And it's not perfect. But it's me." She has vowed that she will not allow her daughters Olive and Frankie, 9 and 7 years old respectively, to go through the same thing she did. "I'm not going to let them be kid actors," she declared in People magazine with a directness uncommon among big Hollywood stars who frequently look to create acting dynasties. There are plenty of reasons for her to go against the grain.
Barrymore is also the surname of generations of performers dating back to 19th century England. Drew's grandfather John Barrymore was a legend of the Hollywood Golden Age, and her parents, John Drew and Jaid, also pursued careers in front of the cameras with less success. Her father was also an alcoholic and drug addict, and barely maintained a relationship with her after he left the family home a few months before her birth in 1975. Her mother was born in a refugee camp for Hungarian exiles after World War II, and became her manager and frequent party companion. After the success of E.T., mother and daughter partied every night in the most exclusive clubs in New York. "I had a mother, but she was more like a best friend. "She was like, 'Do you want to go to school and get bullied all day, or do you want to go to Studio 54?' And I was like, 'Yes, absolutely!'" she said on the Norm MacDonald show.
At nine years old, little Drew was sharing alcoholic drinks with stars of the era like Rob Lowe. By the age of 10 she was smoking her first joint and at 12 she was using cocaine regularly. One of the anecdotes that best illustrates her crazy years is that at the age of seven she ate ice cream with a splash of Baileys liqueur. She was also the face of the U.S. government's "Just Say No" anti-drugs campaign, even though the actress ended up apologizing to former First Lady Nancy Reagan for failing to be a role model for young people. She was a Little Girl Lost, three words that would provide the title of her first autobiography. She went to rehab on several occasions, but at the age of 13 her mother admitted her to a mental institution against her will for a year and a half, following a suicide attempt.
"When you do drugs, your problems in normal life seem so much bigger that you do more just to get away from them," she told interviewer Terry Wogan on British television in 1990, with a maturity that seemed impossible in a 15-year-old. By then, Drew had won a judge's approval for legal emancipation from her parents. She was alone and marginalized in Hollywood, "damaged goods" that no studio wanted to go near. "I really had a fear that I was going to die at 25," she admitted in The Guardian much later.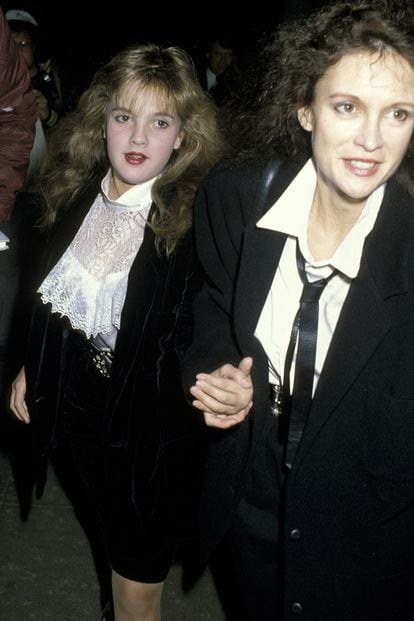 The teenage star who had shone on the Oscar red carpet, who had Steven Spielberg and Sophia Loren as godparents and who was greeted by the likes of Lady Diana, briefly made a living cleaning toilets and serving drinks in her late teens. In the mid-1990s, Drew Barrymore managed to put her life and career in order. The bad girl who hung out with Courtney Love (she is the godmother of Frances Bean, Love and Kurt Cobain's daughter) went on to become the perfect leading lady in romantic comedies such as The Wedding Singer, Everyone Says I Love You, and Never Been Kissed. She specialized in lovable characters because of an apparent naiveté, but Barrymore was canny and among the first to boast Executive Producer credits in films she appeared in (Charlie's Angels, Donnie Darko).
Married and divorced three times, Barrymore is now enjoying being single, she has said. Not only has she reconciled with her past, but she even poses with her once estranged mother on Instagram. She is an equally beloved figure among moviegoers and Hollywood insiders, thanks in part to her incredible comeback against the odds. She has since crafted her own brand as a kind of more relatable and relaxed Gwyneth Paltrow for the average American consumer. In recent years she has launched a wine collection, a successful make-up brand and a range of children's homeware in Walmart. The best proof of her current stock in US popular culture is the success of her morning show on American TV, The Drew Barrymore Show, which strives to place her in the cultural canon at the height of figures like Oprah Winfrey and Ellen DeGeneres.