Rainbow fentanyl: Large amounts of colorful pills seized at the US-Mexico border
US authorities are concerned about the huge increase in a candy-colored version of the illegal synthetic opioid coming into the country
Fentanyl seizures have reached record levels in the United States. US Customs and Border Protection (CBP) recently announced that it seized 2,100 pounds (950 kilos) in July, three times more than it seized in June, and a jump of more than 200% compared to May. The vast majority of the illegal synthetic opioid is produced in clandestine laboratories or smuggled in from Mexico, a trade controlled by the Sinaloa and Jalisco New Generation cartels, the two most powerful criminal organizations in Mexico. One version of the drug called "rainbow fentanyl" is of particular concern to US authorities. Tens of thousands of the candy-colored fentanyl pills have been seized in two recent raids along the Sonora (Mexico)-Arizona (US) border.
"It looks like candy," said Michael Humphries, the senior CBP officer in Nogales, Arizona, after a raid in mid-August that found more than 250,000 pills inside a vehicle crossing into the US from Mexico. The car was also carrying 11 pounds (5 kilos) of heroin and a slightly smaller amount of methamphetamine.
Just a day later, more than 15,000 rainbow fentanyl pills were found wrapped around the legs of a person detained at the Nogales border crossing. "This may signal a new tactic by transnational criminal organizations," Humphries warned. US authorities are especially concerned that the candy-like tablets are targeting younger users.
Rainbow fentanyl pills have also been seized recently in California, Washington and Oregon (US west coast). "Deputies are particularly concerned about rainbow fentanyl getting into the hands of young adults or children, who mistake the drug for something else, such as candy or a toy," read a statement by the Multnomah County Sheriff's Office announcing the seizure of 800 tablets in a Portland, Oregon home. Four grams of multicolored fentanyl powder was also found in the home, and authorities suspect that the new version of the drug may be designed to attract new users. Washington, DC officials recently stated in several TV interviews that they have seen this version of fentanyl more often over the last 18 months.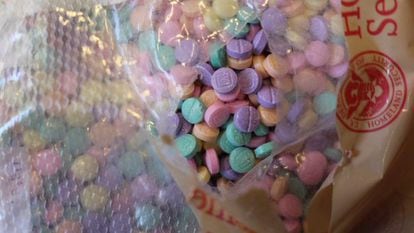 Fentanyl is a synthetic opioid that is 50 times more potent than heroin and 100 times stronger than morphine. Ingestion of a very small dose can be fatal, and public health experts estimate that just two milligrams can be lethal, although the effect depends on the physical make-up of the consumer. The US Drug Enforcement Agency (DEA) estimates that 2.2 pounds (one kilogram) could kill up to 500,000 people.
Fentanyl use has skyrocketed in recent decades in the United States due to the indiscriminate dispensation of legally prescribed painkillers. The opioid crisis caused more than 100,000 overdose deaths in the US in the year leading up to April 2021, according to the US Centers for Disease Control and Prevention (CDC). As thousands got hooked on specific drugs, the Mexican cartels adopted a strategy of producing counterfeit versions of those drugs. These counterfeit opioids are even riskier because they are often stronger than the originals.
The 2,100 pounds (950 kilos) of fentanyl seized in July represents a 150% increase compared to the same month in 2021, whereas only 3,175 pounds (1,440 kilos) were seized in all of 2019. The pills are often so small and potent that they are easy to conceal and carry. Because of this, US authorities are now targeting specific smuggling methods. Humphries announced on August 22 that Monday more than 1.5 million fentanyl pills hidden in a truck's cargo area and floor were seized in Nogales. More than 110 pounds (50 kilos) of cocaine and 13 pounds (6 kilos) of heroin were also found in the vehicle. Criminal organizations are now using US citizens and vehicles to evade security, as they did in the tragic case of 53 migrants who died inside an abandoned trailer in San Antonio (Texas, USA). China is the main source of illegal fentanyl coming into the US, although the Mexican cartels, especially the Jalisco New Generation cartel, have stepped up their bid for the synthetic drug trade.
Fentanyl use is also growing in Mexico, especially in the northern states, and is often mixed with other drugs like heroin and cocaine. "Fentanyl is sold everywhere. Mexico is already a producer and consumer," said Silvia Cruz Martin del Campo, a pharmacological biologist with Mexico's National Polytechnical Institute (Instituto Politécnico de México), in an interview with EL PAÍS last March. But good data is hard to come by in Mexico.
"Fentanyl is everywhere, from major metropolitan areas to rural areas of the country – no community is safe from this poison," said DEA Administrator Anne Milgram on August 19. "This is the deadliest drug our country has ever faced." In the past 10 months, US officials have seized over 10,000 pounds (4,800 kilos) of fentanyl, according to CBP data.