OPINION
Tribune
Opinion articles written in the style of their author." These texts are to be based on verified facts and must be respectful towards people, even though their actions may be criticized. shall feature, along with the author's name (regardless of their greater or lesser renown), a footer stating their office, academic title, political affiliation (if any) and main occupation, or the occupation related to the topic being assessed
Credible relationships and flexibility: how tech transfer works in times of Covid-19
The success story of an entrepreneur from Costa Rica shows that we can achieve equitable access to life-saving healthcare equipment by matching innovators and manufacturers in developing countries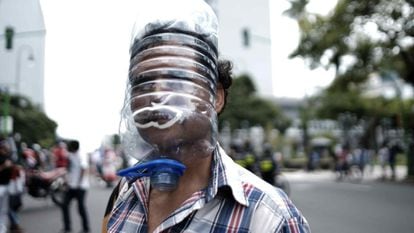 Nine months ago, as the Covid-19 pandemic was unfolding, I sat down with colleagues and we brainstormed. The virus was moving quickly. How could we help developing and the so-called Least Developed Countries accelerate their access to quality, life-saving health technologies? We researched, we spoke to experts and we activated our networks: there was no time to lose.
At the same time Mario Sánchez, an industrial pharmacist and entrepreneur from Costa Rica, was boarding a plane on a mission to try to buy medical-grade masks. But what he thought would be a simple transaction turned into an odyssey that took him from Costa Rica to the United States, Poland, Germany and the Netherlands. For small-scale manufacturers and entrepreneurs like himself, finding genuine, quality and affordable materials and technology to manufacture Covid-19 health products is not easy; in the first half of this year, it was virtually impossible. Every step of the way, Sánchez was met with obstacles: false leads, shoddy materials, unscrupulous dealers and an unwillingness to share technologies.
A few days before the borders closed, Sánchez returned to Costa Rica with no masks and a sobering realization: his country was facing a dire shortage of masks and other personal protective equipment (PPE) that health professionals would need to confront the pandemic. And the only way Costa Rica was going to have enough of these supplies was to start making them locally.
In many ways, Sánchez was well-placed to take on this challenge: he owns a pharmaceutical company and even wrote his master's thesis on medical equipment shortages. Despite this, he struggled to access the technology necessary to make the medical-grade masks that hospitals desperately needed.
While Sánchez had been on the road, our project had come to life. The Tech Access Partnership (TAP) was launched to connect manufacturers, entrepreneurs and other technology seekers in developing countries with global innovators, universities and others who make their intellectual property and technologies available in order to serve the common good. Within a few days we linked Sánchez with a Turkish company, MEMSIS, that had developed a membrane for use in medical-grade masks. We accompanied the two parties as they reached an agreement and navigated the regulatory process. This was a partnership that Sánchez could trust.
In a matter of months, this entrepreneur has designed and manufactured a mask that is suitable for medical use, received regulatory approval from the Costa Rica government and produced and tested several prototypes. Once manufacturing ramps up, Sánchez will supply masks to Costa Rica as well as to the rest of Central America and the Caribbean – a region home to nearly 90 million people. We worked with both the developer and with Sánchez to help him understand the regulations and assessments necessary for the mask to get national and international approval
Sánchez's project is proof that we can meet global health challenges by matching civic-minded innovators with enterprising manufacturers in developing countries. At TAP, we record requests and offers, vet technologies and draw on the United Nations and on external expertise to set up optimal matches for tech transfer. This ensures that partnerships have a better chance at making a lasting impact. We are in talks with other local partners in Lesotho and South Africa, and are confident that collaborations like these have the potential to bolster nations' health systems and their broader economies.
Despite these successes, there is still much to do. Covid-19 has not always behaved as expected. As the virus and the needs of developing countries change and adapt, so must we.
Community masks are an effective and suitable choice for the public, yet medical-grade masks are crucial for protecting healthcare workers. At least 7,000 healthcare workers globally have died from Covid-19. We will continue connecting socially-minded entrepreneurs like Mario Sánchez with the technology they need to stem this tide.
Ventilators
As the virus treatment has evolved, we have learned that our initial projection of the need for more ventilators has not materialized. What developing countries do need is increased capacity to maintain and repair the ventilators they already have or adapt them for use by Covid-19 patients. We are engaging other actors to extend their support to countries, and also call on countries that now have excess capacity of ventilators to consider partnering with us to make these available to countries that still lack adequate capacity. The TAP program will also address other important needs in the medical device space: oxygen and pulse oximeters.
Many of the sickest coronavirus patients need supplemental oxygen in order to survive, yet too many people are denied this life-saving treatment because they live in countries with oxygen shortages. We are encouraged to see that some pilot studies have been undertaken to help low-resource health systems increase their ability to manufacture oxygen. Scaling up these efforts is now key, and we believe technology transfer can play a leading role.
Pulse oximeters have also become a crucial tool to determine whether a Covid-19 patient's blood oxygen levels have dropped into the danger zone. And yet, most of the pulse oximeters on the market today produce accurate readings only on lighter skin tones, leading to potentially dangerous medical errors for people with darker skin. This represents another clear instance where it will be essential to broker a transfer of technology between intellectual property holders and local manufacturers to produce pulse oximeters that are suited to the population that will use them.
Despite these successes, there is still much to do. Covid-19 has not always behaved as expected
Meanwhile, despite manufacturers' recent commitments to make a certain number of rapid diagnostic tests available to the so-called Least Developed Countries through the World Health Organization-led ACT - Accelerator global collaboration program, these donations are not enough to properly manage the pandemic in the long term. They do not free developing countries of dependency on others to meet their health needs. Effective technology transfer can. We will continue to take a leading role in technology transfer that boosts the vital local production of tests. At the same time, we and our partners will continue to advocate to address the shortages of investments for developing these essential diagnostic capacities, especially in developing countries.
While we remain committed to helping countries meet their health challenges, there is also potential to apply technology transfer to address other pressing issues faced by least developed countries. One of these problems is medical waste. The WHO estimates that 89 million medical masks, 76 million gloves and 1.6 million units of protective eye gear are needed globally each month for the Covid-19 response. The pandemic has produced mountains of discarded PPE, hampering efforts to contain the pandemic and also harming the environment. TAP is committed to the achievement of the United Nations' Sustainable Development Goals and has begun to consider ways to address the PPE waste challenges, using environmentally friendly technology and circular economic practices that eliminate waste.
The current moment is fraught with uncertainty as the very systems that sustain life, from our health systems to our ecosystems, are under unprecedented stress. We must not be afraid to adapt and aim for the highest possible standards. Mario Sánchez took a risk and it is paying off because he found the right partner. Never has it been more important to have genuine and trustworthy partnerships in place.
At the WISH global healthcare summit in Qatar this week I look forward to sharing how technology transfer offers commercial and social optimism for the future. It will take a collective and nimble effort to get lifesaving technology to those that need it and to build solid health systems that can tackle the greatest health challenges of our time.
Joshua Setipa is the managing director of the UN Technology Bank for Least Developed Countries. The Tech Access Partnership is a joint collaboration between The UN Technology Bank, UNDP, UNCTAD and WHO.