Nicaragua orders Red Cross to close, in Ortega government's latest crackdown on civic groups
The National Assembly has dismantled the humanitarian organization, accusing it of 'attacks on peace and stability' during anti-government demonstrations in 2018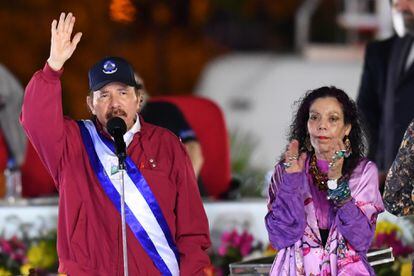 Nicaragua passed a law Wednesday to close the country's Red Cross, capping a crackdown that has seen the government toss out religious orders, charities and civic groups.
The National Assembly voted to shutter the Nicaraguan Red Cross, accusing it of "attacks on peace and stability" during anti-government demonstrations in 2018. The local Red Cross says it just helped treat injured protesters during the protests.
The assembly, which is dominated by President Daniel Ortega's Sandinista party, ordered the country's Health Department to create "a new Nicaragua Red Cross." How the country's over-stretched health system would get the money to do that is unclear.
The current Red Cross, founded in 1958, is largely funded by domestic donations. The new law also will confiscate Red Cross properties in Nicaragua and turn them over to the government.
Rights groups estimate that during the government's crackdown on the 2018 protests, 355 people were killed and as many as 2,000 were injured.
The crackdown since then has now jailed or exiled almost all of the country's organized opposition and has outlawed or closed down more than 3,000 civic groups and non-governmental organizations.
Many of those groups provided health care or social services in an impoverished country where governmental services cannot cover the needs of the people.
Ortega's government has shuttered civic groups ranging from an equestrian center to the 94-year-old Nicaraguan Academy of Letters.
Ortega has accused the civic groups and opposition activists of working with foreign interests in an attempt to topple his government.
In April, the Vatican closed its embassy in Nicaragua after the country's government proposed suspending diplomatic relations.
Two congregations of nuns, including from the Missionaries of Charity order founded by Mother Teresa, were expelled from Nicaragua last year.
Prominent Catholic Bishop Rolando Álvarez was sentenced to 26 years in prison last month after he refused to board an airplane that flew 222 dissidents and priests to exile in the United States. He also was stripped of his Nicaraguan citizenship.
Sign up for our weekly newsletter to get more English-language news coverage from EL PAÍS USA Edition