Uniqlo founder: "We want to be bigger than Spain's Inditex"
Japanese chain opens first store in Barcelona and wants to compete with Amancio Ortega's Zara
The founder of Japanese fashion giant Uniqlo, Tadashi Yanai, is not bothered by comparisons with Amancio Ortega, the Spanish head of Inditex – the world-beating fashion group that includes Zara. The suggestion even makes him smile. Last week, Fast Retailing, the parent company of Uniqlo, opened its first store in Spain. The company, with 1,900 outlets in 19 countries, racked up profits of €930 million and sales of €11.4 billion in the first nine months of the financial year. It now hopes to expand in Spain with Madrid as a possible next step.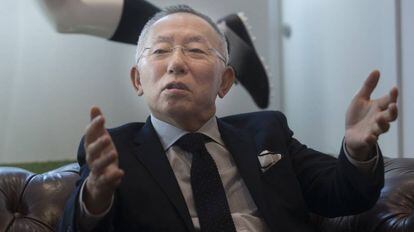 Question. It took Uniqlo a long time to set up in Barcelona. What made it difficult?
Answer. We wanted to make sure we had the best location and the best store. The first step is very important.
Q. Spain is the country of Zara and Mango. Doesn't that make it difficult for Uniqlo? Is there too much competition?
I can't tell you how many times I have failed. You only learn if you fail
A. I don't think so; the more competition there is, the better. No one can monopolize the market. We are very different from Inditex and Mango. We come from Tokyo. Every company has its unique personality. We are committed to the idea of healthy competition.
Q. The year 2020 is your target for equaling Inditex in size.
A. It could be difficult, and perhaps we won't achieve it, but my dream is to be bigger than Inditex in the future. It doesn't matter how long it takes.
Q. Have you learned anything from Amancio Ortega's group?
A. In the 1980s, the British group Next grew exponentially over the course of eight years. Inditex looked at their example. When we looked at how Inditex achieved that, we thought we could do the same in Japan. But Inditex and [Sweden's] H&M grew faster thanks to the European market.
Q. In Barcelona, you are diagonally opposite Zara and H&M in the same street. Is that a deliberate strategy?
A. We can draw in customers that way and in the end it is them who will decide.
Q. In Japan, Uniqlo is based in the large department stores. Have you thought of implementing the same strategy in Spain, perhaps with Spanish chain El Corte Inglés?
A. I don't think so – we want to remain independent. If the rent was very, very low, it would be an interesting proposition and we would consider the possibility. But that is not the case, so we prefer to have our own stores.
Q. There is a price war in Europe when it comes to the fashion sector, with brands like Primark and Lefties leading the way. Is that a problem?
A. We don't compete on price: we do it with truly innovative clothing. We want to compete in terms of quality and the products we offer. High quality at affordable prices.
I have a lot of shares in Uniqlo but this doesn't mean I have a lot of cash
Q. How much money do you invest in innovation?
A. I am not sure how much. The Japanese firm Toray, which has around 1,000 engineers, is our partner and we work together. Toray provides carbon fiber to Boeing and also provides the liquid crystal displays for Samsung.
Q. Uniqlo was born more than 30 years ago, before the internet. How has it adapted to the online market? What share of your sales come through this channel?
A. We hope to boost our internet results. Online sales currently represent 5% to 6% of sales, but we want to grow this to 30% as quickly as possible. I think that to buy clothes you have to touch them and test their quality, but we need both channels – online sales and physical stores.
Q. Is Amazon a rival or an ally?
A. Amazon, Google, Facebook, Alibaba, Inditex and H&M are all competitors but at the same time we try and work together. For example, our cloud-based service is facilitated by Amazon. It's like shaking hands and fighting at the same time.
Q. You are the richest man in Japan.
A. I have a lot of shares in Uniqlo and they are going up in value. It's only on paper, and it doesn't mean I have a lot of cash. You never know when the market will fall; it's like a beauty contest – everything depends on how people feel.
My advice to entrepreneurs? Think deeply about things but act immediately
Q. What advice would you give an entrepreneur?
A. Think deeply about things. Give things serious thought but act immediately. Sometimes what happens is people who are given to deep reflection never act, and those who act quickly never think deeply.
Q. How many times have you failed?
A. I can't tell you how many times I have failed. My experience is full of failures. You only learn if you fail.
English version by George Mills.