How the 'Breaking Bad' lawyer came to Spain to leave his worries behind
Bob Odenkirk, currently appearing in season three of 'Better Call Saul,' walked Spain's famous pilgrimage route
Bob Odenkirk, 54, acknowledges the parallel between himself and his character in Breaking Bad, an ambitious two-bit lawyer named Saul Goodman: in just a couple of years, the Odenkirk-Goodman duo has gone from providing occasional comic relief in the popular crime drama to starring in his own prequel, Better call Saul.
"I'm not the star. The show is the star," says the actor, who insists he looks nothing like Goodman.
To begin with, Bob Odenkirk is his real name, whereas Better Call Saul has revealed that Saul Goodman is an assumed name: the character's real identity is Jimmy McGill, and he's not even Jewish.
"Jimmy is growing and he is coming to season three in an exhausted state. It's as though the punches are starting to hurt," he says.
Nobody told me how beautiful Spain is. Now I can go back to L.A. and be that person
Both Bob and Jimmy agree that we create our own luck in this life. But only one of them has managed it.
Odenkirk notes that Breaking Bad was the first series to benefit from digital platforms. In between seasons, it kept attracting new followers, and its popularity kept rising. The last episode doubled audience figures for the penultimate.
In Better call Saul, Odenkirk is the star (even though he denies it) and also the producer. But he holds that this, too, is fiction.
"All my life I've been the guy who writes, produces or directs the story," he says. "Now all I do is act, and I don't worry about delays or any logistical crap. I didn't want this title, but they made me do it."
"They" (The system? His agent? The accountant?) are making sure that "everyone is convinced that I will be a millionaire before I die. The myth is possible, but not likely. The system needs for everyone to believe that lie, so it can take advantage of them."
And to prove his point, he quotes an authority figure, Mel Brooks: "Tragedy is when I cut my finger. Comedy is when you fall into an open sewer and die."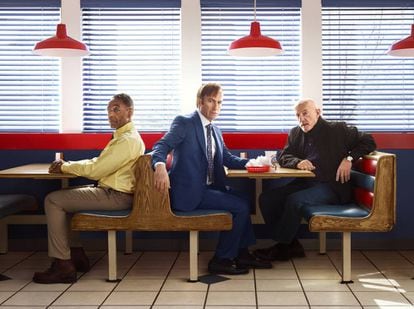 Jimmy's pathos-laden brand of humor slips through the cracks of a dream that is running faster than himself. Odenkirk sees the entertainment value of poor devils like Jimmy or like Donald Trump (although the latter is certainly more dangerous) because of their unwitting combination of fear, weakness and stupidity.
Brief trips to the future by Jimmy (post-Breaking Bad) indicate that he has evolved from a lawyer who advertises on a TV shopping channel to manager of a cinnamon roll stand inside a mall.
Odenkirk explains that in the United States, a fast-food restaurant symbolizes official failure. It is the most anonymous job there is.
Take on Spain
"Maybe from a Spanish perspective, where all your vital energy is not directed at conquering all the people around you, it might seem that at least it's a job, but in America you are defined by your profession. It's insane. It's stupid. But it has become a collective idea, and in this context, working at a fast-food joint means that you are faceless."
Odenkirk has had time to articulate his own opinion on the Spanish way of life. Before the series presentation in Madrid, he spent three weeks walking the pilgrimage route known as the Camino de Santiago (the Santiago Way). His goal? To "meditate, eat only for survival reasons and clear my life of worries."
He walked between 16 and 23 kilometers a day, making stops in Mérida, Cáceres, Salamanca, Sanabria and other cities whose names he remembers but is unable to pronounce.
"You could easily spend two weeks in Salamanca," he says, expressing surprise at the fact that so few Spaniards spend that kind of time in the city when they do come to visit.
"At this point in my life, you might expect that at least one person would have told me how beautiful and vibrant these Spanish regions are," he notes. "Now I can return to L.A. and be that person."
English version by Susana Urra.