Holidaying in Spain: how about staying in a container?
Cadiz beach community of El Palmar is being overrun with illegal vacation accommodation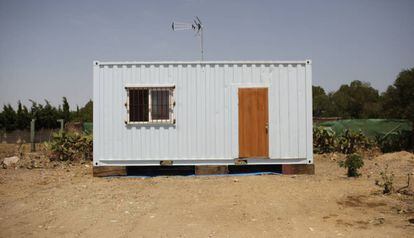 As recently as 15 years ago, the chances of being served a mojito in El Palmar were zero. Sunsets were not applauded, and mercifully, the term chill out was still not in use.
In those days, El Palmar was a beachside bolthole for surfers and hippies who came every summer and set up camp unobtrusively alongside the locals. Today, this former wilderness is a jumble of shacks and illegal dwellings built on land ceded to families who came here to work the land in 1931.
There is no running water or sewage facilities and power cuts are frequent in El Palmar, and the local council seems unable to stop the spread of illegal and ugly constructions put up to accommodate low-cost tourism.
The local council estimates that there are around 1,000 illegal dwellings in the area, with more being thrown up each day. Paco Rosado, president of the residents' association, says the boom was triggered by the opening of a beach bar in 2000, which quickly turned El Palmar into a trendy, alternative destination. Rosado, a descendent of one of the families ceded a plot of land back in the 1930s, has lived here all his life, and says the situation is now untenable.
"Local governments couldn't be bothered to intervene and things have gotten out of hand," he says. "We don't even have the most basic infrastructure, yet there are more and more people coming all the time. Every weekend, there are seven or eight stag parties: this is a time bomb."
In the winter months, El Palmar has a population of 1,500, but it soars to 15,000 in the summer months with additional visitors appearing in the afternoons from neighboring resorts. To house the tourists, plots of rural land are carved up and sold through private contracts. The law allows the transfer but not the subdivision. Not that it seems to matter. The buyers set themselves up in prefabricated homes with the hope that the situation will be legalized and the value of their newly acquired piece of real estate will go up.
Meanwhile, to make the most out of their investment, many rent prefabs out to tourists for as much as €200 a day. Susie and Elof, a Swedish couple who have come here for the second year running, have a former container costing them €100 a day on the dust track that leads to the campsite. With his sun hat in his hand and third degree burns on his shoulders, Elof says they love "the chaos and high spirits" of the place. And that pretty much sums up the general vibe.
The local mayor, José Ortiz of the Popular Party (PP), admits that the council lacks the resources to deal with the situation. Of the 1,000 illegal homes, only one has been demolished in the past three years. And by the time new planning rules are implemented, there will be dozens more, he observes.
Sign up for our newsletter
EL PAÍS English Edition has launched a weekly newsletter. Sign up today to receive a selection of our best stories in your inbox every Saturday morning. For full details about how to subscribe, click here
"It's a big problem," says the mayor. "Homes are being bought to rent out or purely for speculation and, for the good of the area, we have to start clearing them. We want to impose some order but it's hard. We need reinforcements."
The illegal property practice has become so widespread that two local policemen were found to be implicated. "It's disgraceful," concludes Ortiz.
The bars pose an additional problem. Legally, surf schools and kiosks are the only commercial establishments allowed, and no two similar establishments should be within 100m of each other. But the reality is that there are two surf schools side by side, with one being used as a front for a music bar. Then there are bars with swimming pools and Bali loungers, the size of Ibiza beach clubs.
"The situation has gotten worse," says Rosado. "It's like the wildebeests who have to cross the river altogether at the same point. But the crocodiles are waiting to eat them." The only difference is that, in El Palmar, the crocodiles haven't been snapping at their heels yet.
One thing is for certain: there's no room for more wildebeest. As you approach the beach, the living conditions grow denser. On one plot, mother and daughter live cheek by jowl – Rosario's mother gave her a few meters and she fenced it off and put another prefab on it. Just next door, a neighbor has parked a lorry trailer and split it into rooms for rent. Everyone pays property tax –€600 a year, in Rosario's case – and they're not worried about being fined.
"Throw me out?" she cries. "If they haven't said anything until now, they can't. Anyway, how are they going to throw me out when I pay my tax every year?"
The fact is that the council gets a significant share of its budget from the money it collects in El Palmar and from the commerce in the area, though it believes that if it could organize the situation better, it would get a lot more.
This means abandoning the current tourism model. The area is still earmarked for the construction of two hotel complexes, despite protests from ecologists, and though the project was temporarily shelved due to the crisis, the mayor believes it will soon be back on track.
So now, beyond the fear of more shacks, is a more terrifying thought still –that the area will soon be devoured by yet another soulless mega tourist complex.
English version by Heather Galloway.