Madrid's top eight Chinese restaurants
From sticky sweet to fiery hot, authentic flavors from regions like Sichuan and Guizhou are now available in the Spanish capital
Although we've known for a while now that Chinese food extends far beyond spring rolls, sweet-and-sour pork and fried rice, few restaurants have brought the authentic flavors of the Asian country to Spain. Since China has one of the most diverse and delicious cuisines in the world, specialization is key when it comes to understanding and enjoying each different area's delicacies. Here we've assembled a tasty tour through China's varied regions without having to leave Madrid.
Sichuan
Both within and outside of China, Sichuan food is notorious for its scorching hot spices – dishes containing the famous Sichuan pepper can leave the tongue numb. Some of the most notable Sichuan dishes include mapo tofu, Sichuan eggplant, and kung pao chicken.
Sabor Sichuán (Ventura Rodríguez, 5)
Just a five-minute walk from Plaza de España, Sabor Sichuán specializes in one of the fundamental Sichuan dishes: huo guo, or hot pot, which is a kind of Chinese fondue. Customers can choose between a variety of broths (from very spicy to a simple tomato or meat base) and every kind of ingredient (tofu, spinach, dumplings, shrimp, lotus root and more) to mix together. The process itself is easy: add the ingredients to the pot and wait for one to five minutes, depending on the desired result.
Ni Hao (Silva, 20)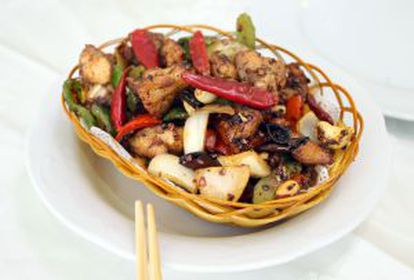 Ni Hao is close to Plaza de la Luna and caters mostly to a Chinese clientele, with a spacious dining area resembling a tavern. It offers dishes from all around the country, but its menu is focused on Sichuan food; in addition to the hot pot, they have yu xiang eggplant, kubak ("three-delights rice") and fried chicken feet. For vegetarians, the mapo tofu is one of the best in Madrid.
Yue Lai Hotpot (Hermosilla, 109)
Whether it be duck, seafood, pork, blood, or dim sum, this restaurant in the upscale neighborhood of Salamanca offers an incredible variety of dishes. Use the peanut and sesame sauces liberally to counteract the searing Sichuan spices.
Guizhou
The cuisine from this southern Chinese region is only for the bravest of diners – and stomachs. The fish, one of their specialties, is often served with soup and a plethora of peppers and chilies.
Kung Fu (Luna, 12)
Located on a side street just off of San Bernardo, this little restaurant boasts modern and elegant decoration and is frequented by young Chinese customers, especially on weekends. The sea bass and the spicy chicken are two of their specialties, which can be followed by a bit of rice and a coconut beverage to soothe the palate. The menu includes dishes that are difficult to find in Madrid, like century egg with tofu.
Shanghai
Called the "Pearl of the Orient," Shanghai and the regions around it (like Zhejiang, where a large percentage of Chinese residents in Spain come from) provide some of the sweetest flavors that China has to offer. Hu cai gastronomy is characterized by the addition of sugar and liqueurs to its dishes, and, of course, one of the kings of Chinese cuisine: baozi, which are little steamed buns stuffed with meat, shrimp and vegetables.
Casa Lafu (Flor Baja, 1)
Located just off Gran Via, Casa Lafu opened its doors a few months ago and already comes highly recommended by Chinese food aficionados in the city. With two floors and views looking out onto the centuries-old thoroughfare, it's the perfect place to enjoy the mix between the sweet dishes of Shanghai (rices, meat or seafood dim sum, eggplant) and the hot pots and spicy desserts of Sichuan.
Toy Panda (Espíritu Santo, 7)
Specializing in dim sum, Toy Panda is one of the few places in Madrid with a menu that offers xiaolongbao, which are broth-filled dumplings very typical of the financial capital of Shanghai. Located in Malasaña, it also serves excellent baos, which are Taiwanese steamed pork belly buns.
El Bund (Arturo Baldasano, 22)
Named after the neighborhood that borders the Huangpu river in Shanghai, El Bund is one of the most luxurious Chinese restaurants in Madrid. The interior has recreated a 1930's villa in a house within the neighborhood of Arturo Soria. The menu includes handmade dim sum and a wide range of seafood and fish dishes, but most of the food is sweet.
Canton
From the region of Canton, in the south, Cantonese food is widely known outside of China, and in many places thought of as "real" Chinese food. It has mild, simple flavors, favoring fish, seafood and shellfish, with an abundance of ginger, soy sauce, garlic and onion. Canton gave us wonton soup, as well as some of the most popular dim sum offerings in the world.
Royal Cantonés (Olvido, 92)
Located in the most Chinese neighborhood in Madrid, Usera, the restaurant Royal Cantonés has gained popularity in the past few years thanks to an extensive and delicious menu. Favorites include fish, stews, scallops—prepared in numerous different ways—and of course, the mild, delicate shrimp and pork dim sum, some of the best in the city.
Sign up for our newsletter
EL PAÍS English Edition has launched a weekly newsletter. Sign up today to receive a selection of our best stories in your inbox every Saturday morning. For full details about how to subscribe, click here.
English version by Allison Light.