Mondragón's cooperative model adapts to changing times
Two years on from the collapse of its white goods maker Fagor, the Basque group is looking to the future
The collapse in 2013 of Fagor, Spain's leading electrical appliances manufacturer, was a powerful symbol of the country's economic woes, and saw 1,895 members of the Basque Country cooperative lose their jobs. For six decades, Fagor, based in the town of Mondragón, had been the flagship enterprise of Corporación Mondragón (CP), Spain's largest cooperative group, but had been unable to withstand the impact of a global financial crisis, an ill-timed expansion program and the collapse of Spain's property market in 2008.
Fagor's fellow cooperatives in CM had pumped a total of €300 million into the company by October 2013, when they had decided enough was enough and allowed it to go under.
As a result, many analysts in Spain and the Basque Country questioned whether the cooperative model could survive in today's globalized economy. "Suddenly, the markets were asking whether CP had a future. But it's funny how, when a traditional company goes under, nobody questions capitalism," counters Zigor Ezpeleta, head of social management at Corporación Mondragón.
Fagor's fellow cooperatives had pumped €300 million into the company by the time they decided enough was enough
"Fagor was just part of the group and its contribution had been declining, although the market perception was that it was going to drag all the other cooperatives down with it. But what the market didn't know was that we had designed firewalls to prevent contagion," adds Txomin García, the head of Laboral Kutxa, the group's financial arm.
The white goods manufacturer had been an integral part of the economy of Mondragón, a small town of some 22,000 people nestling in the hills of Gipuzkoa province that is home to 103 cooperatives, along with eight educational institutions (including the University of Mondragón), an insurance company, a bank, and 13 international services companies. The CP also owns a further 125 companies around the world, as well as running the internationally known Basque Culinary Center, which has produced some of Spain's best-known chefs.
CP's cooperatives are owned by 30,673 partners, 1,800 more than 10 years ago, and have a turnover of €11.8 billion, contributing around 12% of the Basque Country's GDP and generating profits of more than €1 billion, with some 70% of output sold abroad. In 2015, CP invested €247 million in new factories and technology. Each cooperative manages its own affairs, although all follow guidelines such as a limit on senior pay of six times that of the average worker. In the case of a typical company traded on Spain's Ibex 35 stock exchange, the pay gap between CEO and the workforce is more than 100-fold. Furthermore, CP cooperatives must set aside at least 10 percent of profits to cover new investment, R+D and other contingencies. The figure is 25% for Kutxa Laboral.
Around 40% of jobs in this flourishing network of manufacturing, distribution and services companies are filled by cooperative partners, who contribute an initial investment of around €15,000. Each has equal voting rights, regardless of the post they occupy. Every month, 6.5% of their salary is diverted to a €5.8 billion provident fund. "You're saving for your pension and for whatever else might come up. Thanks to this we have been able to weather the crisis," says Ezpeleta, pointing out that the 8,000 partners in the Eroski supermarket chain voted overwhelmingly for a pay cut and to work longer hours. Other cooperatives agreed similar measures, he says.
Igor Herrate worked at Fagor when the crisis erupted. "Round here there aren't many rich people, and there aren't many people living in poverty. Most of us are from the same kind of background, and that generates a very high level of welfare and social cohesion," he says. He found work, as did around 1,400 others, or they opted for early retirement. Around 200 people are still without work, although they received around 80% of their salary for two years from the provident fund.
The harsh realities of the market
The collapse of Fagor opened people's eyes in Mondragón to the harsh realities of the market, says Idoia Armendariz, who lost her job. "The biggest company in the group closed down, and we realized that any of us could lose our jobs. It wasn't an easy decision, but it had to be done. Otherwise, the debt would just have snowballed."
Fagor's problems were exacerbated by the purchase of leading French white goods company Brandt at a time when cheap Chinese goods were flooding the European market. "The market is tough: how can a washing machine cost less than a cellphone? A washing machine weighs a hundred kilos," she says.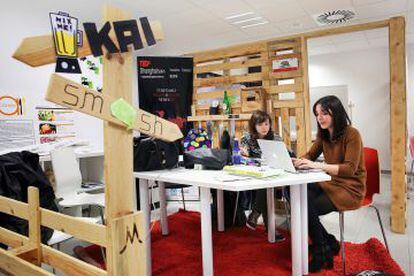 In a bid to save itself, Fagor and Eroski issued high-risk subordinated bonds, securities that fall after others in priority of claims in the case of financial distress, as well as preferential shares sold through regional savings banks that left thousands of small investors high and dry when the company went belly up.
The CM was set up in the 1950s by a priest, José María Arizmendiarreta. "He helped small workshops to get going, then he had the idea of an insurance company, a bank. He was a visionary," says Espeleta. Despite his socialistic beliefs, General Franco awarded him the regime's Work Merit Award. "The cooperative founders were Christians. The cooperative created work for everybody. The system is based on Christian values, left-wing values, and there is also a nationalist component, about roots, about improving the land you come from," he concludes.
Surviving ETA
The CM doesn't like to discuss it in public, but it identifies strongly with Basque nationalism. The president of supermarket chain Eroski says all Basque regional governments have been "close" to the group. "But outside the Basque Country, nobody knows who we are, and you have to explain things to people in the rest of Spain. For years, anything to do with the Basque Country raised suspicions," says Markaide, who is reluctant to discuss ETA's decades-long campaign of terrorism for an independent Basque Country. "The violence has affected business. That's why this period [without ETA] is a win-win situation." Nevertheless, many people outside the Basque Country are troubled by the way the business community there didn't do more to help the authorities combat ETA's extortion tactics, which raised money to continue its bombings and shootings. Izaskun Sáez de la Fuente, a lecturer at the University of Deusto, puts it down to fear. "It wasn't just business people, but everybody. There were no mechanisms to do anything. This made it very hard to prevent ETA's financing activities. During the 1980s people were under a lot more pressure than from say, 2000 onward."
Javier Sotil, the president of CM, says that the cooperative had little option but to get on with business. "Our job is to help transform the social reality around us, and to do that we need businesses that make money. And we do that by creating jobs, whatever is going on around us. Of course there was terrorism, but we have tried to keep out of it. Some might wonder how it's possible to do that," he says, adding: "We have done it by focusing on our goals and by not being distracted by the terrorism. This approach has been criticized by some as fence sitting. But we are under pressure from the left to take a position as well, and we have refused. The Basque Country has been deeply divided, and we have just had to get on with living in this situation."
The crisis at Fagor hit CP hard, but the group's management is proud that it didn't go cap in hand to the Basque Country regional government or to Madrid for help. "We sorted it out here, we sucked it up," says Sotil. But the €300 million that went down the drain has left a large hole, he admits. The group has created some 1,300 jobs since 2015, while at the same a growing number of voices are calling for changes to the system.
"It's very easy for people to get comfortable. There are cooperatives that are doing very well and make a lot of money. Some people find it hard to understand the need for change. What we ask companies that are having difficulties is that they do their duty. Modragón gave Fagor a lot of money, but there is a limit to generosity, and some people have overplayed the solidarity card. We have to point out to people that unless we are competitive, this isn't going to work," says Sotil.
Some people find it hard to understand the need for change. What we ask companies that are having difficulties is that they do their duty Javier Sotil,  president of Corporación Mondragón
Looking to the future, Sotil admits that the biggest problem the group faces in expanding is attracting investment. "What would happen if 30% or 40% of a cooperative's capital was sold to an investment fund? The balance of power would shift. We need to talk about these issues, because they affect our core values. We're starting to do this, but for the moment we're not going to open our doors to investment, and we're not going to float on the stock exchange or anything like that."
English version by Nick Lyne.