After 11 years on the run, has Olivia Newton-John's boyfriend been found?
Patrick McDermott allegedly faked his death and has been hiding out in southern Mexico

When Eduardo used to serve margaritas to a man he describes as Asian-looking on a remote beach on Mexico's Pacific coastline, he says he had no idea his customer had been officially declared dead by the US authorities. The man living the quiet life away from it all was none other than Patrick McDermott, the on-off boyfriend of Australian-born 70s pop singer Olivia Newton-John, who in 2005 had boarded a charter fishing boat in San Pedro, California, never to be seen again. After a three-year search, it was concluded that the then-48-year-old must have fallen overboard, and a death certificate was issued. But after 11 years, Australian weekly magazine Women's Day alleges he is alive and well and has been living the life of a beach bum in a tiny surfing community close to the resort of Sayulita, in the state of Nayarit.
It was just up the coast from Sayulita where McDermott was reportedly spotted sipping a margarita
It was just up the coast from Sayulita, in a village known as San Pancho, where McDermott was reportedly spotted less than a month ago sipping a margarita.
There had always been suspicions about his supposed death. To start with, there were no witnesses, and then there was the question of his dire financial straits. He had been declared bankrupt and had debts of more than $30,000; his former wife, actress Yvette Nipar, had accused him of failing to pay child support. In 2010, a team of detectives hired by NBC television said they had tracked him down to Mexico. But it took until now to allegedly locate him in San Pancho, or San Francisco to give the place its proper name.
"San Pancho is a great place to pretend to be dead. I have a friend here who has died three times because he owed the bank money," says Nacho Berumen, who sells books from the local beach bar. When he sees an 11-year-old photograph of McDermott, he says he has no doubts he has been living here. "This guy comes here all the time, – he's older now, but he would go for a run on the beach and then come here for a drink. He's fine."
Berumen says McDermott told him he used to work for a bank in Chicago. But María, who works in the bar, says he told her he lived in Sayulita: "I remember that he used to ride round in an old car with the name of the town on the license plates."
San Pancho is popular with wealthy US and Canadian retirees who want to escape the luxury confines of Punta de Mita, half-an-hour away by car. "They come here for peace and quiet, they're hippies from the 60s," says Berumen. "We've had millionaires on this beach, such as the owner of Revlon, and nobody would have guessed who they were," he adds.
Locals describe McDermott as a loner who kept himself to himself. The only thing about him they remember is that he would always drink at the same stool. "He was a classic hippie: his hair was straggly, grey," says Manuel Muro, the owner of El Chile Relleno, a restaurant in Sayulita, adding: "He came here to eat, I served him the house specialty. And he only tipped me 10%. If I'd have known who he was…"
Sayulita is about twice the size of San Pancho and much more lively. Visitors drive around in golf carts, bikinied girls ride about in ATVs, while others swerve in and out of the crowds on skateboards. "McDermott lived here for a while. I have seen him out and about on the beach wearing shorts, looking like some big time surfer," says Oswaldo Vallejo, responsible for providing water and garbage collection.
The surf instructors also admit to having known McDermott, but don't want to attract the attention of the authorities. "Sayulita lives off the sale of marijuana and everybody has it on them," says José Alonso Chacón, the owner of Don Pedro, one of the more expensive restaurants in the town.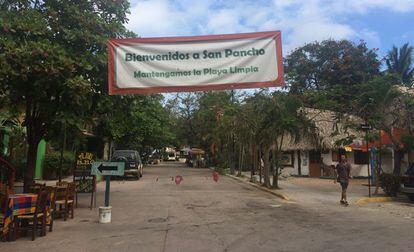 As to whether McDermott found a replacement for Olivia Newton-John, the Australian magazine that revealed his location claims he had a German girlfriend, but nobody in Sayulita or San Pancho can confirm this.
"Ever since his photo appeared in the papers, I haven't seen him around here," says María. Some locals say he worked on a yacht and would disappear for periods of time. "Nobody will find him in San Pancho. The local people here would hide him, that's how they make their living," says Berumen.
English version by Nick Lyne.