Mexican ex-governor held in Madrid prison on money-laundering charges
Humberto Moreira is also a former president of Peña Nieto's governing PRI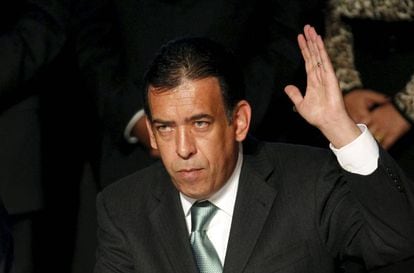 The former president of Mexico's powerful Institutional Revolutionary Party (PRI) is being held in Madrid's Soto del Real prison after he was detained on Friday on a money-laundering arrest warrant issued by the United States.
Humberto Moreira, a former governor of Coahuila state, was stopped by authorities at the Spanish capital's Adolfo Suárez-Barajas International Airport as he tried to make a connecting flight to Barcelona.
The 49-year-old former politician was taken before the High Court where Judge José de la Mata considered him "a flight risk" and denied his lawyer's petition for bail.
In his writ, which EL PAÍS has obtained, the judge said Moreira had the "resources, economic means, ties with other countries, and international connections" that could help him flee Spanish justice if he were to be released.
Moreira could now face years in a Spanish jail for alleged money-laundering and other offenses
The judge also said there was a risk that he could "destroy evidence" and "tamper with the investigation and witnesses." He was ordered to appear in the "shortest time possible" before High Court Judge Santiago Pedraz, who will oversee the investigation.
Moreira, who stepped down as PRI president just five years ago, could now face years in a Spanish prison for alleged money-laundering, heading up a criminal organization, embezzlement of public money, and bribery.
The warrant was issued by a US District Court in San Antonio, Texas where Moreira has for years been under investigation for stealing public funds and money laundering while he was governor of Coahuila state, which borders Texas, from 2005 to 2011.
In 2011, Moreira became PRI president but had to resign nine months later after the amount of public debt he accumulated as governor was revealed.
He left politics after his son was killed by drug hit men in 2012  and moved to Barcelona to study a master's degree
He left politics and Mexico after his son was killed by drug hit men in 2012 and moved to Barcelona the following year to study a master's degree.
According to the High Court, Moreira received around $218,000 during his year-long stay in Barcelona.
The former governor explained that the money had come from his own companies and was to pay for his family's living expenses while he continued his studies.
But the judge ruled that Moreira's explanations did not justify the large amounts of cash he received. The judge also mentioned that the former Mexican governor had made a series of phone calls to other people concerning the money transfers.
Wiretapped calls, bank account statements and transfers, and details of people and businesses that are connected to the alleged criminal organization are now part of the Spanish High Court investigation.
English version by Martin Delfin.