ENTERTAINMENT
Antonio Banderas to pay Melanie Griffith €60,000 a month in alimony
Málaga-born actor and his US wife splitting the money they made between 2004 and 2014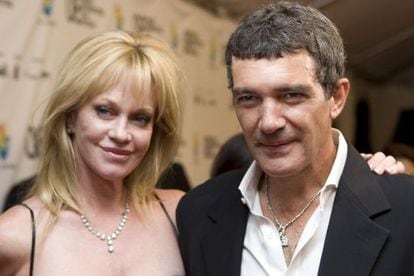 After an 18-year marriage, Melanie Griffith and Antonio Banderas split up in June 2014, but a year has passed before divorce proceedings came to an end.
According to celebrity gossip website TMZ, the Hollywood couple recently finished divvying up their assets and bank accounts.
Divorce documents quoted by the publication show that the US actress will get $65,000 a month (around €60,000) in spousal support.
Besides that, Griffith gets to keep the couple's home in Aspen as well as a painting by Picasso. Banderas keeps a pencil drawing by Picasso and a piece by Diego Rivera, as well as the couple's summer mansion in Marbella.
The actor is planning to sell this home and move into an enormous penthouse in downtown Málaga, his home town in southern Spain.
The couple married in 1996 under an agreement that kept their assets separate, but apparently changed this set-up in 2004 through a postnuptial agreement.
Because of that, Banderas and Giffith each keep whatever they made until 2004, and share out the proceeds of movies made between 2004 and 2014, including Shrek 2 and Puss in Boots.
Banderas gets to keep all the money he made from Desperado, The Mask of Zorro and Spy Kids.
Since the split, Banderas has been going out with Nicole Kimpel, a Dutch-born investment banker who is 20 years his junior.
Griffith has still not been seen in public with anyone, but had laser surgery to remove Banderas' name from her arm, where she had it tattooed at the beginning of their relationship.
In a press release issued in June 2004, the couple announced the end of their relationship, which they described as a mutual decision.
Documents show that it was Griffith, 57, who requested the separation because of "irreconcilable differences."
A few days ago, Banderas said that he has an excellent relationship with his ex and her children, and that they are still one big family. Their daughter, Stella del Carmen, is now in college.
This week, Banderas also announced that he will be launching his own clothing line in August.
English version by Susana Urra.