Coca-Cola pulls Mexican ad after offending indigenous population
Rights groups slam Christmas commercial, calling it "racist and discriminatory"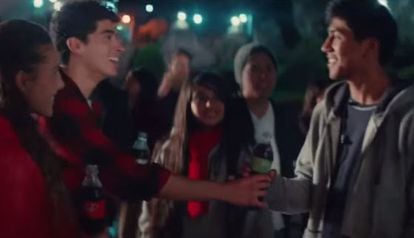 A Mexican Coca-Cola commercial intended to send a message of unity has angered civil rights organizations, who say the advert discriminates against and attacks the dignity, culture and health of the country's indigenous peoples.
The ad, which was released via social media, shows a group of young Caucasian people driving up to the remote Mixe town of Totontepec (Oaxaca, western Mexico). Some of them are blond and bear little resemblance to the average Mexican. Upon arrival, they build a giant Christmas tree and hand out sodas to the townspeople, whose faces light up as they accept the soft drink and gaze up at the glowing tree.
The commercial begins saying that "81.6% of indigenous people have felt rejected for speaking another language," and it calls on Mexicans to "overcome that prejudice." Yet, the ad "feeds it, it is racist and discriminatory," says Elvira Constantina Pablo, a Mixe lawyer from Aser-Litigio, a group that provides legal services to indigenous people.
Aser-Litigio and other civil rights organizations have urged the Mexican government's anti-discrimination office, Conapred, to "take action against Coca-Cola's campaign." Although the advertisement has been pulled from YouTube, Constantina says that "the damage has been done." "They should set a precedent to regulate and penalize discriminatory commercials," she adds.
"It feeds stereotypes" by projecting an "image of dependency," says Pablo, who herself has been subject to discrimination. "The indigenous people say nothing; they only let the white person who offers them help hug them."
The indigenous people say nothing; they only let the white person who offers them help hug them"
"It promotes an attitude from which we indigenous people suffer on a daily basis. People look at you in a strange way for dressing in traditional clothes and when you go into a mall, they keep watching you because they think you've come to steal."
While Coca-Cola has pulled the ad from YouTube, parodies of the video will continue to haunt the company. One of them denounces the plight of indigenous communities and the health risks associated with drinking the beverage. Indigenous people speak in this video to remind the audience that nearly one-third of the Oaxacan community does not have access to running water, while 2.8 million indigenous people do not have access to health services.
English version by Dyane Jean Francois.