Anatomy of the #ELPAÍSDebate
The head-to-head will be streamed live via the EL PAÍS website The ENGLISH EDITION will live blog the event in English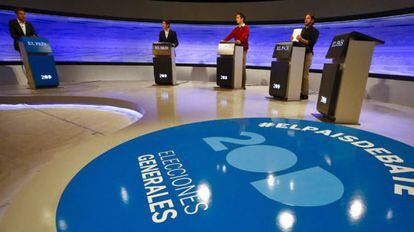 At 9pm Spanish time tonight, EL PAÍS will be hosting the first election debate between prime ministerial candidates to be broadcast via the newspaper's website. This pioneering initiative will mark a milestone in the history of political debates in Spain, and will fire the starting gun for the race to La Moncloa prime ministerial palace for the three candidates who are debuting at the head of the election lists for their respective groups.
The trio of politicians appearing tonight are the leaders of the Socialist Party (PSOE), Pedro Sánchez; Ciudadanos, Albert Rivera; and Podemos, Pablo Iglesias. EL PAÍS also invited prime minister and Popular Party chief Mariano Rajoy, who is campaigning for re-election, but he declined to take part.
EL PAÍS In English will be live blogging the main points and arguments of the debate in English
The debate will start at 9pm and run until 10.30pm and will be available to watch on the EL PAÍS website. It will also be available on the EL PAÍS In English page, with live blogging in English of the main points and arguments. After the debate, the entire broadcast will be available to watch in its original Spanish version online. It will also be broadcast on the Cadena SER radio network, as well as being available to live stream for any media outlet that requests it.
The broadcast will begin at 8pm with coverage from the studios where the debate will be held. This special program will supply the key points to understand everything that will be happening before and after. The debate will be moderated by EL PAÍS journalist Carlos de Vega.
The studio audience will be made up of 150 EL PAÍS readers, who will be able to ask questions that have been previously selected.
What's more, comments on everything that is happening during the debate can be posted on Twitter using the hashtag #ELPAÍSDebate. The best messages will be selected for the commentary that EL PAÍS will provide on its website.
The EL PAÍS website will also be conducting a survey to allow readers to vote on who they believe won the debate. It will be open from 9pm to 11pm.
The debate will be structured around four issues:
Economy and employment

Social policies and the welfare state

Regional politics

Reforms and political regeneration
At the start of each block, the candidates will have two minutes to present their proposals. Afterwards, there will be a head-to-head lasting nine minutes, during which the candidates can interrupt and question each other. Afterwards, for five minutes, they will respond to questions from the public. Then comes the "golden minute" – 60 seconds during which they can transmit their key message to voters.
English version by Simon Hunter.