Latin America
Mexican 'Big Bang Theory' fans furious over new dubbed shows
Viewers take to social networks to complain after Warner Channel drops subtitles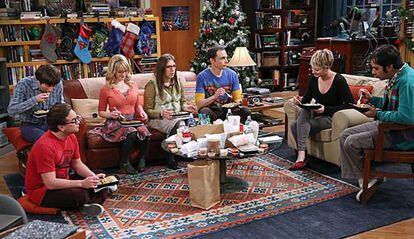 Can you imagine The Big Bang Theory's Bernadette Rostenkowsi speaking in anything other than her characteristically shrill voice? Neither can Mexican fans of the popular US TV show.
The sitcom about a group of nerdish friends has become a global trending topic on Twitter this week after the Warner Channel, which broadcasts the series in Mexico, decided to start showing it dubbed into Spanish.
What pains fans the most is hearing how Sheldon's catchphrase "Bazinga" sounds in Spanish
According to the complaints, the attempts to give a local flavor to the jokes have resulted in the essence of the show being lost
Perhaps what pains fans the most is hearing how character Sheldon Cooper's famous catchphrase "Bazinga" now sounds in Spanish.
Video: How 'Bazinga' sounds in Spanish.
The Big Bang Theory is not the only popular show to lose its original voices. Warner has also thrown out the subtitles in favor of dubbing on the sitcoms Friends and Two and a Half Men.
Fans are also upset that the Warner Channel has cut off access to the language-choice option, which means viewers are no longer able to switch to the original version of the broadcast on their television sets.
Warner has yet to issue a statement on whether viewers might be able to watch the original versions of the show again in the future.
The Big Bang Theory is one of the most successful series in Latin America as well as in many countries around the world.
In 2014, three cast members became the highest paid actors on TV. Jim Parsons, Johnny Galecki and Kaley Couco each earn $1 million per episode.
English version by Martin Delfín.