GAY RIGHTS
Madrid to rename square after late gay rights activist Pedro Zerolo
PP opposes move on grounds that it will cost taxpayers' money, but other groups back it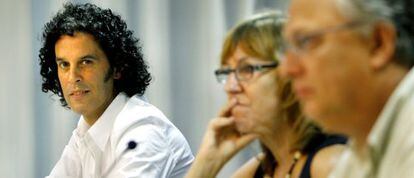 The city of Madrid has approved a name change for a well-known square in the downtown area.
Plaza Vázquez de Mella, located in the heart of Chueca, the capital's main gay neighborhood, will be renamed after gay rights activist Pedro Zerolo, who died on June 9 of pancreatic cancer.
Zerolo was also a Socialist councilor who helped get Spain's landmark same-sex marriage legislation passed in 2005.
We will do everything necessary to get this completed with the utmost speed"
Ahora Madrid spokesperson
The motion was approved by the ruling leftist coalition of Ahora Madrid, by the Socialists and by Ciudadanos. The conservative Popular Party (PP) voted against it citing the expense the name change would mean for city coffers.
Instead, the PP supported naming a city garden after Zerolo. In September 2014, however, when the party was in power, city officials inaugurated a square near Paseo de la Castellana that was named after former British Conservative Prime Minister Margaret Thatcher.
"We will do everything necessary to get this completed with the utmost speed," said an Ahora Madrid spokesperson.
The motion to change Vázquez de Mella to Zerolo square was put forward by the Socialist Party, while the State Federation of Lesbians, Gays, Transgender and Bisexuals (FELGTB), which the deceased councilor headed between 1998 and 2003, collected 84,000 signatures in favor of the change.
The writer and politician Juan Vázquez de Mella (1861-1928) has another street named after him in Ciudad Lineal district.
The city council also approved the construction of "a monument to remember all the lesbian, gay, bisexual and transgender individuals who have been persecuted throughout the centuries for their sexual orientation and gender identity."
According to culture councilor Celia Mayer, of Ahora Madrid, the monument will go up "in a central spot to remember the rights that we all enjoy today." The PP also backed this project.
English version by Susana Urra.