The Brazilian comic-book antihero out for revenge against corruption
The Indoctrinator's battle against unscrupulous officials has made the character a cult hit
One day, an old Brazilian soldier decided to come out of retirement to begin a new mission: "The mother of all battles."
He swapped his regulation green uniform for a hoodie and military fatigues and wears a gas mask so no one will recognize him. He still has his regulation boots but his automatic weapons are now aimed at a new, domestic enemy – public corruption.
He assassinated his first victim, a congressional deputy who was also an evangelical preacher, in a hotel room, while his second target, a senator, was gunned down at the beach.
This crusader for justice has an unquenchable thirst for revenge and is on a mission to eliminate those who have corrupted his country – politicians, businessmen, builders, soccer officials and religious leaders.
And there is no room for negotiation, or for bribes.
–I'll pay you if you let me go. How much do you want?
–I don't want your money, Mr Secretary. I want you to work. The trains look like cattle cars… buses, murderers, and there is no oversight. The subway ran over budget and is overcrowded.
–I will change it all, I promise.
–No, your successor will be in charge of the change… if not, I will also come after him.
The Indoctrinator appears to personify the anger many Brazilians hold against the political class
On Tuesday, the comic book O Doutrinador (The Indoctrinator) hit bookshops across Brazil and will soon be published in English in Europe and the United States.
The fictional antihero first made his debut on Facebook in early 2013 and has grown to become a popular cult figure in Brazil.
But his roots go back to 2008 when illustrator Luciano Cunha, 42, first began developing the character and his arch enemies, inspired by his idols Frank Miller (Batman) and Jack Kirby (X-Men, Captain America and Hulk).
In June 2013 when Brazilians took to the streets in anti-government protests held in different cities that sparked violence between demonstrators and police, The Indoctrinator's Facebook page grew to 20,000 followers.
This year, by the time Brazilians had once again held massive protests against President Dilma Rousseff and the corruption scandals in the state-run oil company Petrobras, Rio de Janeiro native Cunha's page had 40,000 followers.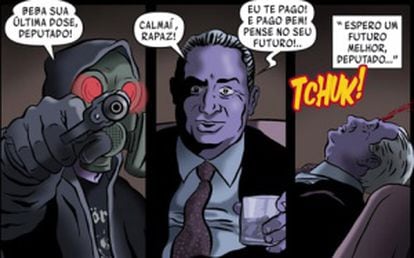 The Indoctrinator appears to personify, in an extreme way, the indignation many Brazilians hold against the political class in their country, their bad feelings about government, and the protests "against everything" that has sprouted up over the past few years.
But Cunha's fans are just not typical comic-book readers. He believes people read his creation not because of the artwork but because of the message the main character tries to get across: that "some sort of justice" will be handed down against corrupt public officials.
"There is a political message here, and that is very common in comics. Captain America fought against Nazism and later he became a reflection of American imperialism during the Cold War," Cunha explains.
Nevertheless, The Indoctrinator has evoked some "ideological misunderstandings," acknowledges Cuhna, who is annoyed at having to explain the ideology behind the character.
"In Batman: The Dark Knight, the main character is a multimillionaire who uses all of his power to catch poor criminals. But people say it is only a comic book. Well, mine too is only a comic book."
Cunha has been accused of coming up with a character that is either fascist, a leftist extremist, or a libertarian. The fact is The Indoctrinator is a madman who takes the law into his own hands.
"He searches for politicians on all sides of the political spectrum. He is a lunatic and there is nothing that justifies what he is doing," says the illustrator.
Cunha, who works as an illustrator for an ad agency, is already thinking about a third chapter but admits he would also like to take some time off. He can't live off the earnings made from The Indoctrinator.
"I used to do three pages a week, sometimes five in my spare time. But now I am a father and this has become very time consuming," he says.
Cunha is in talks with a television channel that has expressed interest in producing a series based on his creation. There are also plans for a videogame.
"I can't live off what the comic book is earning, but if I look at other ventures, maybe I can dedicate myself full time to the project."
That, of course, is every comic-book artist's dream.
English version by Martin Delfin.