Madrid's Atocha train station reopens after false bomb alert
Authorities confirm suspect, who said he wanted to commit suicide, had no explosives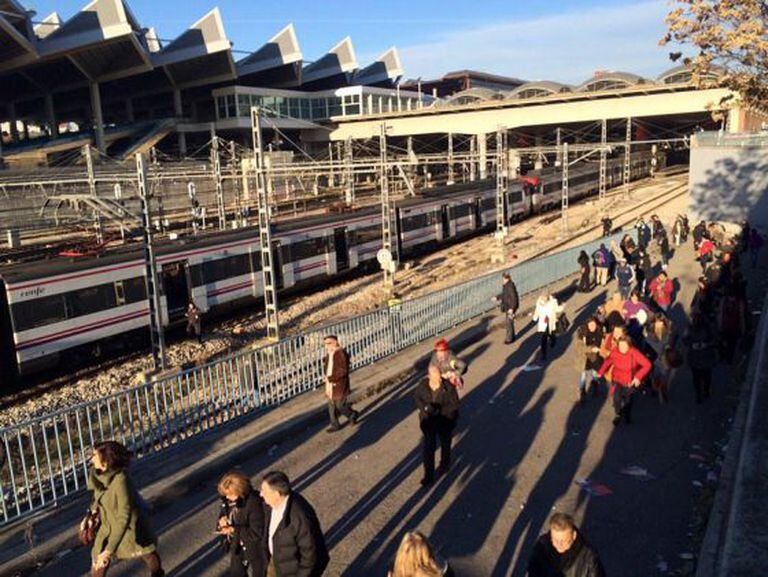 The Spanish National Police closed the Atocha train station in central Madrid on Friday for more than an hour, after a man threatened to blow himself up on a commuter train using explosives that he claimed to be carrying with him. Police sources have told news agency EFE that anti-terrorist protocols were put into action, and have confirmed that the man was not carrying any kind of explosive device.
The station was evacuated by the authorities, which caused serious disruption to public transport services and also caused traffic jams in the Spanish capital.
The detained suspect has been named as Jamal H. He is of Moroccan origin, and according to the Interior Ministry, is undergoing psychiatric treatment. He was not on any watch list for Islamist terrorism suspects.
Passengers were evacuated from the train in which he was traveling before it reached the platforms of the station. The service had left from the satellite town of Torrejón de Ardoz, and was stopped around 500 meters from the station.
The high-speed AVE service, which also runs from Atocha, was affected by the closure of the station.
Sources told EFE that the man left a rucksack on a carriage and warned passengers of an imminent explosion. The people on the train are reported to have pulled the emergency alarm in response and quickly fled the coaches. The suspect also ran from the train, but was arrested by the authorities once on the street.
Witnesses on the scene reported hearing announcements over the loudspeaker system in the station explaining that the trains had stopped due to a bomb threat.
Metro trains were not stopping at Atocha, according to the Madrid Metro's official Twitter account.
Atocha train station was the site of Spain's worst ever terrorist attack in 2004, when a series of rucksacks filled with explosives went off on a number of trains headed for Atocha station. A total of 191 people were killed in the attacks, with around 1,800 injured.