Seven steps to invention success
Spanish inventors offer advice for turning eureka moments into commercial realities
Air conditioning was invented in Spain in the 19th century – not the actual device, but the scientific principles that led to us having cooler homes. Jerónimo de Ayanz y Beaumont, the inventor in question, also designed the first steam pump, as well as a primitive aqualung. "He was a genius; the Spanish Leonardo," says Enrique Villacé, president of the Spanish Association of Inventors (AIE), a not-for-profit organization that offers advice to anyone with a good idea about how to develop it. But few people know about Ayanz, he says: "Spain is a very ingenious country, but it rarely manages to patent any of its ideas."
It seems in this country people only pay attention to something if it is already successful somewhere else first" Inventor Fernando Navarro
Last year, Spanish inventors applied for patents on 3,133 ideas, according to the Spanish Patenting and Brand Office (OEPM). Of these, 2,893 were granted. "And only around 300 are actually inventions as such," notes Villacé. "And of these, only between two and five percent are actually developed, most of them with foreign capital: around 80 percent of Spanish inventions end up being made abroad," he says.
In short, it's not easy making a living from creativity in Spain. It is a country that has largely ignored its inventiveness: last year, for example, around 16,000 patents were registered in France. In the case of international patents, Spain's 1,700 is a far cry from Germany's almost 18,000; in the United States the figure is 57,000. But despite the obstacles they face, Spain's inventors continue their work.
Have the idea
Three years ago, one of Fernando Navarro's friends pointed out an everyday problem to him: "My husband wears a suit to work. He wears a tie, which tends to be dirty when he comes home, and I am tired of taking them to the dry cleaners." Navarro's answer was simple: "Get him a tie protector." After discovering that tie protectors didn't actually exist, Navarro set about inventing one, and has just patented TieTop, a plastic shield that protects against stains.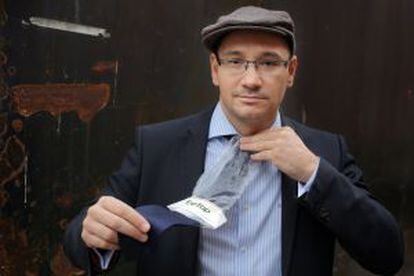 There are three main types of inventor: those, like Navarro, who come up with ideas to solve long-standing (albeit minor) problems; those who work full-time in laboratories for multinationals; and those, like physical education teacher Julián Huertas, who come up with ideas by accident, usually related to their personal circumstances.
Build a prototype
About 10 years ago, Huertas' son nearly drowned: "The accident affected me deeply. When we were in the water, he was never happy with any kind of inflatable device. So I began to think about how a child could be helped to stay afloat while learning to swim."
Starting with a neoprene diving suit, Huertas filled it with small floats, creating the first version of what he has dubbed the 'Kit-Flot.' "After failing to attract any investment, I decided to go it alone," he says.
Navarro had a similar experience with his tie protector: he knew what he wanted to do, but couldn't find the financing he needed to get his idea off the ground, so he went to the United States, where he soon managed to generate some interest. The invention caught on, and he now produces around half a million protectors every month. "When we came back to Spain, it was a lot easier to find financing: it seems in this country people only pay attention to something if it is already successful somewhere else first."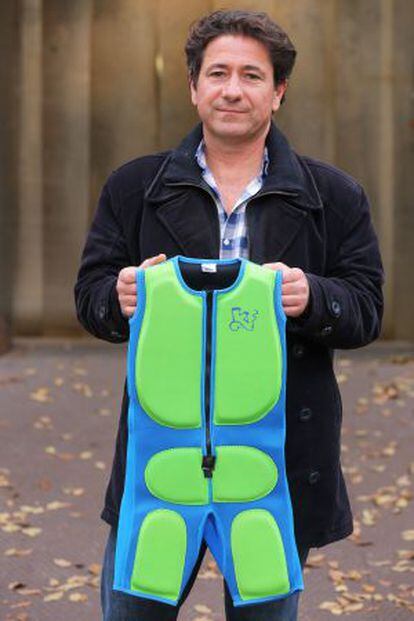 Attend trade fairs, pick up prizes
Stephane Espinosa's Nitro Cooler is still far from being a commercial reality. "I have a prototype," he says. One hot summer afternoon about five years ago, the 33-year-old based in Málaga was enjoying a beer with some friends. As his drink gradually warmed up, one of the group said: "If only there were a way to cool it back down immediately." A couple of years ago, after giving the matter some thought, Espinosa came up with an idea.The result of his cogitations was the Nitro Cooler, an environmentally friendly cooling system for drinks that uses liquid nitrogen to apply the first principle of thermodynamics: "Energy is neither created or destroyed, it is simply transformed." He presented his idea at last year's INPEX trade fair in Pittsburgh, one of the biggest meeting points for inventors and venture capitalists in the world. There were three Spanish stands; this year there were eight. "It's a good sign, bearing in mind the economic situation," says Livia Bebing, who works for INPEX.
Spanish inventions have also won international prizes in recent years: Espinosa won the gold medal in the technology category in Pittsburgh, while Huertas' floating swimsuit took gold in sports. "That was when I realized that other countries really are interested in new products and innovation," he says. "The Americans love new things, whereas here I was simply told over and again that what I had come up with had already been invented."
Find the money
Last year, a Spanish invention won the European Union patent prize: José Luis López Gómez's device to improve train safety, which is now being developed by Spanish train manufacturer Talgo. "It is essential to encourage innovation, particularly among young people," says 72-year-old railway engineer López Gómez. "I know that things are difficult, but in Spain we lack attitude and determination."
This year, the Spanish government is to increase research and development (R+D) spending by 4.8 percent, to €6.4 billion, while reducing subsidies to individual inventors by €7 million from last year. What's more, a portion of these funds end up going to no one, according to the Spanish Confederation of Scientific Societies, which says that two years ago, 45 percent of the R+D budget was not used.
"Without financial support, things are very difficult," says Espinosa. Before winning the gold at Pittsburgh, he touted his idea at several Spanish events, but failed to attract any interest from domestic investors. "Nobody could even be bothered to talk to me, but I kept at it. I come from a family of inventors and entrepreneurs: my uncle came up with a special knife for cutting soft cheeses and sold the patent; my grandfather had the original idea for a nose-hair trimmer, but as he was friendly with Philips, he let them have it," he says.
For the moment Espinosa has invested €50,000 of his own money in his invention. The INPEX medal has also aroused the interest of some investors from abroad. "It's been a long road, but I'm happy. Things are starting to take off. There's no doubting that in other countries people are more open to new ideas, which makes it easier to get money. Inventing is the easy part. The difficult thing in Spain is to make it a reality," he says.
Get it made
Edu Sentís, 44, knows about the difficulties of taking an idea from the drawing board to the production line. A couple of years ago, he came up with a design for a town bike, particularly appropriate for a city like Copenhagen, which has an extensive cycle route. The Danish authorities chose his model – which is electric, light, and can be recharged during parking – for its public bike scheme.
Once his design, which also comes with a GPS, chunky tires, and is chainless, had been chosen, Sentís found he had no alternative but to sell his idea to a Danish company: that's to say, a third party would manufacture it and sell it in return for a payment. He couldn't find financing to make the bike in Spain: "You try to come up with good ideas, but you can't find the money when you need it," he says. "The problem here is that everybody wants to get rich quick, and doesn't want to put money into something long term, it's all very short term thinking. Nobody is prepared to take a risk. They only want to invest if they can see what the return will be, and sometimes even knowing that, they don't think it's worth their while." His invention required an investment of €3 million, with a guaranteed return of €5 million.
"An invention starts with an idea, and it's hard to come up with ideas, but in the end, it's much more difficult to get the idea off the drawing board," says Juan Carlos Pérez Oliva, a 47-year-old designer who now lives in Germany, where he came up with an idea for recharging the batteries of electric bicycles. He eventually set up his own company, called Easy Energy, to make a connector with an adaptable voltage to recharge all kinds of vehicles, which can be installed on the street. Last year he was awarded the prestigious press prize at the Geneva International Invention Exhibition, the world's largest. "The idea is mine, but given the costs, I had to find an investor, who is now my partner," he says.
Take out a patent
Smartphones and tablets emit more light than other electronic devices. A few years ago, Celia Sánchez Ramos, a lecturer and researcher at Madrid's Complutense University, began looking into the damage that this radiation might be doing to our eyes. A month ago, the contact lenses she designed to protect us from the light emitted by these devices went on sale. She patented the idea in 2005: "It was my first invention."
To be given a patent, a product must fulfill three criteria: first, it must be new; second, it must have some inventive aspect to it and, third, it must be possible to manufacture. This process costs around €1,000. To that must be added the cost of renewing the patent annually, which can be as much as €600.
"If, on top of that, you want to patent something internationally, it's going to cost a further €8,000 to €10,000," says Luis Ros, who came up with an idea for a side mirror for cars to prevent accidents when opening rear doors. "It took me five years to get the patent," he says. He is also among the Spaniards whose ideas have won prizes at INPEX and Geneva. "It's a complicated process, and you have to put a lot of money into it, and even then, people can copy what you have done. Inventors need to be able to draw on subsidies and grants."
It's not enough to just come up with a good idea, you have to ask yourself if the market really needs that idea" Inventor Edu Sentís
In fact, funding is available from the Spanish patent office in the form of deductions, exemptions, or payment schemes. But many inventors say this is not enough. The government has just approved a reform of the 1986 patent law that it says will "encourage truly inventive, innovative, and new activities," rather than simply patenting an idea. "The important thing isn't to patent a huge number of things, so much as to patent something that can really make a difference and that can be developed," said Spain's industry minister, José Manuel Soria, at a recent press conference to announce tax breaks for entrepreneurs and small businesses.
Sell it
"I know of any number of inventors who have gone bankrupt, their lives ruined," says Sentís. "There is a problem among many inventors: they don't understand that it's not enough to just come up with a good idea, you have to ask yourself if the market really needs that idea."
But creativity is hard to stifle. Sentís' bicycle, Huertas' inflatable swim suit, Celia Sánchez's contact lenses, and José Luís López Gómez's railway safety system are all realities now. And the prototypes for recharging electrical vehicles or the environmentally friendly drinks cooler that Pérez Oliva and Espinosa have designed are close to being commercialized.
"Having an idea is the best thing that can happen to you," says Sentís. "Despite all the problems, knowing that you've solved a problem and can shout 'eureka' is a great feeling."