Twelve of Spain's prettiest villages
Some of the country's most charming spots have come together under a common brand
Drawing up a list of Spain's prettiest villages is risky business: there's always someone who will blame you for not having included their own hometown.
But there is one way to do it. In March 2011, several of these picturesque locations got together under the same tourist brand, which they called Red Nacional de los Pueblos Más Bonitos de España (National Network of Spain's Most Beautiful Villages). By doing so, they were following in the footsteps of similar projects developed earlier in other countries such as France, with its Les plus beaux villages de France, or Italy and its I Borghi più belli d'Italia.
Gaining admission into this exclusive club is not easy, however: only 20 percent of applicants get approved. Requirements include having a population of no more than 15,000, a perfectly preserved historical center, and certified architectural or natural heritage sites.
Successful candidates must also meet quality standards in connection with cleanliness, building conservation, traffic restrictions, parking space, conservation of green areas and limited billboard space.
While there are 24 municipalities on the list, this piece focuses on 12 of them, with the rest left over for a future article.
Popular architecture reigns supreme in this well-preserved mountain village in Teruel. Earthy colors, latticework, roof tiles and narrow winding streets of Arab origin all converge on a castle that looks out from an altitude of 1,182 meters above sea level. In 1961 the entire town was declared a national monument. Population: 1,102 in 2012.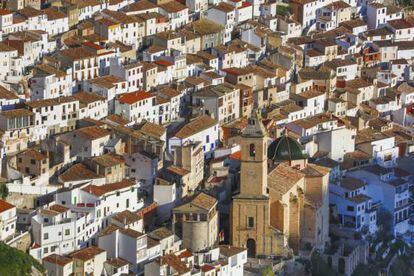 As it winds its way through the limestone chasms and crests of Albacete province, the Júcar carves out one of the wildest landscapes in all of Castilla La-Mancha: the Hoz del Júcar, or Gorge of the Júcar. The highlands are home to villages such as Alcalá del Júcar, with whitewashed houses and poplar-lined avenues that turn yellow in the fall. Population: 1,346 in 2012.
The medieval town of Ayllón affords visitors a combination of monuments, landscape and history. This place has seen its share of historical figures drop by, including Álvaro de Luna, a 15th-century Constable of Castile, the English-born Catherine of Lancaster, Queen of Castile, and the missionary saint Vicente Ferrer. Population: 1,398 in 2012.
In the mid-1970s, a small colony of artists and writers that included Chile's José Donoso and the Spanish poet Ángel Crespo settled down in this harshly beautiful village of Matarraña county in Teruel. Population: 1,105 in 2012.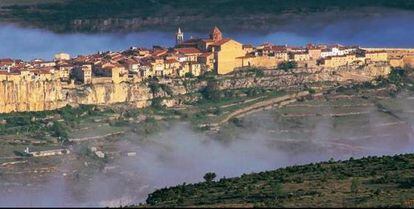 Aragón is a land of mountains and hidden villages. One of the hilliest ones is Cantavieja, the historical capital of the Alto Maestrazgo area and a refuge for General Cabrera during the Carlist wars that pitted supporters of Isabel II against defenders of Carlos, pretender to the throne during the 19th century. Population: 745 in 2012. 
This is probably the most charming location in all of Burgos, a well-preserved collection of narrow streets and houses with timber frameworks perched atop a limestone crag. The village is accessed via a medieval fortified bridge over the Ebro river. Population: 277 in 2012.
The name of La Alberca (Salamanca) evokes popular architecture, embroidery work and the bright red of the geraniums that line the balconies. The word "picturesque" seems made specifically for a village that nestles inside the natural park of Las Batuecas, where every evening at sundown the Moza de Ánimas walks the streets ringing a bell and asking the locals to pray for the souls in purgatory – a tradition that remains unchanged since the 16th century. Population: 1,192 in 2012.
The fishing village of Lastres, in the northern region of Asturias, is so striking that it served as the set for the Spanish television series Doctor Mateo, featuring Gonzalo de Castro and Natalia Verbeke. Tourism authorities have created a route that stops along all the spots featured in the show, including the doctor's home, the bakery, the school, the tavern, the beaches and the local radio station.
9 Lucainena de las Torres (Almería)
A stroll down the streets of Lucainena brings back its Morisco past. The "Torres" in the placename makes reference to the seven watchtowers that used to flank the town, which is now finding a new source of revenue in rural tourism and spa services. Vestiges of Lucainena's mining past are still visible along its Vía Verde, which also affords views of the Sierra de Alhamilla. Population: 650 in 2013.
This is one of the oldest municipalities in Segovia, and was once a bulwark between Castile and the Muslim territories beyond. Maderuelo extends along a hill on a curve of the Riaza river. After walking under the arch that separates the defensive wall from the inner city, visitors step into San Miguel square, which boasts a church and homes with Romanesque and Gothic façades. Population: 136 in 2012.
Scratch a little under Medinaceli's surface and you will find yourself in Rome. Under this medieval town looking down from its cliff, there are still remains of the old Occilis in the shape of Roman mosaics. Its Roman arch, which opens up onto the Castilian plains, is the only one in Spain with a triple arcade. Population: 810 in 2012.
Mountainous Morella seduces visitors with its medieval walls and white homes lying at the foot of a rocky castle. The web of cobblestoned streets adds charm to the capital of the Maestrazgo, a historically rich area in Castellón province. Population: 2,739 in 2012.