Cristiano Ronaldo: more of a man, more of a player in Brazil
The Portuguese star's understanding is much improved, reflecting a deeper commitment to his team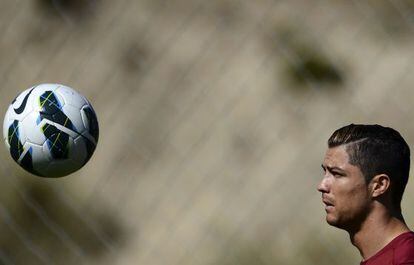 Soccer has 17 rules. The second governs the size of the ball, which must have a circumference of between 68 and 70 centimeters and weigh between 410 and 450 grams at the beginning of the match. That's a key point: 40 years ago, when I played the game, those leather balls may have weighed the same at the start of the match, but when it rained they absorbed moisture and became heavy, sodden, and difficult to control.
Today, balls are made of different materials, making it easier to put them in the back of the net. Many of the changes to the game have been to the detriment of the goalkeeper. The beneficiaries have been the forwards, and the number one in that category at the moment is Cristiano Ronaldo.
The ball has changed, and so has Cristiano. Four years ago, at the World Cup in South Africa, his thinking was along the lines of: "First me, then the ball, then me with the ball, then the game, and then my teammates." His goal was to be the best player in the World Cup. But not now: now he wants the ball, he wants to play the match, and he wants to help his teammates to be the best side in the World Cup collectively. His understanding of the game, and of himself, is more complete. His moves reflect a commitment to his teammates. In 2010 he was not the same person. Today, aged 29, I don't know if he is more of a man because he has improved as a soccer player, or if he is a better soccer player because he is more of a man.
Portugal may play better than Brazil because Cristiano has grown
Portugal may play better than Brazil because Cristiano has grown. He may not have improved his game since South Africa, but his attitude has improved, and he is more mature and less selfish. Hearing him speak it is clear that there is more humility in what he says, and this is a sign that he has become more intelligent. He now understands that he has a role to play, as well as to help the team overall.
Cristiano looks at those around him differently, and his teammates look at him differently. Four years ago it was: "Let's see if he can pull something out of the hat and we get a goal"; now they think: "If he plays well, we'll all play better."
Cristiano understands that he has responsibilities on and off the pitch. He knows that a lot depends on him, but he now gives the others their chance. This will be important when he retires: he needs people's respect and sympathy.
Cristiano deserves our admiration because his work is the result of sacrifice. He is the hardest-working player in the history of the game. Eusébio was a more refined player. He had a closer relationship with each match he played, he was less of a rebel, and this brought him closer to the rest of his side.
Alfredo Di Stéfano was the same. These were both men who understood the principles of soccer. Cristiano lives each game as though it were a personal challenge. He is continuously examining the game, often from a purely selfish perspective. He attains his objectives with astonishing frequency because of his physical condition. Half of what he achieves is due to talent, and half from hard work, whereas Eusébio's achievements were purely the result of talent.
There are players who do not need to be great athletes to be giants: Messi, for example, who like Eusébio was born to be among the best players of all time. Cristiano is among them as a result of a combination of talent and effort. There is merit in this. In South Africa he was an idol, but not the benchmark. His followers want him to be a benchmark. Idols owe their success to talent, but benchmarks are created through behavior.
In technical terms, the most marvelous thing about Cristiano is what he does at the individual level. The coordination he possesses when he does things in motion, usually at great speed, is what sets him apart. His mastery of kicking the ball on the run is incredible. This is where he demonstrates his unique intuition. This is what enables him to score goals from the most difficult positions.
Which brings us back to the ball. These new, impermeable balls respond well to the skills of Cristiano; more than those of 40 years ago. If Eusébio were to play with one of these new balls, he would surely be an even better player than he was, and the same can be said of Di Stéfano, Beckenbauer, or Pelé. Today, it is far less difficult to kick the ball with the intended spin or effect. It may weigh the same, but it is less resistant to the force of a well-placed kick.
Kicking while running, and that up and down motion that Cristiano is able to achieve would have been impossible in my day. In winter, when it rained and the ball turned to a lead weight, it was impossible to use these modern tactics. These days, the ball is docile. Today, if it doesn't go where the player intends, he or she has nobody else to blame.
The ball can be slammed into the back of the net, and it can also be passed to a teammate. In the latter case, not much has changed. Cristiano's relationship with passing exposes his position in the game and in life. When he passes the ball he does so reasonably well, and this shows talent. But he doesn't pass the ball often: his selfishness prevents him from doing so. This might change. After having achieved every record and title imaginable, it is possible that he is now prepared to share his talent with others. He must know that soccer has given him everything: friends, coaches, adoring fans. It's now up to him to say: "God, you have given me everything, now let me give a little of my work to the others."
António Simões won the European Cup with Benfica in 1962, and was a member of the Portuguese squad that came third in the 1966 World Cup. He is now a writer.