LATIN AMERICA
Santos' lead shrinking ahead of Colombian elections, polls show
Support for main rivals to incumbent president on the rise as peace process drags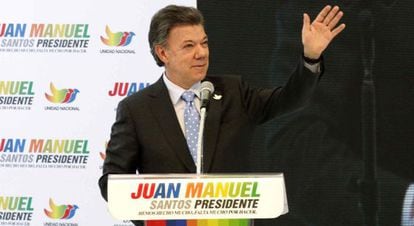 With four weeks to go before the first round of presidential elections in Colombia, the polls show that the incumbent Juan Manuel Santos' lead is shrinking.
The indications are that Santos will likely win re-election in the second round against either Óscar Iván Zuluaga of main opposition party Uribe Centro Democrático, or against independent candidate Enrique Peñalosa, a former mayor of Bogotá.
But the most recent survey, commissioned by an alliance of media outlets and released on Sunday, suggests that voter backing for Santos is either stagnating or dwindling: while support was 28 percent in February, that figure is now down to 23 percent.
By comparison, his rival Zuluaga's support grew six full points to 15 percent over the same period, while Peñalosa doubled his backing to reach 11 percent.
The surveys show a large number of undecided voters who could create a surprise outcome
The survey also shows Santos losing popularity in Bogotá, where a majority of voters would cast their ballots in favor of Peñalosa, followed by Zuluaga and then Santos. Working against the president is the fact that last week he was forced by a judge to readmit Mayor Gustavo Petro, whom he had dismissed a month ago over the arbitrary awarding of a garbage collection contract in the capital.
Another survey released on Sunday and commissioned by, among others, El Tiempo newspaper (which once belonged to the Santos family), also suggests that Santos would win re-election in the second round, but his opponent's identity is less clear.
Both surveys illustrate how Zuluaga and Peñalosa are capitalizing on the slow progress of the peace process between the government and the FARC guerrillas (which has been a sticking point for Uribe's followers) and on questionable alliances between the government and local political bosses (which the green parties routinely criticize).
The opinion polls also point to a large number of undecided voters going into the May 25 ballot, which leaves the door open for a surprise outcome that could defy the forecasts.