CINEMA
This week's movie releases
Epic drama 'Pompeii' sees digital lava wreak digital destruction on the ancient Roman city Japanese animation genius Hayao Miyazaki says goodbye with 'The Wind Rises'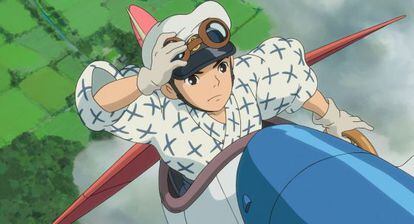 It all started with Ridley Scott's Gladiator. After audiences cooed over the 1999 epic's glossy computer-graphic recreations of the streets, temples, arenas and palaces of ancient Rome, there was no stopping the swords-and-pixels epic. The likes of 300, Clash of the Titans, Amenábar's Agora, and most recently, The Legend of Hercules, followed, some better than others, but all united in their determination to revive ancient civilizations using millions of smooth and shiny pixels rather than photograph real dust, dirt and sand that might have better brought their worlds to life. The trend continues this week with Pompeii, in which digital lava and ash wreak destruction on the digitally rendered Roman city. Directed by Paul W. S. Anderson, best known for the Resident Evil franchise, it sees Games of Thrones star Kit Harington as a gladiator trying to rescue his love from the mitts of a corrupt senator (Kiefer Sutherland) as Mount Vesuvius erupts.
The latest and, as he has said, last feature by Japanese animation genius Hayao Miyazaki (Spirited Away), The Wind Rises is an animated biopic of short-sighted (in every sense) plane designer Jiro Horikoshi, the man who created many of Japan's World War II fighters. As well as plaudits, the film has also courted criticism for its unquestioning vision of the pacifist architect of so many machines of death.
Starring late Fast & Furious star Paul Walker, Brick Mansions is an English-language remake of producer Luc Besson's District 13 (2004), famous for its daredevil parkour action sequences. The French filmmaker again writes and produces, with Camille Delamarre taking over from Pierre Morel behind the camera.
Taking a few cues from Rosemary's Baby, Devil's Due stars Zach Gilford and Allison Miller as newlyweds who, upon their return from honeymoon, discover they are expecting a baby. Initial joy turns to terror as the mom-to-be starts experiencing odd symptoms that go way behind morning sickness.
The scares continue in Ti West's The Innkeepers, set in a renowned haunted New England hotel about to close its doors after a century. As a variety of odd guests rock up, two young employees hunt for definitive proof of supernatural activity.
Crossing the pond
The winner of this year's Goya Award for Best Spanish Language Foreign Film, Venezuelan director Miguel Ferrari's comedy-drama Azul y no tan rosa (Blue and Not So Pink) concerns a gay Caracas photographer (Guillermo García) whose life is turned upside down by the unexpected arrival of his hetero son (Ignacio Montes) from Spain.
Boasting a script by writer and EL PAÍS contributor Elvira Lindo, comedy La vida inesperada stars Javier Cámara as Juan, a Spanish actor who has been struggling to strike it big in New York for a number of years. Anxious over his lot, he receives a jolt in the form of a visit from his cousin (Raúl Arévalo), for whom opportunities seem to come far more easily.