Justice
Fake priest who broke into Bárcenas's home given a 22-year jail sentence
Man held the wife and son of the former PP treasurer captive for one hour last December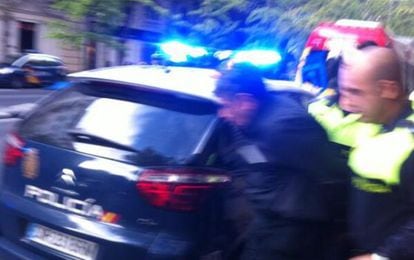 A 64-year-old man who disguised himself as a priest in order to gain access to the home of former Popular Party (PP) treasurer Luis Bárcenas last December has been sentenced to 22 years in prison, Madrid court officials said Thursday.
The hefty sentence was imposed on Enrique Olivares García after a panel of provincial court judges convicted him of breaking and entry, kidnapping, making threats, causing injuries and weapons violations.
The incident took place on December 23 when Olivares García, whom the authorities said has a history of psychological problems, managed to gain access to Bárcenas's Madrid home by posing as a "prison worker."
He told the maid that he needed signatures for some papers that could help secure the release of Bárcenas
He told the maid that he needed signatures for some papers that could help secure the release of Bárcenas, who has been held in preventive custody since June at Soto del Real prison outside Madrid.
After he was allowed in, Olivares García pulled out a gun and threatened those present: Bárcenas's wife, Rosalía Iglesias; the couple's son, Guillermo; the maid and a security guard.
He then tied up the residents and workers for an hour until Bárcenas's son and the bodyguard managed to free themselves, leaping on the intruder and disarming him.
Once freed, the maid ran to a nearby bar with the gun, while Iglesias shouted for help from the balcony. A neighbor phoned the emergency services.
According to an explanation given in court, the defendant said he wanted to download information from Bárcenas's home computers onto a pen drive and use it to "overthrow the government."
The former treasurer is facing a host of charges, including tax evasion and money laundering, related to his personal finances. He also has admitted to keeping a series of ledgers that recorded the amount of money that was paid in bonuses to top PP officials, as well as contributions made by big business to the conservative party over the years.
Despite Olivares García's defense arguments regarding his mental health, the judges panel found that he was well aware of the crimes he was committing at the time they took place.