Banks save over €40 billion in capital thanks to government decree
New estimate is 35 percent higher than economy minister's original forecast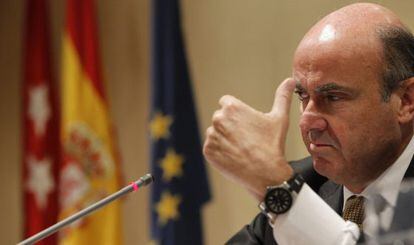 The government's latest move to help out the banking sector has ballooned beyond all expectations. A November decree that transformed some of the banks' deferred tax assets (DTAs) into state-guaranteed tax credits means that the sector may save as much as €40 billion. This is €10 billion more than the original government estimate, according to figures collated by EL PAÍS from Spain's major lenders.
DTAs are used to reduce future income tax expenses, often in connection with bank losses or provisions. Generic provisions reduce a lender's profits, but they are not tax deductible until the losses materialize. If the profit was not large enough for the bank to save itself that tax, then the DTAs were lost. But under the new rules, the state backs them with public debt.
The €40.5 billion in state-backed tax credits held by Spain's 15 main lenders is 35 percent higher than the original estimate of €30 billion offered by Economy Minister Luis de Guindos when he presented the decree.
Under the new rules, the state backs DTAs with public debt
The banking group that benefits the most is BFA, with nearly €7 billion in state-backed tax credits, followed by La Caixa (the total figure is not known, but CaixaBank alone holds nearly €5 billion), Santander (around €5.4 billion in Spain), Sabadell (€4.8 billion) and BBVA (€4.4 billion). The banks under the control of the Orderly Bank Restructuring Fund (FROB) add around €14.8 billion of these assets.
These figures are mostly taken from the lenders' annual reports; in some cases the banks provided the information. Several of them warned that these are still estimates that could change.
But the total amount – including other lenders besides the top 15 – will certainly be in excess of the €41.3 billion that was funneled into the sector as part of the banking bailout of 2012.
The International Monetary Fund recommended that this new measure come with conditions forcing banks to increase their capital ratios through other means, but the Spanish government ignored that suggestion and has offered the state guarantee with no strings attached.