10th anniversary of the 11-m BOMBINGS
High risk of new Islamist attacks, government warns
Interior Ministry concerned over existence of "lone wolves" and local terror cells Experts also focusing on Islamists who return home after training in combat zones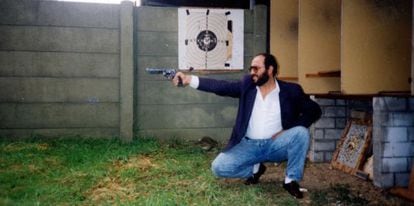 Ten years after the March 11, 2004 terrorist bombings of a number of commuter trains in Madrid, there is a "high" risk of new Islamist attacks on Spanish soil, according to a government agency.
A report drafted two months ago by the National Center for Anti-terrorist Coordination (CNCA), which answers to the Interior Ministry, discusses "a probable risk of an attack," which has led the government to activate a level 2 alert.
Following the Basque group ETA's announcement of a "definitive end" to its campaign of violence in October 2011, Spain's anti-terrorism efforts have focused mainly on Islamists. But oversight of Islamist activity in Spain had begun much earlier. Since 1995, law enforcement agents have arrested 472 alleged Islamists, although full awareness of the real extent of the threat did not sink in until after the Madrid attacks, which killed 191 people and injured thousands more.
Right now, experts note that the main threats come from local, self-radicalized cells and from "lone wolves," who find inspiration in the concept of global Jihad as preached by Al Qaeda. These individuals have no direct contact with organized terrorist groups.
But Spain's counter-terrorism experts are also concerned about Islamists who return home after a period of training in combat zones, as well as convicted terrorists who are released after serving their sentences.
As for threats to Spain brewing outside its own borders, the government is mostly concerned about the Maghreb and Sahel areas, where Jihadists are known to operate.
Following the chain of attacks in Casablanca, Morocco in May 2003, the Civil Guard wrote reports warning about the risk of an imminent attack in Spain, even though counter-terrorism services were not yet fully aware of the extent of Al Qaeda's presence in the country. The risk was underestimated, and the massacre of March 11, 2004 caught them by surprise, even though most of the perpetrators already had a police record. It was after the Madrid tragedy that the government deployed more personnel and equipment to combat the Islamist threat, police sources admitted.
The police have found that the greatest number of Islamists are living in Catalonia, Granada, Valencia, La Rioja and Madrid. But a recent report notes that the exclaves of Ceuta and Melilla - Spanish cities surrounded by Moroccan territory in northern Africa - "have recently acquired an unprecedented importance" for recruiters who find potential terrorists there.
Several studies show that the average Jihadist arrested in Spain is male and aged between 25 and 39. Most are married and have children, and 80 percent are either Moroccan, Algerian or Pakistani. Their educational backgrounds are diverse, and 20 percent of them have been arrested before for common crimes such as drug trafficking.