Seven provinces on red severe weather alert as storm batters north
Galicia and Cantabria bearing brunt of extreme weather front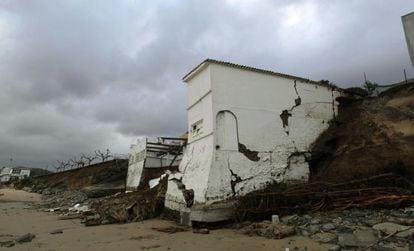 A fierce storm battering northern and central areas of Spain has led to alerts being issued in 40 provinces across 15 regions, seven of them red, for strong winds, heavy snowfall, avalanches and dangerous waves along the Atlantic coast of up to 10 meters. The Spanish Meteorological Office has forecast that conditions should become calmer from Tuesday onward.
Red severe weather warnings are in force in Cantabria, Galicia, the Basque Country and Asturias, with winds of between 120km/h and 130km/h, rough seas that will produce swells and colossal waves and snow drifts in the sierras of Galicia and Asturias. Aragon is under a yellow alert for snowfall, which could amount to 20cm in places, as well as avalanches in the Pyrenees.
Castilla y León is under an orange warning due to snowfall and strong winds, which could reach 100km/h in La Rioja. In Catalonia, an orange warning is in place in Lleida for snow, winds and possible avalanches while Barcelona and Tarragona have yellow alerts for wind.
On the coasts, alerts are in force in Melilla, Valencia, Murcia and the Balearics for gales and dangerous coastal swells, while wind warnings are in place in Castilla-La Mancha and Madrid.
AEMET defines a red warning as representing extremely high risks to the population from severe and unusual meteorological phenomena, and orange as representing serious risks to the carrying out of daily activities.